Less than 2 hours ago, Blackmagic Design announced the latest evolution in their Cinema camera range – the Blackmagic URSA Mini Pro 4.6K! The newest addition to the URSA family features a similar body design, however the new additions are (almost all) on the ergonomic side of the image acquisition experience.
Blackmagic Design calls their new URSA Mini Pro – "the world's first digital film camera with professional broadcast camera features and controls!", which is quite a bold statement, considering the saturated cinema camera market, but from what I saw during the live presentation, I am well impressed with the new features.
Blackmagic Design seems to have listened to a lot of URSA and URSA Mini customer feedback given the implementation of built-in ND filters and more traditional ENG controls on the side of the new URSA Mini Pro camera – making the new model, dare I say possibly "the perfect camera for some?" Often, I would read comments from frustrated URSA Mini owners, about the lack of ND filters or quick and intuitive controls over major parameters such as ISO and White Balance.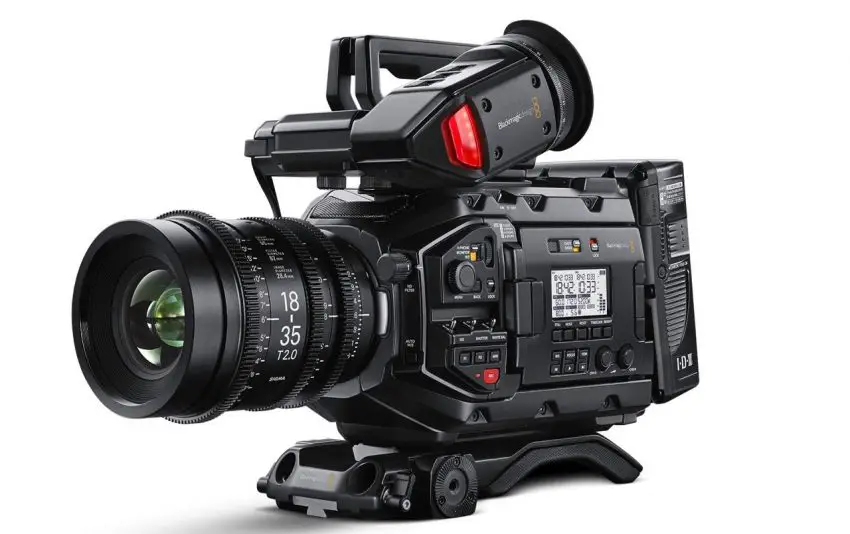 And while the URSA Mini, has always been considered a "cinema camera" by its maker, which by default means – a matte box for ND, pola, diffusion filters etc., using the Mini for more ENG work always presented challenges due to the somewhat limitations of the design. Now, with the URSA Mini PRO, we can clearly see a more mature product, more tailored to suit the ever-changing needs for modern cinematic video production with built-in 2, 4 and 6 stops ND filters with IR cut – to fight-off that never pleasant IR polution.
Documentary and event shooters planning on using this camera for sure will appreciate this feature.
URSA Mini Pro features neutral density (ND) filters with IR compensation for quickly reducing the amount of light that enters the camera. The IR filters evenly compensate for both far red and infrared wave lengths to eliminate IR contamination. The ND filters are true optical filters with a precision mechanism that quickly moves them into place when the ND filter dial is turned.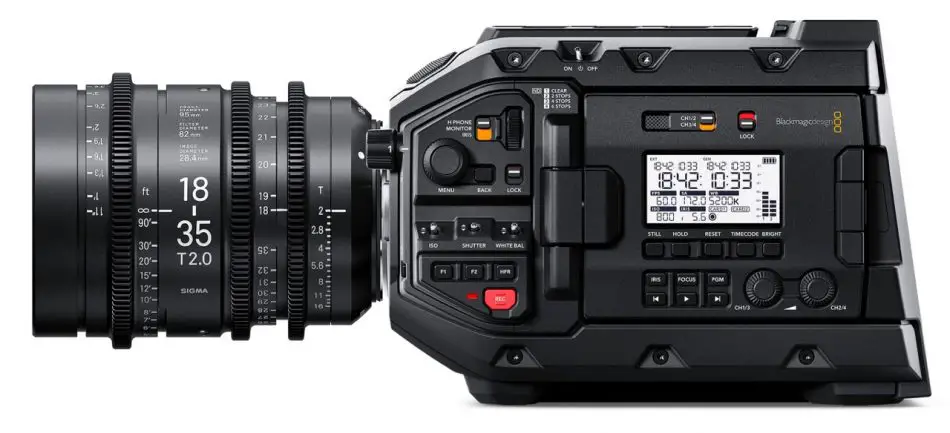 Blackmagic URSA Mini Pro 4.6K Highlights
15 Stops DR, Super 35 4.6K Sensor
Lightweight and durable magnesium alloy body.
Fully redundant controls including ergonomically designed tactile controls
Interchangeable mounts – Canon EF, PL, Nikon F
Built-in ND Filters – 2, 4, and 6 stops.
Supported Codecs:

CinemaDNG Raw
CinemaDNG Raw 3:1 & 4:1
ProRes 4444 XQ & 4444  
ProRes 422 HQ/422/LT/Proxy

Recording Resolutions

4608 x 2592
4608 x 1920 (4.6K 2.40:1)
4096 x 2304 (4K 16:9)
4096 x 2160 (4K DCI)
3840 x 2160 (Ultra HD)
3072 x 2560 (3K Anamorphic)
2048 x 1152 (2K 16:9)
2048 x 1080 (2K DCI)
1920 x 1080

Maximum Frame Rates

4.6K up to 60fps
2K up to 120fps (Crop mode)

Custom Designed Add-on SSD Recorder on back – for longer recording times (future optional accessory)
Dual SDXC UHS-II and CFast 2.0 slots
Ergonomic controls – AWB, ISO, Shutter switches on Operators Side!
B&W Panel LCD – similar to shoulder mount ENG cameras
Built in high quality stereo microphones for recording sound.
Dual XLR inputs
Improved Audio & Audio Controls
4-inch Flip-Out LCD Touchscreen
Price: $5,995 – Available March 9th (pre-order from B&H/ Adorama)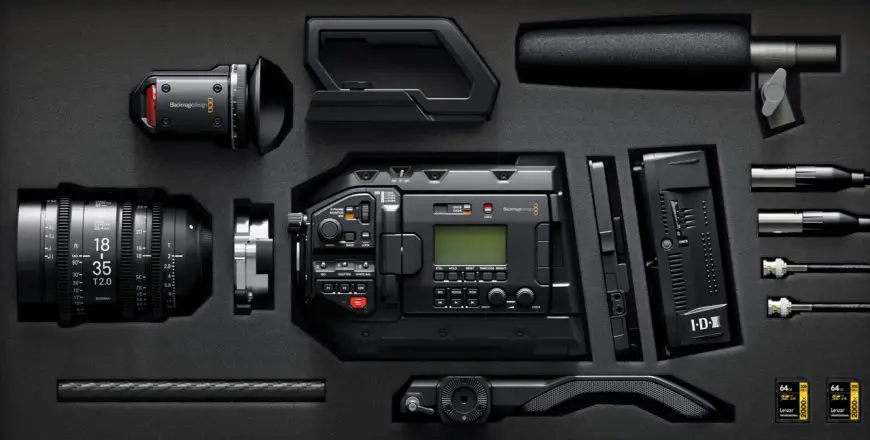 "Professional DoP's and cinematographers love the incredible image quality of URSA Mini and we have been working with them and listening to their feedback," said Grant Petty, CEO, Blackmagic Design.

"URSA Mini Pro is so exciting because it combines high end digital film quality with broadcast camera and live production features, all into a single camera. URSA Mini Pro is powerful enough to be used on high end feature films and television shows, versatile enough to be used for broadcast news and live multi camera event production, and affordable enough for indie filmmakers and even students! It's like getting 3 cameras in one!"
The new URSA Mini Pro now have 2 additional recording SD UHS-II slots for more affordable media in addition to the already familiar dual CFast 2.0 card slots. UHD ProRes can be recorded onto the SD cards as well as 1080p Raw, however for Raw in higher resolutions you'd need to resort to the Cfast media.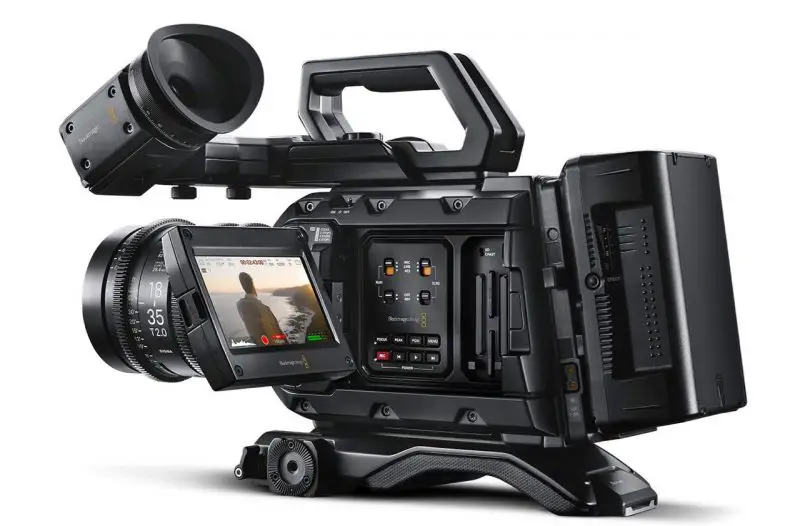 Not only that, but BMD CEO Grant Petty also showed a new SSD add-on extension during the live presentation; the new SSD extension will enable longer form recordings. Looks like Blackmagic Design have been following closely what this guys has been doing here with his own DIY SSD recorder.
The new SSD recorder bolts on directly between the URSA Mini Pro and the V-mount/AB battery bracket and connects via 2 x SDI cables to the URSA Mini Pro outputs. Concrete details on the specs/availability of this add-on have not yet been released, but it was mentioned that it will be available later in 2017.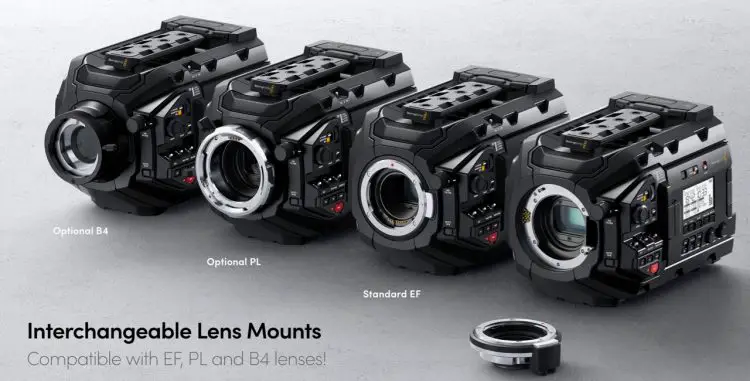 Having the ability to change the mount on the URSA Mini Pro is also a big deal – the camera will start shipping with Canon EF (wait for it – on March 9th!) and users will have the option to also purchase additional B4, PL and later in 2017 – Nikon F mounts. The pricing of each has been released at – PL for $245, B4 HD lens mount for $385, or an additional replacement EF mount for $175.
URSA Mini Pro also features a high visibility status screen that displays important information such as timecode, shutter and lens settings, battery, recording status, and audio levels. The status display features a backlight and is designed to be clearly visible in both dimly lit studios and outside in direct sunlight.
Optional accessories include the URSA viewfinder at $1495 (same as the one for the Ursa Mini), a Studio Viewfinder ($1795), and a shoulder mount kit for $395 – which is the same as the one for the URSA mini.
For those, who missed the live presentation,  you can see it in full below:
The new Blackmagic URSA Mini Pro is available to pre-order from B&H and Adorama for $5,995 and is expected to ship March 9th! For more details head over to Blackmagic Design's official website.
Claim your copy of DAVINCI RESOLVE 16 - SIMPLIFIED COURSE with 50% off! Get Instant Access!