I don't know about you, but I usually get pretty excited every time I come across an enticing Kickstarter project, just like the one mentioned below. It seems that the team behind Cinetics has come up with another compelling product that has real chances to cause quite a stir in the filmmaking community not only with its simplicity and ease of use but also with the stunning and versatile results creative professionals can get with it.
For those of you who are not aware, Cinetics are mostly known for building compact and affordable innovative gear for indie filmmakers just like their latest product called LYNX. In essence, it's an ultra-smooth camera slider that allows filmmakers to control its motorized functions directly from their smartphone thus creating precision camera movements like never before.
All in all, LYNX consists of five main components, the slider, slider motor, controller, pan and tilt motors, and a mobile app available for the latest iOS and Android mobile devices. The modular design of the platform allows it to be used as a conventional mechanical slider as well as a complete linear motion control system once it gets all the bells and whistles included in the kit.
In addition, the device is not only sturdy built but also can make fluid, synchronized and repeatable camera moves with extremely high precision. That way, it can be utilized for a wide variety of applications such as complex motion time-lapses, animations, visual effects, panoramic photography and everything in between.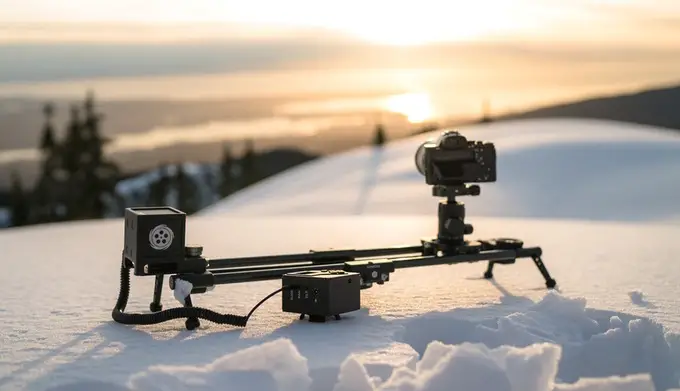 Unlike other competitive systems, along with the dedicated controller, LYNX also offers integrated Bluetooth connectivity that allows users to operate and control its motorized functions in real-time directly from a smartphone. What's more, due to gyroscope and accelerometer technologies on board, LYNX can even mimic the motion of your phone. Beyond that, you can add multiple keyframes and even create and save your own programs that can be quickly accessed and reused on the fly.
The motorized system sets up relatively quickly and can run multiple preset programs allowing it to be configured creatively hence performing complex and powerful slides, pans and tilts. The 24-inch rails of the platform are made from carbon fiber and provide a smooth fluid motion. Optionally, you can double that size with the special extension rails that can be purchased as a separate accessory. The slider comes with a carrying case that makes it perfect for multiple run-and-gun shooting situations out in the field.
If you want to become a backer and support the project, head over to its official Kickstarter page where you can pick a reward and also find additional information regarding the project and its creators.
[via: Fstoppers, source: Cinetics]
Claim your copy of DAVINCI RESOLVE - SIMPLIFIED COURSE with 50% off! Get Instant Access!