Compact, focusable and budget-friendly LED Fresnels lights seems to be the thing do for numerous manufacturers these days – there's the much-awaited and (hopefully) soon shipping Aputure LSC-20 Mini LED Fresnel, there are also the Boltzen LED fresnels from CAME-TV, and at least three more, the names of which escapes me right now. In any case, what was once (and arguably stills is) a standard Fresnel light for any respectable cameraman's lighting kit – the venerable (and tungsten based) Dedolight DLH4, is getting more and more competition innovative LED lights manufacturers on both the more expensive and more budget side of the spectrum.
Dedo even make LED versions of the DLH4, which have now stepped into the 21 century and morphed into the versatile and powerful DLED Turbo series, but at over $1,000 a pop, they can be a tough pill to swallow for plenty of cameraman and women working on tighter budgets.
And it looks like, Fotodiox are at it with their new PopSpot J-500 compact fresnel LED lights.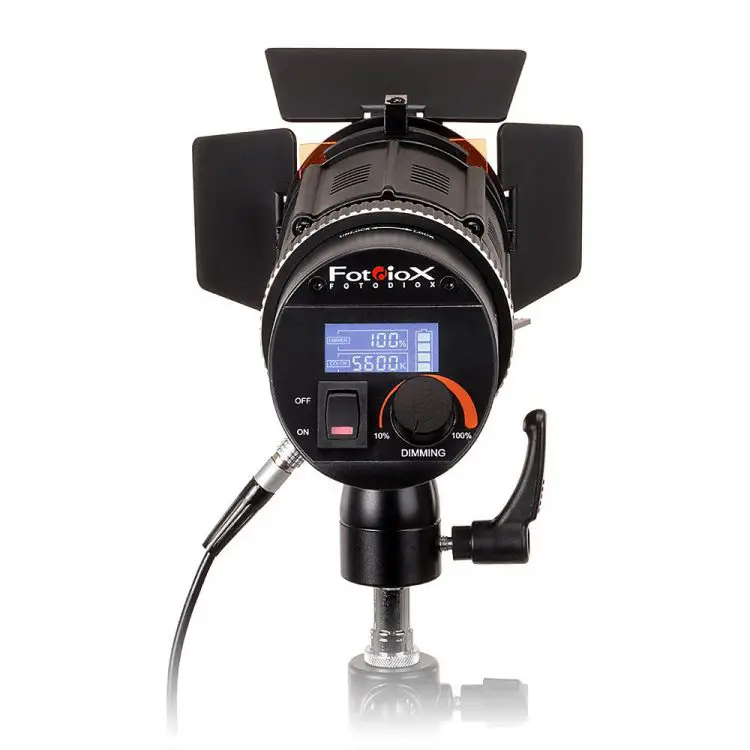 The PopSpot J-500 features a High power Dense Matrix LED light source in a compact, but robust housing. The aluminium light housing also features a battery nest for Sony L series NP-F style batteries so you can power the J-500s even when on location, if you get the $400 battery powered version. The AC powered version works under 100-240V AC.
The PopSpot J-500 is daylight balanced (5600K +- 300), and you can spot the light from 25 to 55 degrees. dimming from 10%-100% is also available via a dedicated knob. The back LCD screen shows the fixed colour temperature, light intensity and the battery status.
Fotodiox also offers a 3 x light kit of the PopSpot J-500, which you can see an unboxing of below.
Fotodiox PopSpot J-500 LED Fresnel Features
Dense Matrix LED light source
Colour Accuracy > 95 CRI (Colour Rendering Index)
Dimmable: 0-100% power output
Bottom plate is Arca Swiss compatible + 3/8 16, and 1/4 20 threaded holes
LCD display of the brightness
Work with AC power adapter or battery
Compact and Versatile
Ideal for location, event work, still photography, interviews
3-Head portable light kit available!
Price:

3 x light kit with Hard rolling case for $1100
Specifications
Colour Balance Options
Daylight 5600k ± 300
Luminous Emittance
5,400 lx @ 25° Focus
2,258 lx @ 55° Focus
EV100 @ 1m1
11.0 ΔEV – Reflector @ 100%
Bulb Wattage
50 Watt Power Draw
LED Beam Angle
25°-55° Focus Adjustable
Light Fixture Weight
2 lbs / 0.95kg
Power Supply
AC100-240V, DC14-18V
Dimensions
3¼ x 3¼ x 8¼ inches (8 x 8 x 21cm) – Light Only
3¼ x 3¼ x 11 inches (8 x 8 x 28cm) – With Battery Module
Battery Option
Rechargeable 4400mAH Battery (NP-F750 Style)
Battery Run Time2
50% Power ~ 3hr 45min
100% Power ~ 1hr 20min
Manufacturer
Fotodiox Inc.
Warranty
24 Months
Base Kit Includes:
1x J-500 Light Head (5600k)
1x Removable Barn door
1x Tungsten (3200k) Color Filter
1x Ballhead Mount
1x AC Power Adapter & Cord
1x Carrying Case
Battery Option adds:
1x Battery Box Add-on Module
2x Batteries (NP-F750 4400mAH)
1x Battery Charger
1x Charger Adapter
[via Cinescopophilia]
Disclaimer: As an Amazon Associate partner and participant in B&H and Adorama Affiliate programmes, we earn a small comission from each purchase made through the affiliate links listed above at no additional cost to you.
Claim your copy of DAVINCI RESOLVE - SIMPLIFIED COURSE with 50% off! Get Instant Access!