After announcing the really affordable and lightweight Super 35 cine zoom MK Series 18-55mm and the 50-135mm for the Sony E mount, looks like Fujifilm is turning again towards the broadcast segment, which they have a ton of experience in to bring three new B4 mount broadcast zooms for the ever expanding needs for current and upcoming 4K broadcast productions.
Fujifilm just added three new models to its UA Series of 4K broadcast lenses. The compact and lightweight portable zoom lenses, FUJINON UA 18×5.5 and FUJINON UA 14×4.5, will make their debut at NAB 2017 and released in late April, 2017, while the 27x studio zoom lens, FUJINON UA 27×6.5 scheduled for release later in June.
The new FUJINON UA 18×5.5 covers the major focal lengths of 5.5mm – 100mm to capture a wide range of scenes. The UA14x4.5 on the other hand is an ultra wide angle lens covering the focal lengths of 4.5mm to 63mm, putting you right in the midst of action.
The Fujinon UA27x6.5 is a 27x zoom lens that covers the focal lengths of 6.5mm – 180mm for versatility. The addition of the latest three models expands Fujifilm's 4K broadcast lens lineup to 7 models in total, catering to the growing global needs for 4K video production.
The UA 18×5.5, which comes in at just 2 kilos, and the Fujinon UA14x4.5 are portable lenses with compact and lightweight bodies for advanced mobility, which is kind of a big thing in ENG. With the recent market introduction of more compact and lightweight shoulder 4K camcorders, the new Fujinon's will accommodate an increasing number of cameraman and camerawomen, who shoot while carrying 4K equipment on their shoulder.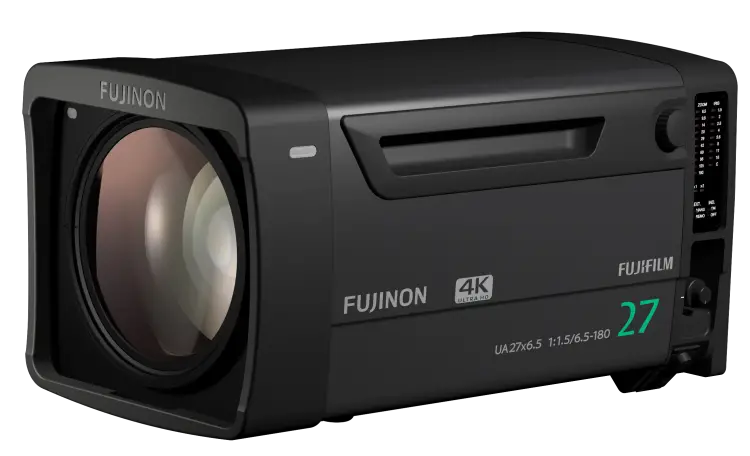 For studio use, the Fujinon UA 27×6.5 is positioned as a 4K-compatible 27x zoom lens, perfect for in-studio applications for news and variety shows.
With the wide-angle focal length of 6.5mm, it can also be used to give a full view of a concert venue in live coverage. The Fujinon UA27x6.5 features a built-in 2x extender, covering up to 360mm in focal length while maintaining image quality in advanced definition.
For more technical information and specifications head on over to Fujifilm's official website. Those of you attending NAB 2017 in the next couple of weeks should stop by Fujifilm's stand to check these lenses out.
[via Cinescopophilia/Fujifilm]
Claim your copy of DAVINCI RESOLVE - SIMPLIFIED COURSE with 50% off! Get Instant Access!