NAB 2017 hasn't officially started yet, but there has been a steady flow of new product announcements in the past few days. Canon joins the fray with their latest addition to the Compact Servo line currently represented by the CN-E 18-80mm T4.4 KAS. The new lens from Canon is the CN-E 70-200mm T4.4 L IS KAS S – a compact and lightweight 4K lens constructed for users that demand versatility and portability.
Video shooters and photographers are very well familiar with the Canon 70-200mm f2.8 workhorse stills counterpart (and the more compact F4 version as well), and now the new CN-E 70-200mm T4.4 EF bridges the gape between traditional Canon EF lenses and CN-E cinema lenses, making the new Compact Servo 70-200mm can be ideal for filmmakers and documentary shooters who want the control and quality of cinema optics with the lightweight, compact design and features of Canon's EF lenses.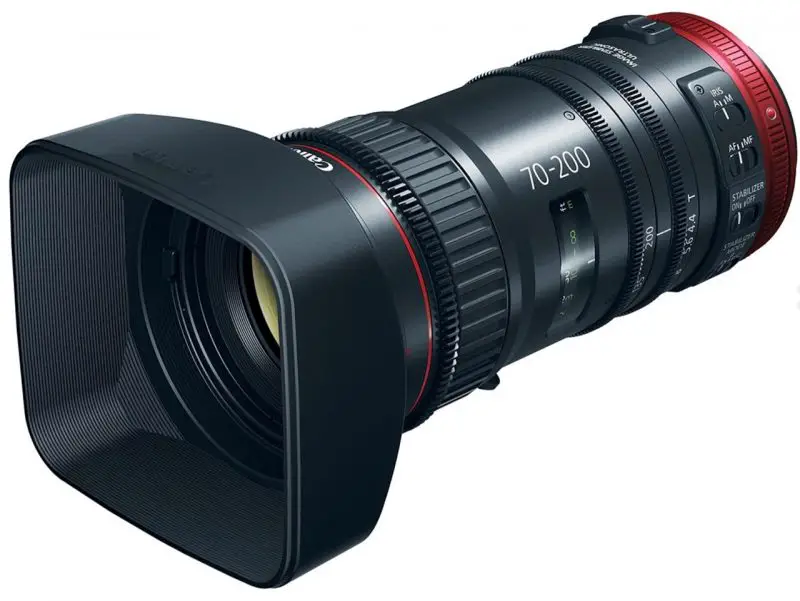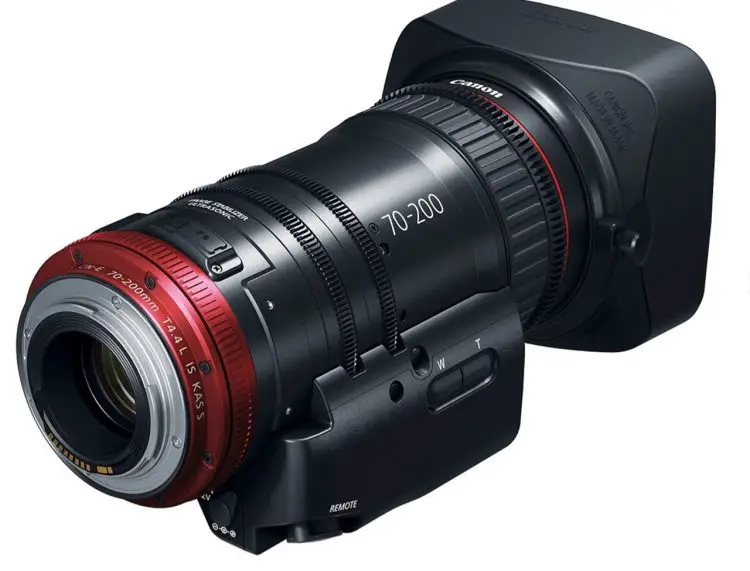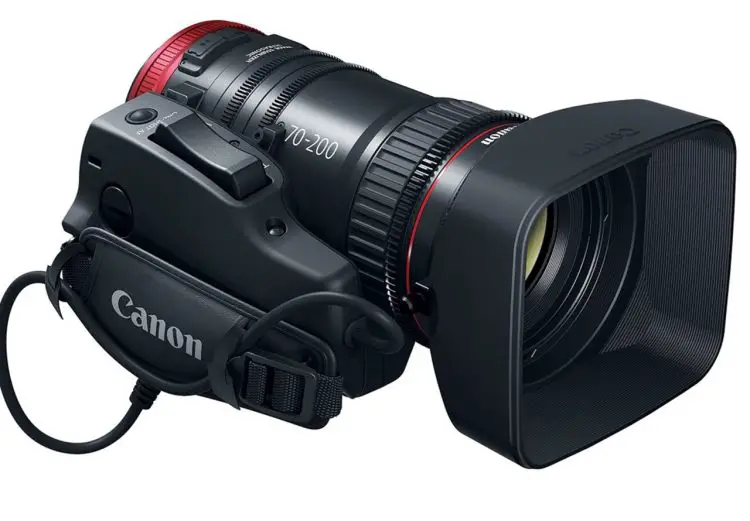 The second in a new class of Canon lenses, the new CN-E Compact Servo 70-200mm zoom is a cinema-style lens that includes a servo drive unit as a standard feature. Additionally, the lens incorporates Image Stabilization, Autofocus, and Auto Iris functionality, three extremely useful features not commonly found in cinema lenses, but are popular in EF lenses.
The lens also provides high image quality that supports 4K image productions and was designed to be utilized in a variety of shooting styles including, hand-held, shoulder mounted, and tripod mounted.
"Canon prides itself on turning the ideas and thoughts from filmmakers about equipment into reality," said Yuichi Ishizuka, president and COO, Canon U.S.A., Inc. "We are very excited to expand our line of COMPACT-SERVO lenses, providing a variety of creators with an extremely versatile and affordable lens that features the outstanding build-quality and excellent optical performance that professionals have come to expect from Canon. We are excited to continue to build the COMPACT-SERVO line of lenses, and can't wait to see what the imaging community creates."
The new lens boasts 4K optical performance and compatibility with both the Canon EF 1.4x III (expanded focal range of 98-280mm) and EF 2x III (expanded focal range of 140mm-400mm) external extenders, expanding the focal range of the lens for additional versatility when the shooting situation calls for it.
The CN-E 70-200mm also features Dual Pixel CMOS AF, push auto iris, record start and stop and remote lens control via the camera with an optional remote control, compensation for chromatic aberration and peripheral illumination, metadata acquisition, and selection of T-number display.
The COMPACT-SERVO 70-200mm Telephoto Zoom Lens features a nine-blade iris aperture diaphragm to help give footage a truly artistic and beautiful look and feel, providing the much desired "bokeh" effect in the out-of-focus areas.
The lens comes equipped with a Servo Drive Unit, which provides seamless switching between servo and manual modes, allowing videographers motorized control of focus, zoom, and iris settings. The Servo Drive Unit is compatible with broadcast style industry-standard lens controllers including Canon's ZSD-300D zoom demand and FPD-400D focus demand.
Like the Canon 18-80mm Compact Servo Zoom Lens, the ZSG-C10 accessory grip will be compatible with the new COMPACT-SERVO 70-200mm Telephoto Zoom lens, further enhancing ease-of-use for ENG and "run-and-gun" style shooters. The grip connects to the lens through a 20-pin cable, allowing a variety of lens functions to be controlled from the grip, including zooming via a rocker switch, one-shot AF and the starting and stopping of a recording.
When the lens and grip are being used with the EOS C100 Mark II, EOS C300 Mark II and EOS C700 Cinema Cameras, users will also have the ability to control the zoom and iris from the camera's grip unit.
The Canon CN-E 70-200mm Zoom Lens is scheduled to be available later in 2017, however the price has not yet been announced. In addition, the ZSG-C10 accessory grip is currently available for $475 from authorised dealers such as B&H.
Claim your copy of DAVINCI RESOLVE - SIMPLIFIED COURSE with 50% off! Get Instant Access!