At the official start of NAB 2017, Zeiss unveiled their latest cine lens family – the ZEISS CP.3 and CP.3 XD lenses solidifying the legendary optics maker's commitment to support creative and progressive filmmaking with an affordable, future-proof and premium quality lens set.
The ZEISS CP.3 lenses offer the perfect combination of high image quality and reliable usability. They exhibit the clean, crisp characteristics ZEISS is known for, together with an interchangeable mount system and full-frame coverage that seems to be growing more and more popular with insanely good cameras like the Sony A7sII and larger sensor RED cameras.
The ZEISS CP.3 XD version features innovative and ground-breaking lens data technology to speed-up and simplify the workflow on set and in post-production.
The new Zeiss CP.3's and CP.3 XD range from 15 mm to 135 mm and are comprised of ten focal lengths available covering all applications from wide-angle to telephoto.
The ZEISS CP.3 lenses feature advanced lens coatings, painted lens rims and special light traps within the barrel to eliminate unwelcome veiling glare and flares. The result is higher contrast, richer blacks and more saturated colours.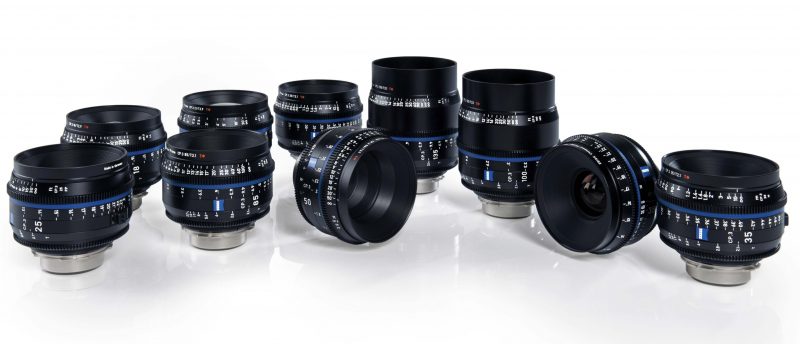 Zeiss CP.3 and XD Highlights
Clean and crisp ZEISS look which matches perfectly with other ZEISS cinema lenses
Colour matching and covering full frame across the full range of focal lengths from 15 to 135 mm
Special lens coatings support high-dynamic range projects
Standardized positioning of the focus rings and a consistent 95 mm front diameter
Extraordinarily smooth focus rotation even in extreme temperature conditions thanks to a new, sophisticated construction design
Consistent T-stops simplifies lighting on set and exposure compensations (T2.9 for 15 to 21 mm and T2.1 for 25 to 135 mm)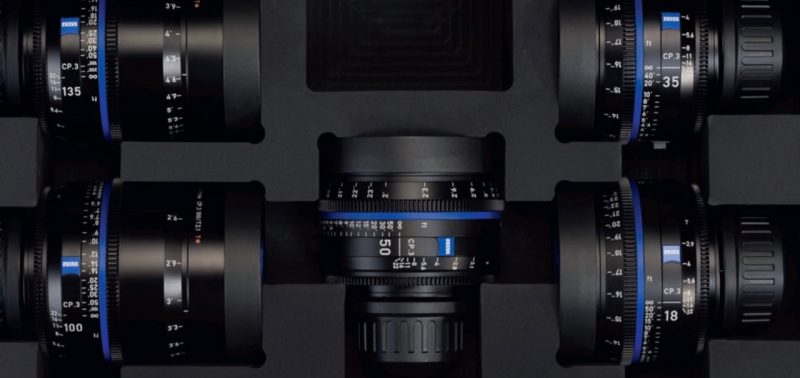 The ZEISS eXtended Data is a unique technology which is based on the Technology and provides information about the lens' distortion and shading characteristics in real time. With the Zeiss CP.3 XD lenses, even small productions on a limited budget gain access to the advanced techniques common in state-of-the-art, big budget films, commercials and television shows.
The ZEISS eXtended Data technology is based on the open /i Technology and is supported by a wide range of cameras and accessories. Key lens data provides frame-accurate information about:
Lens name, type and focal length
Calibrated focusing distance
Calibrated T-stop value
Depth-of-field data in real time and hyperfocal distance
Horizontal field-of-view
Entrance pupil position
The Zeiss CP.3 XD lenses enable trailblazing, one-click correction of images, never before possible in motion picture workflow. ZEISS specific lens data provides frame accurate information about:
Lens distortion characteristics based on the focal point
Lens shading characteristics based on the focal point and effective T-stop
The ZEISS CP.3 lenses are equipped with an easy-to-operate, interchangeable mount system. It enables a quick change from the typical cine-style PL-mount to four other mount options (Canon EF, Nikon F, Sony E or MFT).
There are two versions of the PL-mount, one equipped with an electronic interface for recording lens data on the ZEISS CP.3 XD lenses via the internal camera interface and the other without the electronic interface for the standard ZEISS CP.3 lenses.
According to FDTimes, the following digital cinema cameras with PL mounts are compatible with the XD variants include ARRI Alexa Mini with SUP 7, RED DSCM2, Sony F55 and Blackmagic URSA Mini Pro.
The Zeiss CP.3 lenses are due to ship in June this year, while the XD (eXtended Data) variants will follow in September.
Prices at the moment look like $ 4390 or € 3500 for the regular CP.3's, while the XD versions will sell for a bit more – $ 5790 / € 5000. Zeiss CP.3 5-Lens Set are priced around from $ 19K/ €15,400; XD 5-Lens Set from $ 25K / € 22K.
To learn more head over to Zeiss.
Claim your copy of DAVINCI RESOLVE - SIMPLIFIED COURSE with 50% off! Get Instant Access!