It would be an understatement to say that LED lighting technology has transformed and revolutionized so many aspects of making moving pictures. From 1 x 1 and 2 x 1 interview "panel" lights, to flex light arrays that can be affixed to pretty much anything, LED lights are constantly evolving and getting better, smaller and more efficient. Single chip LED lights in particular have been making a huge impact as of late.
Innovative companies like Aputure, for example, are creating some fantastic (and really affordable) LED's like the COB 120t (and Daylight version now) that has easily replaced my ARRI 650 tungsten fresnels.
For those working on a tight budget working with exteriors at night can be extremely difficult. Regardless of camera used, there is no substitute for good lighting. And sometimes, the best lighting is the one that your current budget can afford. Having some decent DIY skills is a big plus too.
This is where the folks at Stratus LED come in – their multipurpose 100W LED Modules are some of the most compact and inexpensive high power LED lights on the market. Those of us, who cannot afford to hire a 4 ton grip truck can take advantage of what these guys have to offer.
Forget about hiring a generator or running extension leads. Simply plug in a battery or power supply and you get about 14,000 lumens of high intensity light spills out the front.
The integrated LED driver circuit supplies consistent power for the LED chip and cooling fan. According to Stratus, they source "the highest quality LED chips that make up 49% of the cost on the LED Modules BOM (bill of materials)".
Their LED Modules can be used alone, or together in a light bar array (such as the one pictured below). They can be thought of as a lower cost DIY alternative to expensive high power lighting systems. Some folks even use them on drones to create some pretty unique looking landscapes at night.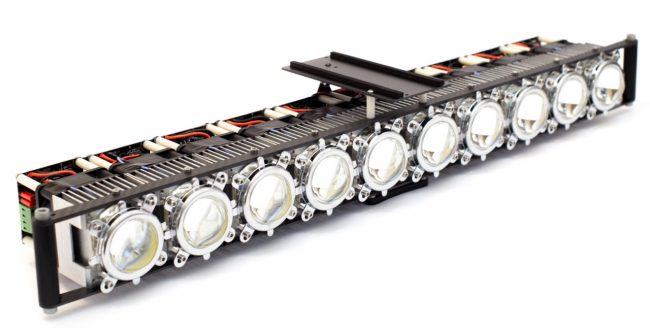 What makes the Stratus 100W LED Modules unique is the compact and lightweight design – all made possible by coupling extruded aluminium heat sinks with high power cooling fans. Most 100W LED chip systems use heavy heat sinks weighing over 1kg. These guys use some very efficient cooling system that keeps temperatures down while weighing a mere 200g.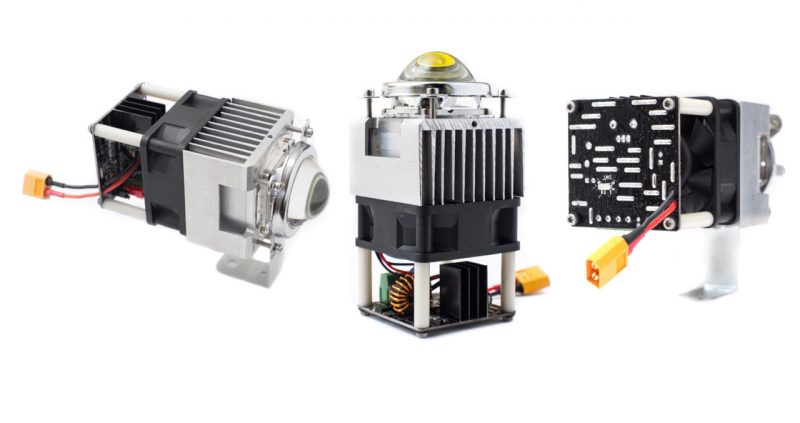 Stratus LED 100W Features
Each Module is comparable in brightness to a 1000W Tungsten light
Power with any 20-28V DC source
High quality 100W Bridgelux LED chip
Jumper pins for switching light on/off (not current bearing)

Easy integration with custom lighting arrays

On/off switch
Tripod mounting bracket included
Far more efficient and less expensive than incandescent or HID lights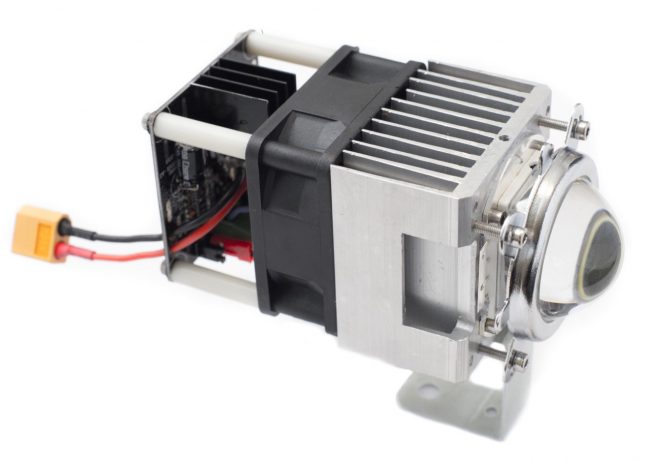 Specifications: 
LED Chips rated at 13,000 Lumens. We measured 14,000 Lumens! (without lens)
Input: 20-28V DC
Included power connector: XT60
60 Degree Glass Lens included
Color Temperature: 5600K
CRI: 85
Noise: 50 db-A fan (about as loud as a running kitchen sink faucet) and high pitch tone.
Flicker free at shutter speeds up to 1/3000th second
Weight: 350g
Dimensions: 125*60*60mm
The Stratus LED barebones LED module starts at just $49 and goes up to $229 with a 10Ah LIPO battery and charger. To order yours and check out their multi-LED array kits head over to their website here.
[via Cinescopophilia]
Claim your copy of DAVINCI RESOLVE - SIMPLIFIED COURSE with 50% off! Get Instant Access!