Director of Photography and renowned Sony Independent Certified Expert, Alister Chapman recently took the Sony VENICE camera on an 8-day shooting trip through various locations in Nevada and Arizona. On that shoot, he put the VENICE through its paces, including vast landscapes and night shots, and even shooting situations in near darkness. The footage from that shoot has not yet been released by Sony, however they recently posted a 43+ minutes presentation by Alister Chapman, in which he describes his experiences with VENICE, especially how he used the Dual ISO 2500 capabilities to capture beautiful, rich HDR in challenging low-light conditions.
In the presentation, which you can check out in full below, Alister also explains the different frame sizes available to cinematographers to maximize the quality of the finished film. Alister also explains his workflow, showing how Sony's X-OCN compressed raw format enables 16-bit linear capture without the data management hassle and burdensome workflow, even when shooting at 60 fps.
Sony VENICE Highlights
Full-Frame 36 x 24mm CMOS Sensor (Large Format)
15+ stops Dynamic Range
Interchange-able Sensor Block

for future sensor upgrades (user serviceable)

6K Full-Frame 3:2 mode (6048 x 4032)
4K Anamorphic 4:3 and 6:5 (4096 x 3432)
4K Super 35 mode (window)
Support for FF & S35 spherical lenses
Support for FF & S35 Anamorphic lenses
8-step Mechanical Built-in ND filter (8 Stops ND)
PL mount (Cooke i technology supported)
Locking E-mount
Recording Codecs/Formats:

X-OCN Compressed Raw onto AXS-R7 Raw Recorder
4K XAVC – Class480/300
ProRes HQ/422/LT
MPEG HD

Recording Media – SxS cards, AXS cards for RAW (external recorder)
Price: £37,000/$45,000 Body
6K Full-Frame – License Only – approx. €6,000 to buy
Anamorphic Mode – License Only – €4,000 (or around €10K for both)

There will be also rental options for day/week/month for both

Compatible with existing CineAlta accessories: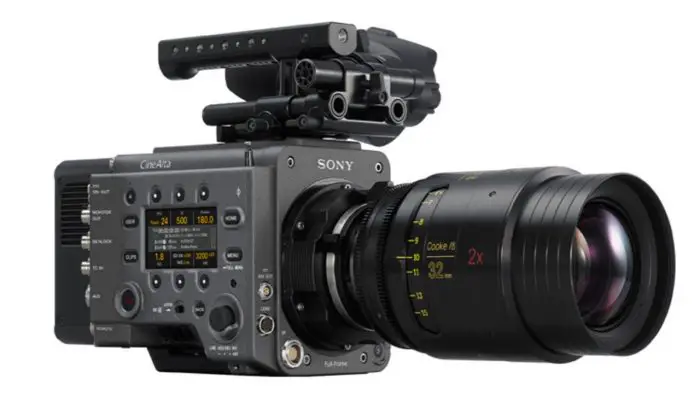 Sony also recently announced that their planned firmware 2.0 for the VENICE will be coming out a month earlier than anticipated. In July, SONY VENICE users will be able to use Dual ISO (500/2500), upload their own 3D LUTs, use variable frame rates between 1 and 60fps, and also get access to the 4K 4:3 Anamorphic 25p, and 6K 17:9, 1.85:1 and 4K 6:5 Anamorphic imager modes.
To see the details of the upcoming Firmware 2.0 for the VENICE check out my previous post here.
Sony also recently posted another presentation by cinematographer Alfonso Parra AEC, ADFC where he goes into shooting High Dynamic Range with Sony's VENICE, working with the 16-bit X-OCN workflow and the techniques needed to maintain maximum dynamic range when using natural lighting in unpredictable shooting environments.
Have any of you guys used the VENICE yet? Any owner/ops out there? Let me know in the comments below.
Disclaimer: As an Amazon Associate partner and participant in B&H and Adorama Affiliate programmes, we earn a small comission from each purchase made through the affiliate links listed above at no additional cost to you.
Claim your copy of DAVINCI RESOLVE - SIMPLIFIED COURSE with 50% off! Get Instant Access!