Sony didn't really announce any new cameras at NAB 2017; and while this may come as a shock to some, the Japanese electronics giant wasn't short of updates for existing product lines and also focused heavily on updates in the area of IP Live and HDR productions and post-production advancements.
NAB 2017 was a bit strange – there were hardly any new "proper" cameras – yes, Panasonic did tease a new and lightweight Cinema camera (link here) that will sit between the Varicam LT and Panasonic GH5, and ARRI did announce the ALEXA SXT W, but other than that, there was a large sensor "drought" of sorts. This actually may be a good sign, as there are so many great choices out there; in addition to new announcements made weeks before the show – ie. the Blackmagic URSA Mini Pro, which could have easily been an NAB 2017 announcement.
Sony's commitment to continuously add new functionality to their existing cameras is to be commended for sure, as Sony F5/F55 owners take a breather once again as they get to relax at least for a few more months before IBC 2017 in September knowing that their precious and expensive cameras has not been replaced by newer models.
I am sure Sony are working hard on updating the F5 and F55, and we may very well see their successors before NAB 2018, but nevertheless the new 4K Raw recorder AXS-R7 does breath new life into these 4K workhorses.
Sony unleashed "the future" (ie. the F5 and F55) back in October 2012 so in camera years, giving them a hefty 5 year life without replacements is once again a testament to Sony keeping their word to the owners of such cameras.
Firmware version 9.0 for the F5/F55 is due in July and will add intermediate high frame rates between 60p and 120p when shooting 4K Raw or X-OCN on the F55 with the AXS-R7 recorder among other new features.
You can check out the Sony NAB 2017 Press event below and check out the summary:
Firmware version 9.0 for Sony F5/F55 
4K RAW/X-OCN 72, 75, 90, 96 and 100fps S&Q Motion (PMW-F55 with ASX-R7)

CBK-WA100 XAVC proxy recording (PMW-F55/PMW-F5)

Free, available in July 2017
HLG (Hybrid Log Gamma) firmware update for:
Sony PXW-FS5 firmware 4.0:
Support for High Dynamic Range (HDR) by shooting in Hybrid Log-Gamma (HLG) standard
Support for continuous 120fps High Frame Rate (HFR) recording in 1080p with CBKZ-FS5HFR (sold separately)
Option to change the minimum ISO sensitivity number to ISO 2000 from ISO 3200 when recording S-Log2/S-Log3
Available in July
Sony PXW-Z150 firmware v2.0:
Support for High Dynamic Range (HDR) by shooting in Hybrid Log-Gamma (HLG) standard
Support for high-quality streaming using QoS by network client mode
Support for the system link (tally display and synchronized recording) with RM-30BP Remote Commander (sold separately) and MCX-500 Multi-Camera Live Producer (sold separately)
Support for the enhanced zebra marker function and two types of setting are available. Also the level settings can now be adjusted in 1% increments
Available in July
We reported a while back on the upcoming HLG and High Frame rate update for Sony FS5/Z150 here.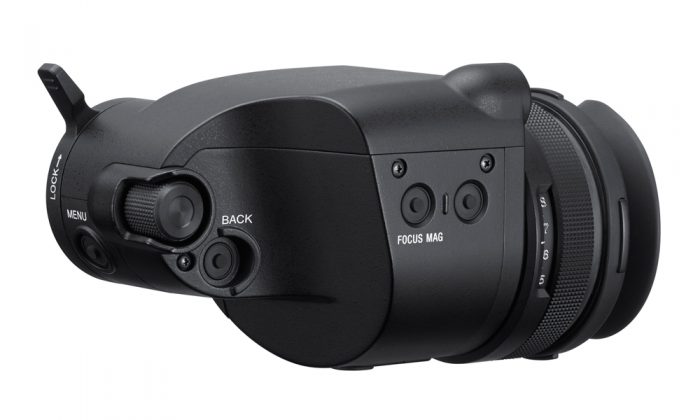 Sony DVF-EL200 EVF for F5/F55
0.7-inch 1920 x 1080 OLED panel
Brighter and higher contrast OLED panel
LEMO connector
Heavy and smooth diopter ring
Dust/Splash resistant
Rotary encoder to adjust brightness, contrast and peaking level
Improved Eye Sensor
Separate EVF cable and Attachment (CBK-55AT)
Price & Avail TBD.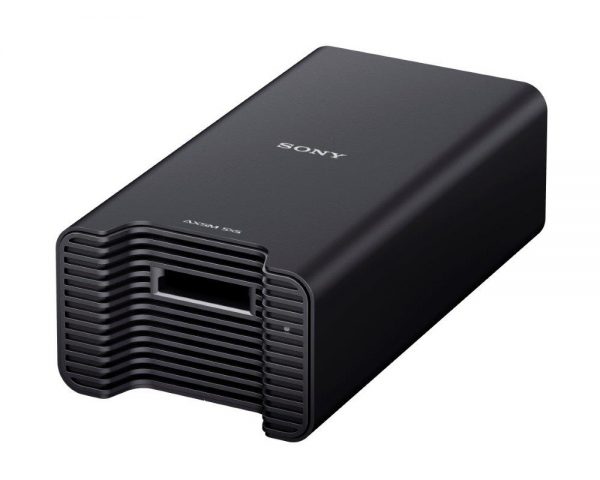 New AXS-AR1 Card reader (AXS-A and SxS)
AXS-AR1 AXS media reader offers an incredible maximum data read speed of up to 9.6 Gbps (1200MB/s) from AXS memory via Thunderbolt 2. This makes it easier than ever to import 4K/2K RAW/X-OCN/XAVC files recorded by AXS-R7 or AXS-R5 onto SxS Memory. The card reader also handles both AXS-A and SxS memory cards.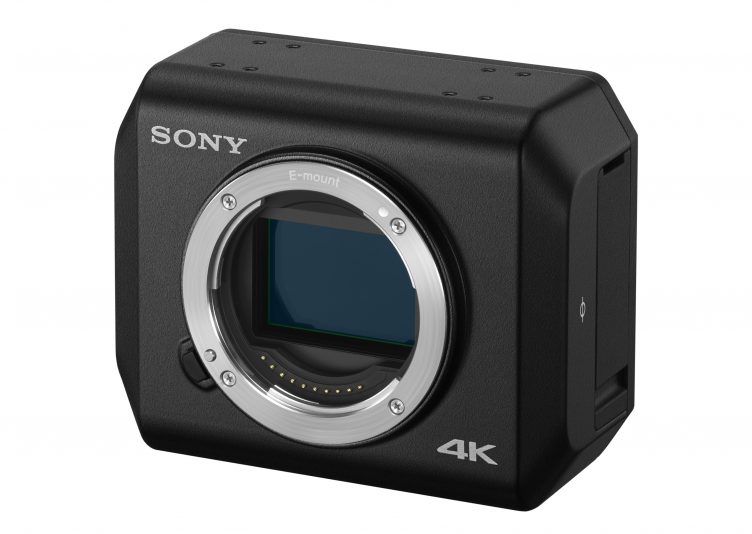 New version Sony 4K UMC-S3CA box camera – Now with Genlock
We did a write up on the UMC-S3C a while back last year, which was the previous version of this camera. The new "A" is basically a full-frame 12 MP CMOS sensor ported from the A7s II with max ISO of 409,600 and the ability to continuously record 4K/30p/25p video in the XAVC-S format at up to 100 Mbps, and 12 megapixel colour still images in JPEG or RAW format at 14 bits to an SD card.
The new Genlock functionality simplifies operation of multiple cameras at the same time and allow multiple cameras to be synchronised to other video sources, making it more appealing for VR and multiple angle live broadcast coverage for example.
Sony ICE Alister Chapman gave a 50+ minute presentation on quite a few subjects surrounding the world of Sony cameras, including the upcoming Hybrid Log Gamma firmware update for the Sony FS5 and Z150, native ISO sensitivity and why understanding it is important, the Sony FS7 II, the upcoming firmware version 9.0 for the Sony F5 and F55 and a few new products for this line of cameras – including the new Sony DVF-EL200 OLED viewfinder and the AXS-AR1 card reader.
Claim your copy of DAVINCI RESOLVE - SIMPLIFIED COURSE with 50% off! Get Instant Access!