Earlier today, Mitch Gross – the new Cinema Product Manager at Panasonic North America, who most of you know was the voice of Convergent Design up until recently, teased a new Cinema Camera that Panasonic will unveil later in 2017. The new Cinema Camera appears to be a part of the growing VariCam lineup and sit bellow the most compact of them so far – the Varicam LT and above the Panasonic GH5.
And yes, the GH5 is not officially a camcorder, nor is it even a part of the VariCam lineup, but this gives us an idea that Panasonic has not fully abandoned the idea of actually bringing out a full-fledged successor to the Micro Four Thirds mount AF101, which is now 8 years old, and quite obsolete by today's moving imaging standards.
However, from the looks of things, the new Panasonic "Cinema Camera" looks like a miniaturized LT than a blown up AF101 or GH5. Also, the Sigma lens on the front indicates maybe a Canon EF mount as native, much like the Varicam LT, which isn't a bad idea at all, as most budget shooters own quite a lot of EF glass.
Not much is known at this stage apart from the fact we can look towards some sort of reveal and more information around Cine Gear time in early June. From the teaser shot above, we can clearly see a resemblance to the Sony FS5 and even maybe Canon's C100 Mark II.
The new Varicam Mini (we're not sure of the name, it may be called different) is said to be/have:
Cinematic Imagery
Small and Light
Low-cost media and workflow
Previewed at Cine Gear Expo in June
Released later in Fall 2017
In addition, during their last night's NAB 2017 press event, Panasonic also announced they will also be adding 2K RAW output up to 240fps via a free firmware update to the VariCam LT 4K cinema camcorder.
The 2K RAW signal will be supported by Convergent Design, which today announced that its Odyssey7Q+ recorder will capture all of the RAW signals available from the VariCam LT, including 2K up to 240fps. Both companies plan to release free firmware updates in June 2017.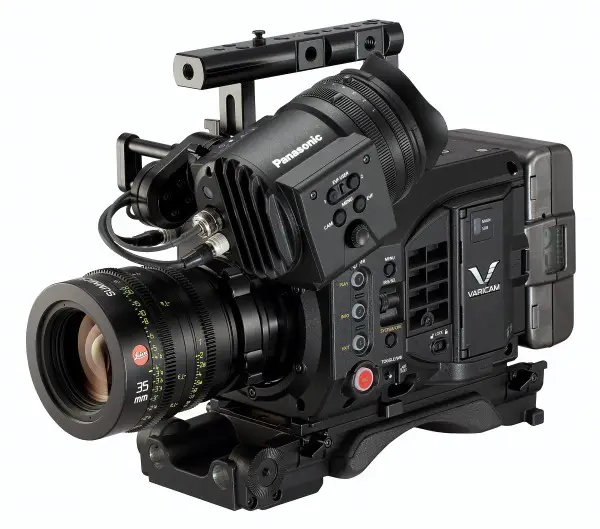 "The VariCam LT is a great workhorse camera," said PMEC Senior Product Manager Steven Cooperman. "It can already record in 4K, 2K and HD internally. Now with this update, it can also output in 4K and 2K RAW to an external recorder, even while still recording in the camera. That's great for commercials, features, documentaries and a variety of production needs. Shooting 2K RAW up to 240fps is important for wildlife, sports and commercial work."
The 2K RAW frame is windowed from the centre of the camera's 4K sensor, so no artifacts are introduced into the image.
In 2K RAW the VariCam LT will continue to provide its 14+ stop, dual 800/5000 ISO functionality with accurate colours and skin tones. 2K RAW output is available while recording internally in 2K or HD.
Last Fall, the VariCam LT added 4K RAW output up to 60fps in a free firmware update.
Claim your copy of DAVINCI RESOLVE - SIMPLIFIED COURSE with 50% off! Get Instant Access!