For those who are yet to find the right cage for their Panasonic GH5, I have found four new cages that just may satisfy your curiosity. The new cages are from Varavon, Seercam, Tilta and Shape and you can see details and photos below. I did a few other posts on various cage options for the Panasonic GH5 a while back – you can catch up on them here (Chrosziel), here (8Sinn, LockCircle, SmallRig and CAME-TV), and here (Movam and Zacuto).
Getting the right cage for your GH5 (or other compact camera) comes down to your personal preferences – some are expensive than others, some offer enough clearance for the GH5 XLR adapter on top, others don't etc., etc. For me personally, having enough clearance for the XLR adapter that sits on top in the hot-shoe is a must, but for some of you, this may not be an issue.
In any case, check out the four new cage options for the Panasonic GH5 below (in no particular order):
SHAPE GH5 Cage

Price: $219 body/ $263 with top handle/ $483 with 15mm LWS – B&H Link
Shape GH5 Cage Features
Robust, easy & fast to assemble and disassemble
Easy access to all  the controls and outputs
Cable protector access
¼-20 and 3/8-16 threaded holes
Removable, ergonomic and robust top handle
The SHAPE cage features easy assembly/disassembly and you don't need to remove any parts when you want to install the camera. It also offers quick access to the memory card and the battery. The camera is fixed with a ¼-20 screw with the threaded hole under the unit, and the position is secured with the back and the sides of the cage so it will not move forward when equipped with a heavier lens.
The lens release button, battery door and memory card are unobstructed. By leaving an open access on top of the camera cage, you can mount different accessories to the electronic Hot Shoe. On the side of the camera cage, there is also a second built in Hot Shoe to add more accessories like a microphone.
The cage is designed to be compatible with the full-size HDMI cable protector lock on the side to secure the use of your HDMI 4K cable. The cage features several ¼-20 and 3/8-16 threaded holes for attachments and features SHAPE's new REVOLT Top Handle designed to give users a solid and comfortable grip on the camera.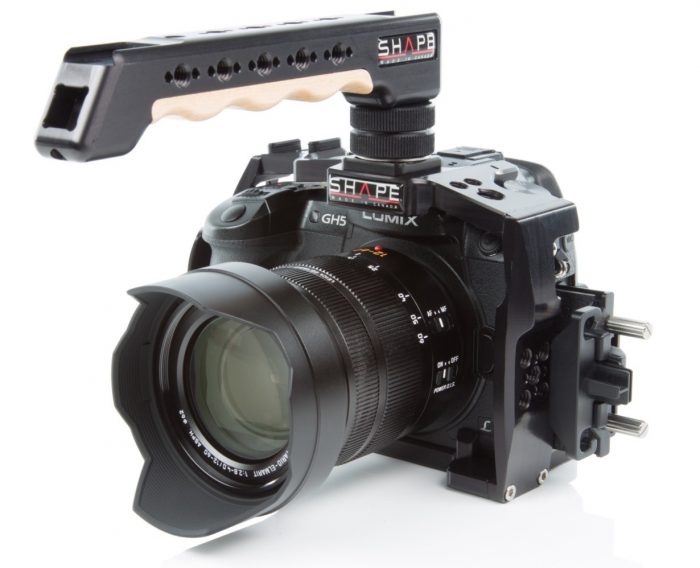 The frame is made from robust aluminium and the grip is made from genuine Canadian maple wood for maximum comfort.  A View Finder bracket 15mm Rod Clamp can also be attached at the front of the Top Handle.
I saw this cage at the Media Production Show 2017 in London last week and though it looked lovely. They didn't have one with the GH5 XLR Unit attached to the top (at least I didn't see one at the Atomos booth where the Shape stuff was), however the Top Handle is on a separate cold shoe built into the front of the cage and can be swung forward.
But even if you have the top handle pointed forward, I am not sure if there is going to be enough clearance for the XLR unit so you'll probably need to take the top handle off in order to use the DMW-XLR1 audio expansion unit. Nevertheless, it looks like a solid, well-built cage.
More info is available on the Shape website.
VARAVON ZEUS GH5 Cage – B&H link here.

Price: $219 body/ $279 with 1 x handle/ $339 with 2 x handles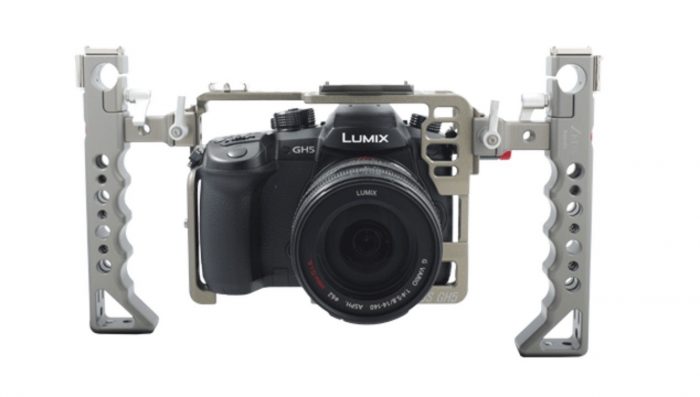 Constructed out of aluminium and steel bits, the Varavon Zeus GH5 cage comes in at just 178 grams and allows access to the SD card slot, battery compartment, and all camera controls, while offering the option to stick a couple of top handles on the side for a more run-n-gun type of shooting.
The cage offers a variety of accessory mounting options. In addition to 1/4″-20 and 3/8″-16 threaded holes, a 15mm rod port is integrated into the handle that positions an optional rod above and perpendicular to the camera, which is useful for mounting an external monitor or EVF.
For further accessory mounting, there are two cold shoe mounts on the handle and a third on the top right of the cage. Included with the cage is a lightweight cable clamp that screws into any of the 1/4″-20 threaded holes and helps prevent a connected cable from accidentally being pulled out while shooting.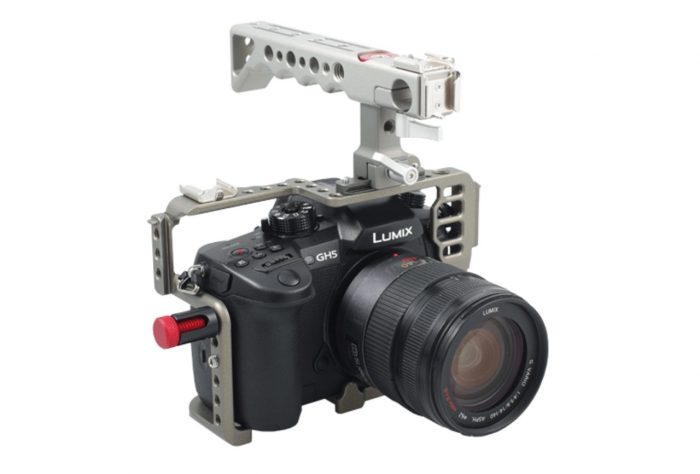 Find out more about the Varavon ZEUS cage from the manufacturer here or order from B&H here.
TILTA GH5 Cage

Price: $400 / $550 with wooden grip – B&H links
Looks like the familiar solid quality Tilta design, with which I am sure many of you are familiar with. The top handle is removable and the side grip features a start/stop button, however the wooden side handle is an optional extra accessory. This cage features a built in QR plate on the inside of the cage so you can easily remove the camera from the cage and move it to a gimbal or another setup as required.
Check out the following video from NAB 2017 by Chung Dha for more info:
SEERCAM/MOTION9 CUBE GH5 Cage

Price: $250 body; $550 with handle and rod riser; up to $638
This is a rather pricy cage when you add the top handle and a rod riser, but it does looks rather solid and well build. Machined out of a single piece of aluminium with raised "lips" on the front and back to prevent your camera from twisting, the Seercam CUBE GH5 cage also features a dove-tail mounting system for 15mm rods and a top handle allowing you to quickly mount and dismount such accessories.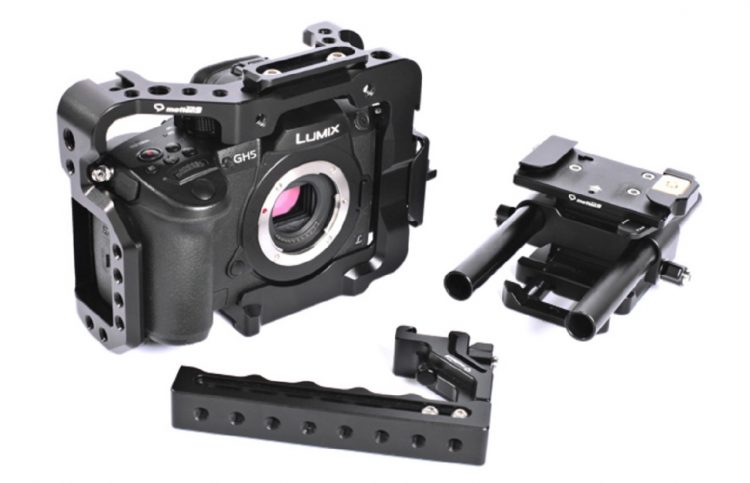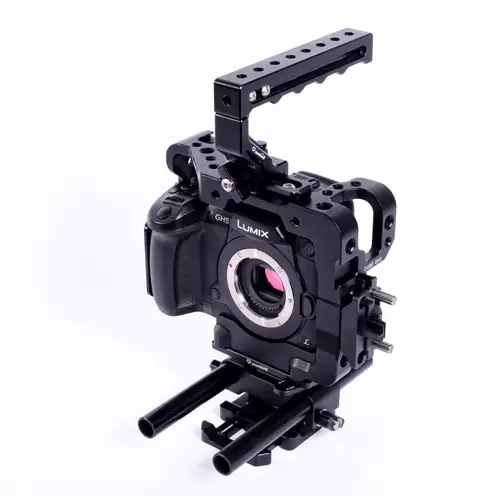 For more information on the Seercam/Motion9 CUBE cage for the GH5 head over to their website here.
What is your cage of choice so far for the GH5? I'd love to hear what you guys are picking out of the sea of options out there – and I am sure soon there will be even more.
Claim your copy of DAVINCI RESOLVE - SIMPLIFIED COURSE with 50% off! Get Instant Access!