Some of you have already received your Panasonic GH5's, while others are patiently waiting for the mail man to turn up. Well, in any case, getting the camera is just step one. Step 2 is usually the cumbersome and often frustrating task of finding the right cage/kit and accessories for your GH5. Panasonic's marketing efforts have certainly payed off, as it has been a while since I've seen such a hyped up camera, which can also be a detriment, but nevertheless having shot with it a few times already, I can see why a lot of people are super excited.
The problem for me at the moment is editing the footage, as everything in the camera is Long-GOP (or IPB in other words) and at 4K/150 Mbps, my MBP 2015 really struggles, which is the main reason why I haven't posted my footage yet. I have just ordered the new Atomos Ninja Inferno to help me get proper 10bit ProRes in 4K right from the get-go without having to transcode in post to smooth-out my workflow.
In any case, I digress. Recently, I found out about a few new GH5 cages that will be hitting the streets soon. I am sure that given the popularity of the camera, there will be more manufacturers joining in the near future, and we also have NAB 2017 coming up in less than a month, so exciting times head indeed.
LOCKCIRCLE ROBOT SKIN Cage for the GH5
Italian gear maker LockCircle do take a lot of pride in their pretty cages and accessories. Having seen some of them at BSC Expo and BVE in London, I can honestly say, their stuff is some of the best looking and well built I've ever seen. Some of you may be familiar with their premium cage for the Leica SL, or their popular Birdcage style cages for Sony alpha cameras or their a6500 cage.
They pitch their new "Robot Skin" cage for the GH5, not so much as a traditional cage, but as a "natural extension" of the camera's shape.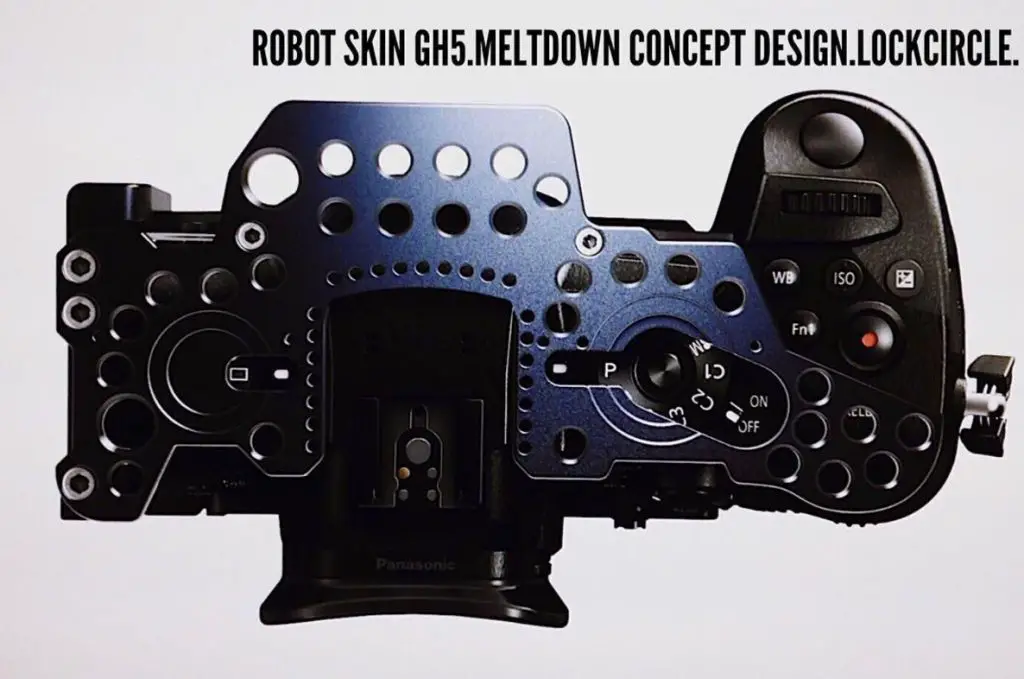 As you can see from the top view above, users can expect to be able to reach the WB, ISO, recording and function buttons on top without restrictions. The same goes for the flip-out LCD screen on the back. The best part about it so far (for me at least) is that by the looks of it, you'd be able to use the dedicated GH5 XLR adapter as the top shoe seems to be unobstructed.
The Robot Skin GH5 cage is likely to be made available in mid-May and possibly in some form of a limited run according to the manufacturer's press release. There is no word yet on pricing.
LockCircle Robot Skin GH5 Cage Highlights
Asymmetrical classic LockCircle cage design concept.
Right hand camera grabbing/control with original Lumix GH5 camera ergonomics.
Innovative SFA Straight Function Action with DTV Dials Total View design concept.
T-Wrap (total wrap) expansion module for right hand accessories/grip handles
90 (110 threads with T-Wrap)  1/4"-20, 3 (5 with T-Wrap)
Top Grip handle and Boombooster compatible accessories.
CNC machined from billet aircraft grade aluminium.
Ultra-Lightweight and professional heavy-duty grade strength.
High quality Swiss Anodizing with "professional grade" velvet surface finish.
Custom genuine titanium grade 5 screws and knobs.
MultiPort HDMI/USB/Audio port savers with connector locking.
Meta-Block mount (adjustable) for Metabones monolithic mounting.
IMS-Block for IMS – Mounts for the serious cinematographers needs.
Several IMS Professional lens mounts available:
Leica-R, Canon EF and Nikon with Positive-Lock.
New MicroMega ultra compact modular expandable BasePlate.
Focal Plain thread for AC measurement custom titanium hook.
New hi-tech deep anodized colours:

Blumix (blue), Noir Black, Purple Rain.

Designed by cinematographers and manufactured in Italy.
Limited Edition, manufactured only on request for real GH5 aficionados
Price: TBD
8SINN GH5 Cage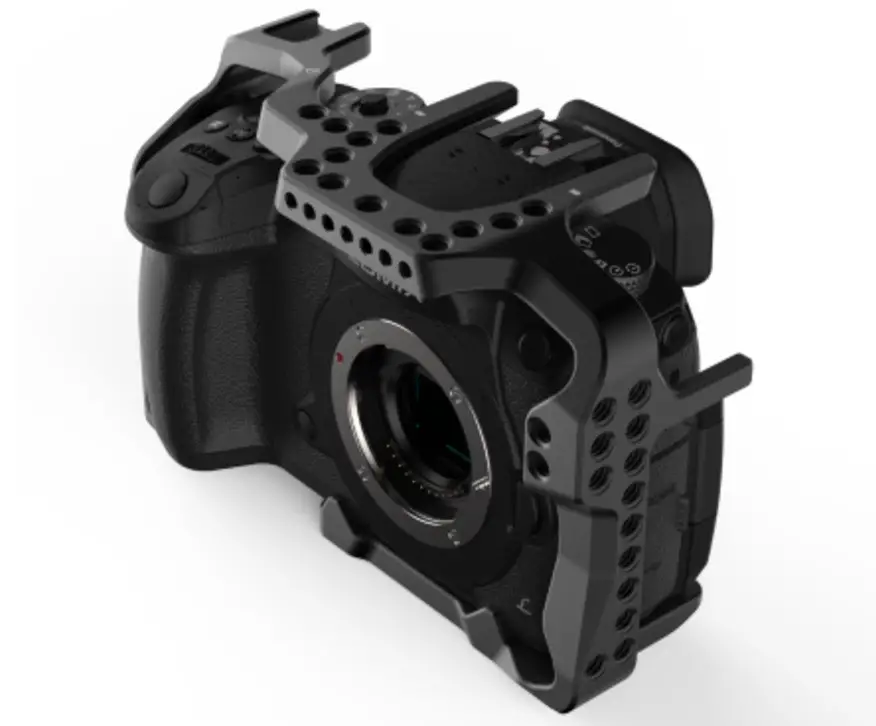 The 8Sinn cage for the GH5 looks slick and loaded with multiple 1/4-20 mounting options, HDMI protective locking, and even a built in cold shoe. This cage is made out of a single solid piece of aircraft aluminium to a high standard.
The new 8Sinn GH5 cage is compatible with all of their top handles and rod support options, making it a great choice for a guerrilla filmmaking or more studio work. While using any of the top handles, the cold shoe slot can be used as mounting point for DMW-XLR1 XLR Microphone Adapter for DC-GH5, with extension cords available on the market.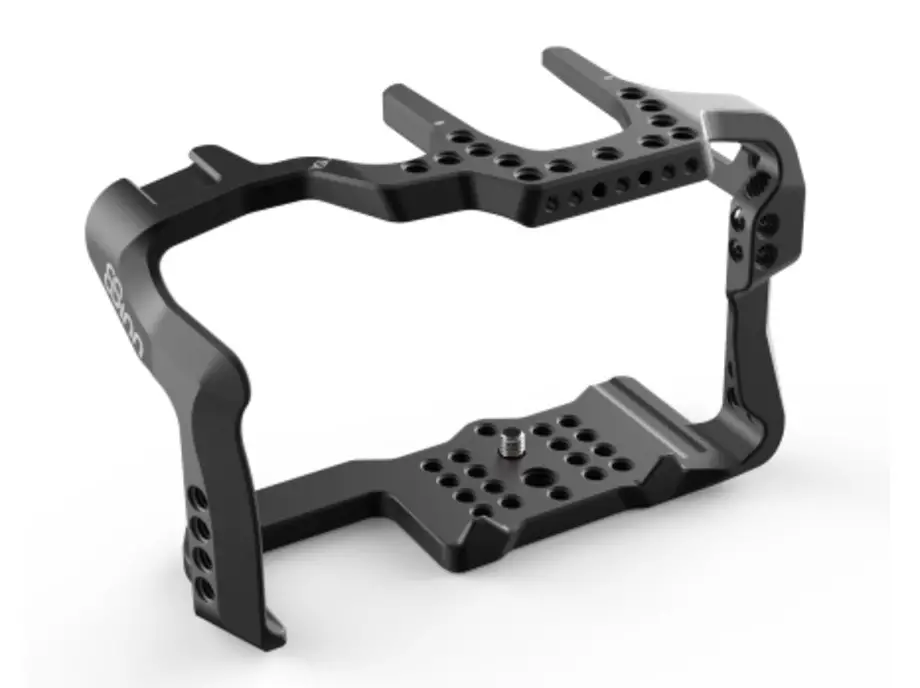 The 8Sinn GH5 cage is now available to pre-order for $199 and apparently shipping in the 2nd half of March, which is now pretty much gone.
CAME-TV Panasonic GH5 Cage
The new CAME-TV cage has been designed to fit the Panasonic GH5 while retaining accessibility to the LCD when flipped. The design of this cage also prevents the camera from twisting when placed inside.
The CAME-TV GH5 cage is CNC machined and provides easy access to the battery and SD card without removing the camera from the cage, and features a the top handle sporting a tool-less design for easy removal.
The cage also comes with a 15mm base plate and top handle included for $298. You can order the CAME-TV Cage for the GH5 directly from B&H.
SMALLRIG Cage (1965) for the Panasonic GH5
Of course, if you are working on a really tight budget, some of these cages may be out of your reach. However, the good people at SmallRig are always thinking of new ways to bring really well made and affordable kit to the masses. I am still using the FS5 side cheese plate and monitor mount extension, which I bought for practically peanuts.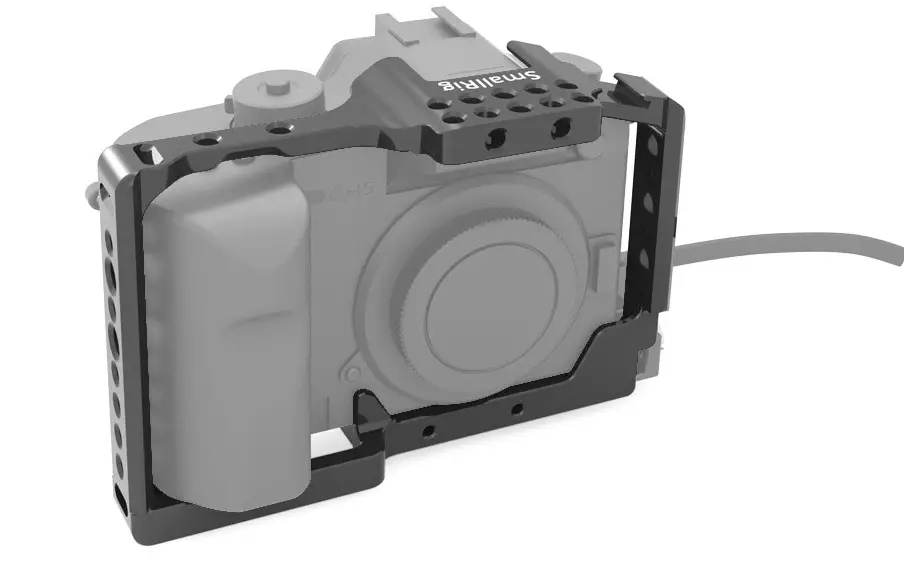 They also often collaborate with filmmakers to create new tools, such as in the case of this new GH5 cage designed by Jeff Rock.
With multiple 1/4'' & 3/8'' thread holes on the side, this new GH5 cage cane be used with the SmallRig Rosette Bolt-On Mount 1939 for attaching the SMALLRIG Wooden Handgrip.
The SmallRig GH5 cage also features two threaded holes at the front below the lens for attaching a Metabones lens adapter support. Additionally, it is ideal to mount wrist strap with a build-in mounting hole on the right. What's more, SmallRig are planning to further design a GH5 XLR protector, GH5 handle and base in the near future.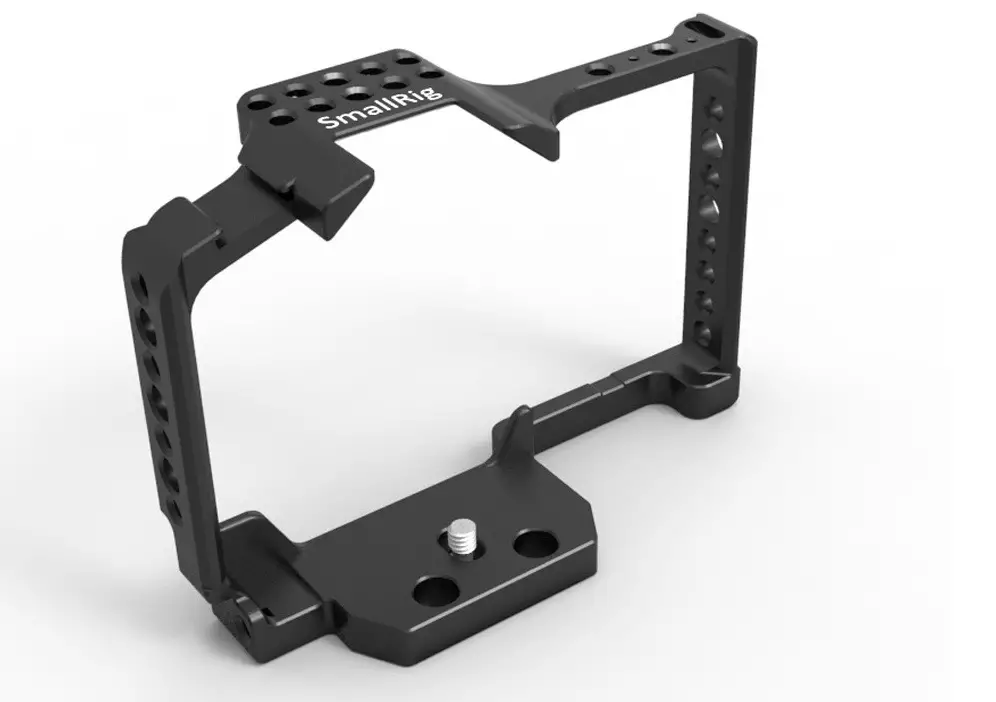 SmallRig GH5 Cage Key Features
Includes NATO rails and cold shoe for attaching accessories
Multiple 1/4'' & 3/8'' threaded holes
Comes with Metabones lens adapter support mounting holes
Provides wrist strap mounting hole
Open access to controls and battery
GH5 XLR protector , GH5 handle and base will be designed further
The price is really affordable – right now they are doing a 50% Off for $44.50 (excl.VAT) for the first 100 pre-orders, so might want to head over to SmallRig and grab one at that special pre-order promo price.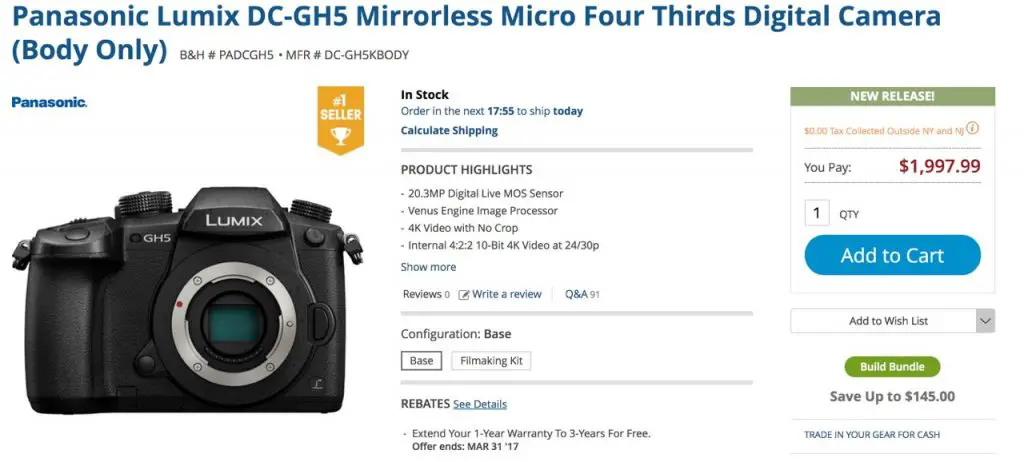 The Panasonic GH5 also appears to be showing in stock at B&H, so if you haven't pre-ordered and want to get one, hit the link here to head over to B&H.
Disclaimer: As an Amazon Associate partner and participant in B&H and Adorama Affiliate programmes, we earn a small comission from each purchase made through the affiliate links listed above at no additional cost to you.
Claim your copy of DAVINCI RESOLVE - SIMPLIFIED COURSE with 50% off! Get Instant Access!