DSLR style cameras are still enjoying a large following in the video world, despite the influx of new and affordable large sensor cameras like the Sony FS7 and the even more recent and affordable Sony FS5, which has been shipping for a few good weeks now. A lot of DSLR shooters have already made the jump to mirrorless 4K cameras like the Sony A7s and Panasonic GH4, and while the former has already received a successor in the A7sII, the latter is awaiting its next incarnation in the upcoming first months of the new year according to the latest rumours. Regardless of when and what comes out, cameras like the Sony A7RII and A7sII do still require "rigging" of some sorts in order to function properly on a professional set.
Luckily for us, there's a few companies out there like Varavon, Tilta, Movcam and a few others, who are have some really nice cages and rigs for mirrorless cameras predominantly used for video. Italian-based LockCircle is one of those manufacturers bringing out innovative and robust cages for today's top mirrorless cameras.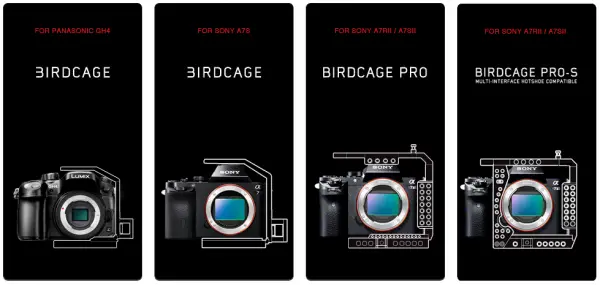 Last month we covered their LockPort A7S II Micro Cage and HDMI protector and now they are have posted some new info about their latest addition to the BirdCage line-up – the BirdCage Pro-S.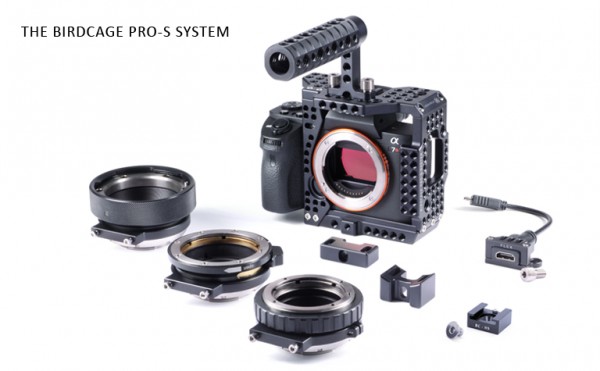 The new BirdCage Pro-S from LockCircle fits both the Sony A7RII and A7SII cameras featuring the exclusive LockCircle "Asymmetrical Design Approach" which allows you to still grab the camera with your right hand and use the camera's native grip for a more comfortable experience.
According to the manufacturer, the "S" stands for Sound and allows shooters to use the original Sony K1M and K2M XLR microphone adapter kit for professional audio capture via the (MI) Multi-Interface Hot Shoe or mounting Sony made LED lights.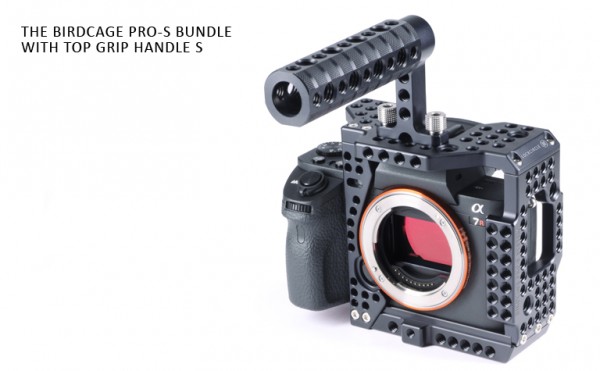 Having a cage that doesn't block the MI shoe opening is a huge plus and often a very desirable feature by most shooters. The BirdCage PRO-S also integrates with the new LockPort Flex, and a system of mounting plates and PL Mounts for cine lenses.
The innovative LockPort Flex protects definitely the fragile micro-HDMI output on your Sony A7RII and Sony A7SII and also transforms the Micro HDMI to a full-size HDMI output (Type A) in every direction position on the BirdCage
The BirdCage PRO-S baseplate features a mounting "receiver" for the adjustable Meta Block and is also designed to accept a variety of mounts – including a Metabones adapter, and a IMS-Block for high grade professional Positive-Lock Mounts (PL, Canon EF, Nikon F, Panavision, Leica and M).
BirdCage Pro-S Features
Innovative Asymmetrical Cage Design
Right hand camera operation via original camera grip
Multiple Accessory mounting points via  1/4 20-inch and 3/8"
Top Grip Handle with 23 threaded 1/4" 20 holes and 16  threaded 3/8" holes
CNC machined from billet aluminium
LockPort Flex integrated micro to full-size HDMI adapter
Meta Block (adjustable) mount for serious Metabones locking to the Baseplate (no bayonet play and heavy-duty mounting)
IMS Block  (adjustable) mount for P+S Technik Positive-Lock Mounts for cinema style shooting and superior follow focus work
Sony E-Mount to PL Mount, Canon EF Mount and Nikon F Mount with exclusive PLS Positive-Locking System (no lens bayonet play)
Focal Plain threads for AC measurement hook
Available in black or titanium hard surface finish
Incredible lightweight, only 200 grams (7 oz.)
Designed and manufactured in Italy
Pricing on the BirdCage Pro-S bundles start at $399 + Shipping and duties. To find out more info and get your BirdCage
head over to LockCircle.
Claim your copy of DAVINCI RESOLVE - SIMPLIFIED COURSE with 50% off! Get Instant Access!