The LockCircle 6500NY is an awesome looking new cage for the upcoming Sony a6500 mirrorless 4K camera. LockCircle make some very nice looking and quite well built camera accessories from super secure aluminium camera body caps, compact camera cages, Titanium lens adapters, cinevized Zeiss lenses to HDMI port adapters and a really versatile mattebox among others. All their stuff is exquisitely designed (after all they are Italian for christ sake :)) and fairly reasonably priced. I had a chance to check out some of their stuff including their recent BirdCage production cages for the Sony A7sII, and now they have a brand new (or rather redesigned) cage for the upcoming Sony a6500, that we're all eagerly awaiting to ship in December.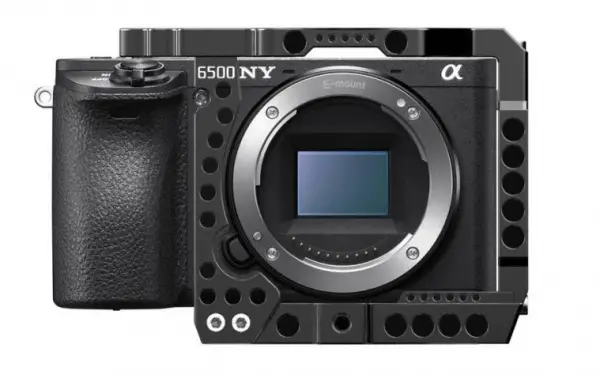 If you remember, we told  you about the LockCircle 6300NY cage here, which was designed for the a6300 of course, and the new 6500NY cage from LockCircle isn't too far off. After all the new Sony a6500 body isn't exactly a radical departure from its predecessor.
And the good news is that if  you have a Sony a6300, the new 6500NY cage is compatible with it. Unfortunately, if you have the older 6300NY cage for the a6300, you may not be able to get the new a6500 in it due to the slight size difference between the two cameras and cages.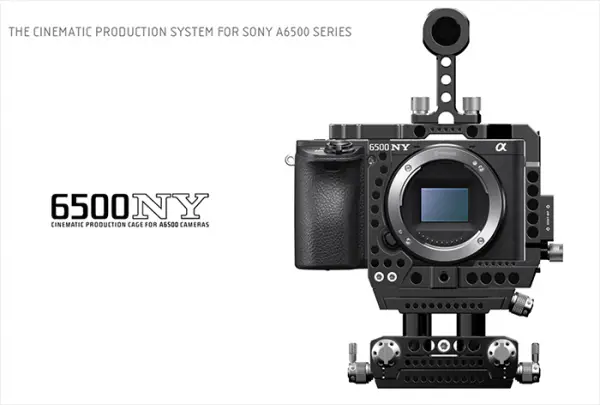 At just 200 grams (7 oz.), the new 6500NY cage by LockCircle wraps gently around the Sony a6500, while leaving the handgrip exposed, which is a good thing as it gives operators a more tactile way of working with the camera; this is what LockCircle's refers to as "Asymmetrical Design Approach" for a more ergonomic feeling.
Much like the LockCircle cage for the Sony a6300, the 6500NY cage features more 1/4"-20 threaded holes for accessories than you'd probably ever need and and also a few 3/8"-16 for professional heavy-duty mounting. Users can also use their popular LockPort Flex (micro to full-size HDMI output), used on the Birdcage A7 and A7M2 for serious protection when shooting in touch production environments.
The 6500NY cage also leaves access to the pop-up flash and the Sony MI-shoe on top of the camera giving you access to plenty of Sony accessories for LED top lights or audio – such as the K2M XLR adapter or the UWP-D11 wireless audio kit married with a SMAD-P3 adapter, which can transmit audio through the electronic pins in the Multi-interface shoe without the need for cables.
The cage integrates with the LockCircle Meta-Block mount for Metabones and IMS-Block for IMS-Mounts, which prevents play between the lens/mount/and camera giving you stability with longer or heavier lenses.
LockCircle 6500NY Cage Features
Asymmetrical cage design
Right hand camera grabbing/control with original Sony ergonomics
Birdcage Top Grip handle and Boombooster compatible accessories
CNC machined from billet aluminium
Genuine titanium screws
MicroPort and LockPort Flex HDMI/USB port savers
Meta-Block mount (adjustable) for Metabones monolithic mounting
IMS-Block for IMS- Mounts for serious cinematographers needs
Several IMS Professional lens mounts available
Focal Plain thread for AC measurement hook
Compatible with Sony a6300
Designed by cinematographers and manufactured in Italy
The new LockCircle 6500NY cage is expected to start shipping worldwide towards the end of November at a price of $299 + shipping/duties or 279 Euros + VAT and will be available to purchase directly from LockCircle soon.
Claim your copy of DAVINCI RESOLVE 16 - SIMPLIFIED COURSE with 50% off! Get Instant Access!