Panasonic have placed a lot of faith in their Varicam LT; some say it's even what the predecessor Varicam 35 was supposed to be in the first place. Announced back in February and shipping since after NAB 2016, the Varicam LT has been on the shopping list, or at least wish list, of many DPs. And it's now wonder why – much like the bigger Varicam 35, the LT is a proper cinema/production camera with huge potential in Broadcast and Film having already been successfully used to shoot amazing moving images from all over the world. The LT shares the 14+ stops DR sensor (with the unique dual native ISO) with the Varicam 35, but unlike it's bigger brother, which requires a crew to run it, the Panasonic Varicam LT is catering to the single operator market thanks to its "unibody design" where both the sensor module and recording module are built into one more compact body.
And speaking of its Dual Native ISO check out some exterior night footage shot at ISO 5000 by Tobias Mennie below.
No stranger to the Varicam LT, here's what Tobias had to say about his experience with the camera:
Shot on Varicam LT, mainly at ISO5000, with available light. Ethics statement: I was part of a team comparing 11 cameras for two days, sponsored by a couple of companies. Panasonic hired me as the Varicam LT operator. Test results will be published soon. I got this footage mainly while our model was waiting for the next camera setup. Except the second shot which is underexposed I went for optimal skin tones and shadow protection when needed. I can always let highlights blow out because the roll off is totally filmlike.

…At higher ISOs the Varicam LT´s native ISO5000 is quite simply a game changer. I also enjoyed working for hours in the drizzle without worries when some other cameras needed to be protected under plastic covers…

Lenses: Canon Cineprimes CN-E 24/T1.5, Canon CN-E 50/T1.3, kindly provided by Dirk Fobker/Canon Germany. Plus, Olympus OM Zuiko 50/2 macro (watch out for hexagonal Bokeh highlights), Olympus OM Zuiko 90/2 macro (two close ups of her eyes).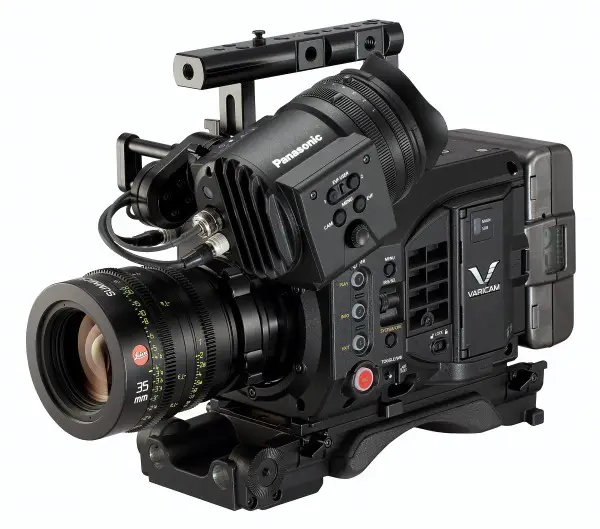 Panasonic Varicam LT Features and Highlights
4K Super35 CMOS Sensor
Native Canon EF mount (PL mount extra option – easily user swappable)
2K/Full HD 240fps Slow-Motion (uses sensor crop)
4K/60p and Full HD ProRes 4444 & 422HQ
4K/60p Raw to Convergent Design Odyssey7Q+
Built-in ND filters: 0.6/1.2/1.8
User Removable IR Cut filter
Single ExpressP2 card Slot for Main 4K/2K/HD recording
SDXC Card slot for Proxy Long GOP recording
Dual Native ISO – 800/5000
Optional OLED viewfinder ($5,400 at B&H)
3 x SDI Out (dedicated one for Viewfinder)
Support for 3rd Party Viewfinders like Zacuto Gratical and BMD URSA Viewfinder
2 x XLR inputs – 4 x Channel Audio 24bit/48kHz LPCM
Pre-Rec / Interval rec / One-Shot Rec
V-Gamut – exceeds BT.2020 HDR colour space
14+ Stops Dynamic Range with V-Log
V-Look and BC-Look Presets – similar to WideDR on Canon C300 (mix between V-Log and Rec.709 for faster turnaround)
Weight: 2.7 kg / under 6 lbs.
Tobias also published his Varicam LT review in two parts below on his Vimeo account. Check out his findings below each video.
The "Panasonic film look" is not marketing waffle, but simply amazing, and it is not one look, but THREE basic looks, with gradual transitions between them: Chrystal clean (but not digitally cold) 65mm, velvety 35mm, grainy gritty S-16mm. The Varicam LT has film´s rich and detailed colour reproduction, and at least film´s dynamic range with a truly superb highlight roll off. But in many ways it takes us far beyond film, as it is affordable, great in low light, and very easy to use from shooting to postproduction.

I love having three digital film looks in one camera as rock solid starting points for postproduction. And they feel a bit less like the Kodak film emulation of the Arris, but have a more vivid, lifelike Fuji film vibe.

Use this camera in good light, expose properly at ISO 800, and it looks like gorgeous 65mm, warm, but crystal clear with little texture. It reminds me of the wonderful 50ASA film stocks. ISO 5000 in the same conditions will have a little film grain texture in the darker mid-tones and below, highlights and bright mid-tones still looking crystalline.

With ISO 5000 in lower, available light but well exposed you will get velvety fine grained 35mm film look, classic cinema.

Underexposure at ISO 5000 will give you a more contrasty, increasingly undersaturated gritty 35mm film look with a similar feeling as S-16mm, although much higher resolving.
Images still blow me away every day. Build quality is superb. Zacuto eye and Zacuto axis make the Varicam LT perfect. ISO 5000 is a game changer. The 200 fps slow motion looks stunning on a full HD monitor (TV Logic VFM-058W)…

…VARICAM LT vs. ARRI AMIRA
This is what we all want to know: How does the Varicam LT compare to the de facto industry standard for high end productions. After shooting, editing, grading and analyzing 3hrs of 3.2K footage from an Arri Mini I´m sure this will be a thrilling test with lovely images from two master cameras but we will shoot day into night at ISO 800, 1600 and 5000 and see where the images start to break…

MY VARICAM SETUP – keep it supersimple and lightweight – from tripod to shoulder in 15 seconds. Plus: Onboard microphones and sync sound. Enter: 2 DPA4060s and the Sennheiser MKH8050. Wow…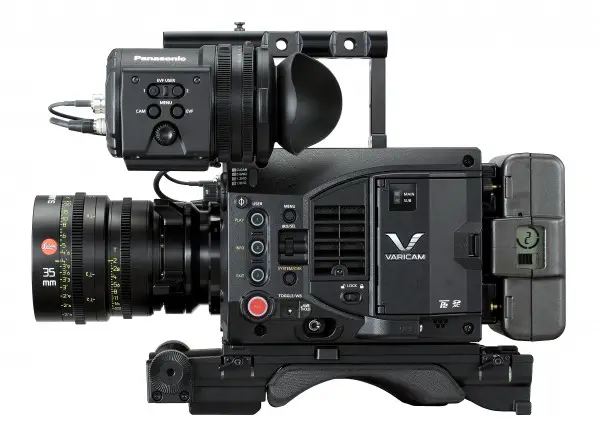 Tobias seems to adore the Varicam LT, however as always – try and get your hands on the camera on your own and test it under your own conditions based upon what you shoot, as every experience can be different; however there seems to be a consensus out there from those who've already tried the camera – they all seem to love it.
Now is just as good time as any to buy the Varicam LT as Panasonic are giving a whopping $4,500 rebate for those who purchase any of the Varicam LT packages below. In case this and other reviews have convinced you to buy one – you can use the links below to get yours and helps us continue to run the site in the meantime:
Varicam LT-PRO Package – $20,600 (after $4,500 Rebate)

Camera Body
Control Panel
Top handle
Canon EF Mount
OLED EVF
Shoulder Mount
Side Hand Grip
User-Swappable PL mount
Varicam LT-PROEX Package – $23,100 (after $4,500 Rebate)

CameraBody
Control Panel
Top handle
PL and Canon EF Mount
OLED EVF
Shoulder Mount
Side Hand Grip
2 x 256GB ExpressP2 cards + reader
[via Cinescopophilia]
Disclaimer: As an Amazon Associate partner and participant in B&H and Adorama Affiliate programmes, we earn a small comission from each purchase made through the affiliate links listed above at no additional cost to you.
Claim your copy of DAVINCI RESOLVE - SIMPLIFIED COURSE with 50% off! Get Instant Access!