It wasn't that long ago when you had to spend more than $16K to buy into Canon's 4K premium EOS C500 camera. As of earlier today, the Canon EOS C500 in both EF and PL mount gets a huge discount and is now priced at $10,000 in the US. The significant price drop is a good sign of an imminent new model to be announced possibly at NAB 2016 in a month. The $6K price drop is more than significant given the fact that we are a month away from NAB, and Las Vegas is possibly the best venue for Canon to officially unveil the C500 Mark II, which according to some reports may very well have some form of 8K recording and internal high-frame rates in 4K. Canon did show a prototype of a modified existing C500 hooked up to 4 x Odyssey7Q's last fall in Paris.
While this is most definitely ridiculous, it is nothing more than a proof-of-concept, and a very good indication of where Canon are headed. And even if a C500 II or whatever it ends up being called is announced in a month at NAB in Vegas, much like the C300 Mark II it probably won't start shipping until mid to late Fall. Rumours are that Canon is aiming to release a top end camera aimed at competing with the new ARRI Alexa (not yet announced will supposedly feature 6K recording and a brand new sensor) and Red Weapon.
The Canon C500 is still a very capable camera and now it's even cheaper than what the original C300 used to cost after the first discount. When introduced five years ago, the original C300 had a hefty price tag of $16K. It took years for the price to drop to around $12K in July 2014, and then by another $5K in April last year right before NAB and has been stable at $6,999 with the Dual Pixel AF update (the Non-DAF original C300 has been discontinued).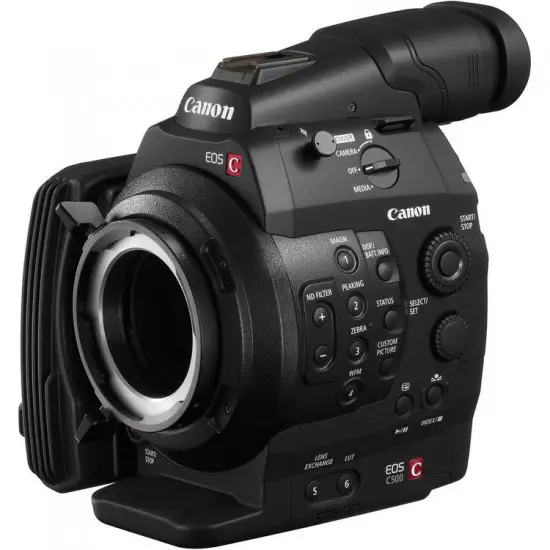 Canon EOS C500 PL Highlights – $9,999 at B&H
4K RAW (4,096 x 2,160) Output to External Recorders like Odyssey7Q+
PL Lens Mount
8.8 Mp Super 35mm-Size CMOS Sensor
Also Puts Out 2K, Quad HD & Full HD
2x 3G-SDI Outputs
50 Mb/s Proxy HD Recording to CF Card
10-Bit 4K RAW at Up to 60p
10-Bit 4K Half RAW (4096 x 1080) at Up to 120p
12-Bit 2K 4:4:4 Signal at Up to 60p
Canon Log Gamma
Sure, the C500 needs an external recorder like the Odyssey7Q+ to get the 4K recording (it is not able to record it internally), but considering the massive price drop if you are in the market for a serious digital cinema camera that has been used on major motion pictures like Martin Scorsese's "The Wolf of Wall Street", and one of this year's Oscar nominated features – "The Big Short", the Canon C500 may be that unlikely winner. Compared to a Sony F5 (which is still $15 grand) and the C300 Mark II which is $16K, all of a sudden the good old C500 starts to make a lot of sense.
And if anyone is considering buying a C300 original, there's not much point at this stage – it would make a lot more sense to spend 3 grand more and get a C500 – a 4K machine with Slow-motion.
Canon have also announced price reductions on some really awesome bundles with the C500 and the Convergent Design Odyssey7Q for $12K, which basically gives you a O7Q for $2,000. (Note: Not the O7Q+, but the order 7Q model, which doesn't have the ability to record 4K over HDMI, but over SDI is still the same as the successor).
Canon C500 EF mount + Odyssey7Q for $11,999
Canon C500 PL mount + Odyssey7Q for $11,999
Canon C500 EF Mount Body Only – $9,999
Canon C500 EF Mount Body Only – $9,999
The best part about all the deals above is that both the camera and the O7Q kits are part of the 24 month 0% financing deal by Canon, so you don't even have to pony up 12 grand up front to get a solid high-end 4K camera.
Claim your copy of DAVINCI RESOLVE - SIMPLIFIED COURSE with 50% off! Get Instant Access!