Italian camera accessories designer and manufacturers LockCircle have a beautiful new cage with PL mount conversion for the Leica SL 4K mirrorless camera. If the Leica SL is the Ferrari of the 4K mirrorless cameras, then LockCircle is surely the premiere accessories manufacturer that is more than fitting for producing an exquisite cage for the SL. LockCircle make some really nice accessories and beautifully designed cine lenses such as their XM cine primes, which are based on Zeiss glass. In addition, they recently announced a cage for the Sony A6300 as well as the Birdcage Pro-S cage for the Sony A7RII and A7sII.

The Metal Jacket is their dedicated cage for the Leica SL (Typ 601) designed to make the camera production ready for the demands of field production and allow cinematographers to tailor the camera to a more cinematic style of shooting. The cage features an "Asymmetrical Design" allowing right hand camera control via the native camera grip.
The Metal Jacket screams quality and durability; the cage itself is CNC machined from billet aluminium and includes real titanium screws and titanium grade 15mm rods. The cage is very lightweight too, weighing in at just 225 grams, and has a ton of 1/4 20-inch threaded holes for mounting accessories (105 to be exact) and also 20 holes with 3/8th 16-inch thread.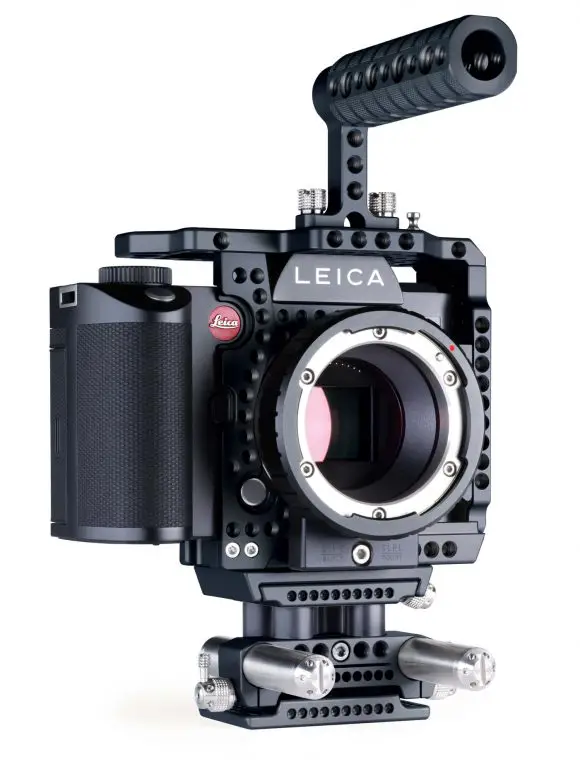 Metal Jacket by LockCircle Features
Asymmetrical cage design for enhanced "still and motion" feeling
Right hand camera grabbing/control with original Leica SL ergonomics
Ultra lightweight: cage weight is only 225gr. – 7.9 oz.
105 threads 1/4"-20 and 20 threads 3/8"
Heavy-duty camera baseplate with 1/4"-20 and 3/8" threads
CineBlock mount for original CW Sonderoptic SL/PL Mount
Top Grip handle, compatible with BoomBooster action grip handle
CNC machined from billet aluminium
Mil-A 8625 Type III (Mil-Spec) surface anodized (Dura-T / Dura-K)
Genuine titanium screws
Camera control display full visible (shaped design)
MultiPort HDMI / USB 3.0 / Audio / Control Interface port protectors
Genuine Modular Titanium Grade 5 Rods 15mm
Focal Plain thread for AC measurement hook (titanium pin)
MicroMega modular ultra-lightweight baseplate (15 rods)
Titanium Grade 5 Modular 15mm Rods system
Designed and field tested by cinematographers
Master-crafted in Italy (lake Como) by LockCircle.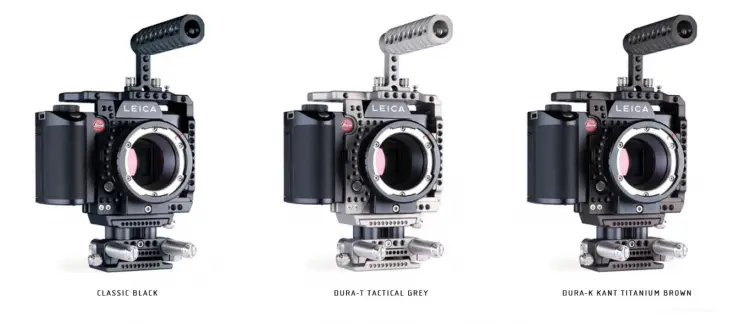 The LockCircle Metal Jacket cage will be available in three flavours – a "Classic Black" anodized finish, hard anodized (Mil-Spec) "Dura-T (Tactical Grey)" and "Dura-K (Kant Titanium Brown)" for ultimate quality. As with most LockCircle cages, the Metal Jacket cage integrates easily with the MultiPort HDMI/USB 3.0/Audio protectors that LockCircle makes so you don't have to worry about loose cables to external recorders in the field.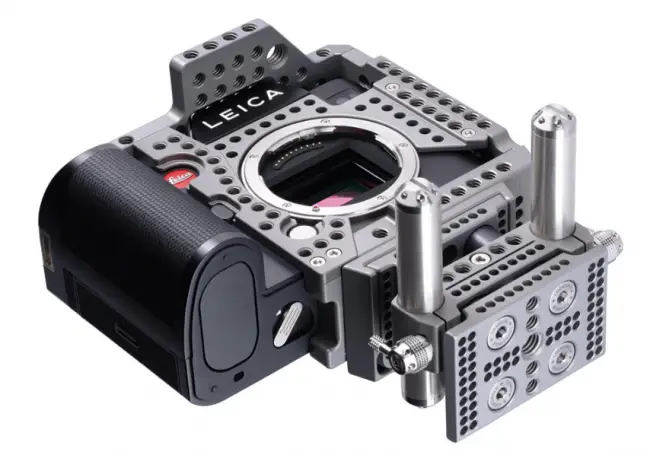 The Leica SL Metal Jacket also integrates with the CineBlock interface mount, the original CW Sonderoptic Leica SL-PL Mount, thus creating a rugged one-piece rig enabling DP's to shoot with award-winning Summicron-C and Summilux-C Leica cinema lenses.
An ultra lightweight MicroMega baseplate for 15mm rods is available with an innovative modular (joinable) 15mm rods system, CNC machined from genuine titanium grade 5.
There is no word on pricing or availability yet, but LockCircle will be showing off the Metal Jacket cage for the first time to the world at CineGear Expo in Hollywood, between June 3-4 at Booth 82.
Claim your copy of DAVINCI RESOLVE - SIMPLIFIED COURSE with 50% off! Get Instant Access!