You may recall my post from earlier in the week about the upcoming official announcement of the new RED Epic-W 8K camera and upgrade program for existing customers on October 11th, but despite all the "teased" official info, there were quite a few questions remaining to be answered. RED's one of the very few companies, who don't really do things the way others do and the same can be said about their marketing strategy. Earlier today a few new photos of the new EPIC-W posted by none other than the man in charge of RED Jarred Land posted some pretty revealing shots of the EPIC-W resolution and corresponding compressions. From the screenshots below you can clearly see that the Epic-W will be able to record 8K in 24fps and 30fps, bringing it up to spec with NTSC and Cinema requirements for the most high-end delivery or simply a super-down sampled 4K deliverable that promises to ooze detail and dynamic range.
While Jarred had hinted at the fact that the EPIC-W will be an 8K camera, it wasn't clear if it would be able to record in 24 or 30p, i.e. usable frame rates for video, or if it would have 8K in something like 14 or 15 fps, which is only good for stills. With supposedly cleaner images in higher ISO's such as 3200 compared to the previous generation Dragon sensor, the Helium 8K sensor is promising to make quite the splash with RED users, who are eagerly awaiting all the official details on the upgrade program to be revealed in full come October 11th.
However, from the above screen shot it's quite clear from the image above that the EPIC-W will be able to record REDRAW in 8K at 30fps at 9:1 compression, which is quite an achievement in itself. For all of you interested in knowing more details about what has already been revealed about the Oct.11th announcement day from RED, you can head over here and read my post.
In another shot below, Jarred revealed that the EPIC-W will also be able to record simultaneously in 4K ProRes HQ 422, a feature that many thought (including me) would be only reserved for the higher end Helium 8K and Weapon 8K models. The 4K ProRes simultaneous recording is potentially huge news for those looking for a quick turnaround. One thing to bear in mind with the new Helium 8K sensor is the larger crop when shooting in resolutions less than 6K compared to the same resolutions when using a Dragon sensor equipped RED camera.
It can get confusing rather quickly, so best to use the CamAssist tools provided by Phil Holland in order to compare frame sizes between different RED sensors.
The Blackmagic Design Video Assist 4K gets False Colour and expanded Avid DNxHD/HR functionality among other improvements in the latest Firmware Update 2.2.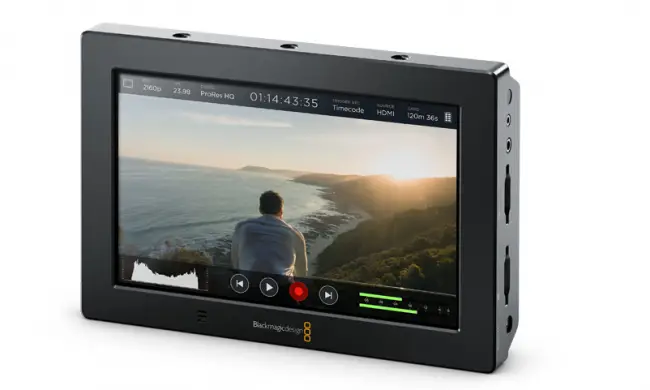 What's new in Blackmagic Video Assist 2.2
Add MXF wrapper to DNxHD and DNxHR for the Blackmagic Video Assist 4K
Add DNx different bit-rates – DNxHD 220,145 and 45. DNxHR HQ,SQ and LB for the Blackmagic Video Assist 4K
Add False Color monitoring to the Blackmagic Video Assist 4K
Add expanded options for Focus Assist to include Red, Green, Blue and White as well as Peaking
Minimum system requirements for macOS
macOS 10.12 Sierra or later
macOS 10.11 El Capitan
USB 2.0 port for software updates
Minimum system requirements for Windows
Microsoft Windows 10 64-bit
Microsoft Windows 8 64-bit
USB 2.0 port for software updates
Video Assist 4K users can download Firmware Update 2.2 from Blackmagic Design here.
Claim your copy of DAVINCI RESOLVE - SIMPLIFIED COURSE with 50% off! Get Instant Access!