Panasonic has huge hopes for the DVX200 camera, ever since announcing the camera at last year's NAB Show in Vegas, despite somewhat mixed reactions from the independent filmmaking community, Panasonic has continued to update and improve their DVX100 successor. The DVX200 received support for a wireless remote control via an iPad app as well as other improvements in firmware version 1.4, and now with the latest firmware update version 1.65, Panasonic adds some exciting new features such as extended sensitivity settings and improved V-Log L performance especially in low-light. Further improvements to the Panasonic DVX200 include customizable options for certain key camera functions and improved stills images capabilities.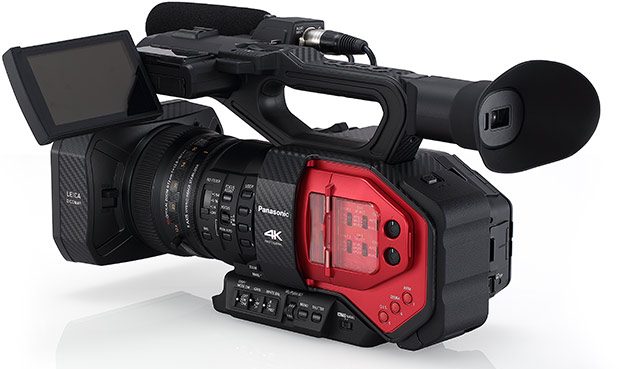 Firmware version 1.65 includes:
Improvement of V-Log L gradation (more distinct gradations at low luminance areas)
Improvement of color reproduction of recorded still images
Adjusted values of Gain are maintained even after being rebooted.
Addition of a negative Gain* adjustment  – The value between -6dB and -1dB or ISO 250 and ISO 400
[EXTENDED SENSITIVITY] menu added.
Addition of a sign showing that Shutter is set to "Auto" "A-SHTR + numeral (shutter speed)"
Assignment of USER SW to AWB button on the front is enabled.
Assignment of Focus Assist function to USER SW is enabled with EXPAND and PEAKING separated. – Mode1 (EXPAND/PEAKING/BOTH) ON/OFF – Mode2 (EXPAND/PEAKING) ON/OFF
Addition of functions that can be assigned to USER SW "PUSH AUTO","SLOT SEL", AWB
The fastest mode is added to Focus Transition function.
October – Panasonic DVX200 4K Test Footage V-Log L: Part 2 from 4K Shooters on Vimeo.
I shot the above awhile back on the DVX200 with one of the original firmware versions in V-Log L, but even so, I was quite pleased with the image. I think with the latest firmware updates that the camera has received, the DVX200 has really come into its own. The previous firmware update 1.51 improved the camera's colour rendition in scene files and added a GH4-like Scene file to make it easier to match both cameras.
To download firmware 1.65 for the DVX200 head over to Panasonic's website here.
Claim your copy of DAVINCI RESOLVE 16 - SIMPLIFIED COURSE with 50% off! Get Instant Access!