By now you've probably heard that me and Vlady have been working hard for the past few months to create a no-nonsense, easy to read, and practical No Budget Filmmaking Guide detailing our trials and tribulations while shooting our first feature films – "The Sixth Day" and "Bandit". Our films were shot with very basic and affordable filmmaking equipment (Canon 7D DSLR for "The Sixth Day" and the original BMCC 2.5K for "Bandit" plus some cheap redheads, foam core and a lot of DIY spirit), our crew was mostly friends and even though we had some very experienced actors I am still to this day amazed as to how we managed to pull of some of the stuff we did with the very little we had.
We realised from first hand experience the gruelling and ungrateful labour that goes into the production of a feature length film; we've lived it for the past three years and learned many lessons in the process.
As promised last week, today we're extremely proud to release it into the world!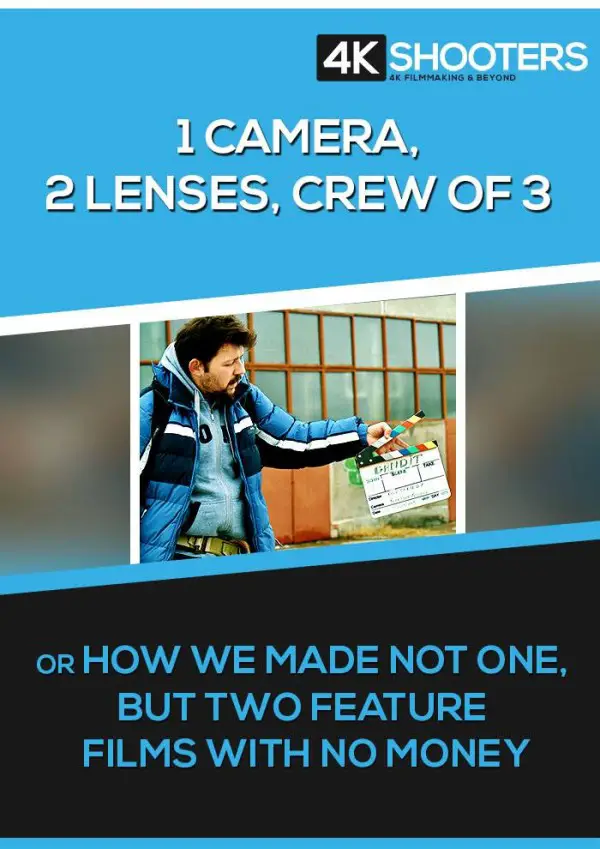 Our filmmaking guide is called "1 Camera, 2 Lenses, Crew of 3: Or How We Made Not One, But Two Feature Films With No Money!" and includes a 100+ page, easy to read, no-nonsense PDF with 2 case studies, based on our own experience throughout the process of creating our debut feature films "Bandit and "The Sixth Day",  as well as over 90+ minutes of video materials including:
Behind the Scenes with Commentary Tracks
Video Tutorials
Poster Photoshop files
Trailers with Commentary on how we cut them
15+ Essential Production Tools such as templates for everything from – crew and cast release forms to budgeting, scheduling, call sheets, and more
Whether you are a seasoned videographer who is tired of shooting only events and corporate gigs, or a buddying filmmaker/student who has made a few short films, but is unsure of how to go about shooting a feature film – this is the guide for you!
No More Procrastination!
Your No Budget Film Journey Starts NOW!
Head over here to our dedicated page here to purchase your copy now!
Claim your copy of DAVINCI RESOLVE - SIMPLIFIED COURSE with 50% off! Get Instant Access!