The inevitability of camera comparisons, especially when you have a camera as hot as the Panasonic EVA1, should come as no surprise to anyone. Of course, not all camera comparisons/tests are the same, and can vary significantly in terms of methodology and style, however in most cases they are created as to show how two or more cameras behave shooting the same scene/environment in the same lighting conditions so that the DP can make an informed decision as to where the strong and weak points are of a specific camera. At least that's the gist of it in my opinion.
My friend Colin Elves, who is a really talented DP that has recently purchased himself a Panasonic EVA1, did post his most recent camera comparison/test between his EVA1 and the Blackmagic URSA Mini 4.6K, a camera that has enjoyed a lot of success in recent times among the indie filmmaking community.
A quick and dirty comparison between the Panasonic EVA1 in both native ISOs (800 and 2500h and the Black Magic Design Ursa Mini (ISO 800)

Shot very quickly after a shoot, so apologies for the weirdness of the methodology regarding NDs and the resolution test.

Exposure was taken from the point where the 3rd grey chip on the grey card was indistinguishable from white on an Odyssey 7Q Monitor – down until it was indistinguishable from black.

The Eva was recorded 4K 10bit 422 from SSi to ProRes HQ on an Odyssey 7Q. The UM was recorded Raw, 4K DCI crop.

Lens was a Rokinon Cine DS 35mm T1.5
Light was an Arri M18 HMI through a Chimera dropbox.
Colour chart was a legacy Xrite colour chart.

The first series is each camera with exposures normalised to mid grey.

Second series shows side by side comparisons at each corrected exposure (including EVA 800/2500 comparisons)

3rd series is the cameras 'exposure matched' to compare performance in low light at native ISOs.

Resolution is compared at T8 (unfortunately the EVA was set to under exposure, but you can still see that it clearly has more effective resolution)

Final series is each exposure laid out as a gradient. So you can see how skin tones might fall.

Original files, plus a Quicktime HQ version are available on dropbox to download: dropbox.com/sh/p61uox1j60nwjd1/AAAX4KG2ucyltu0mpHzkxkSra?dl=0

Thanks,

Colin.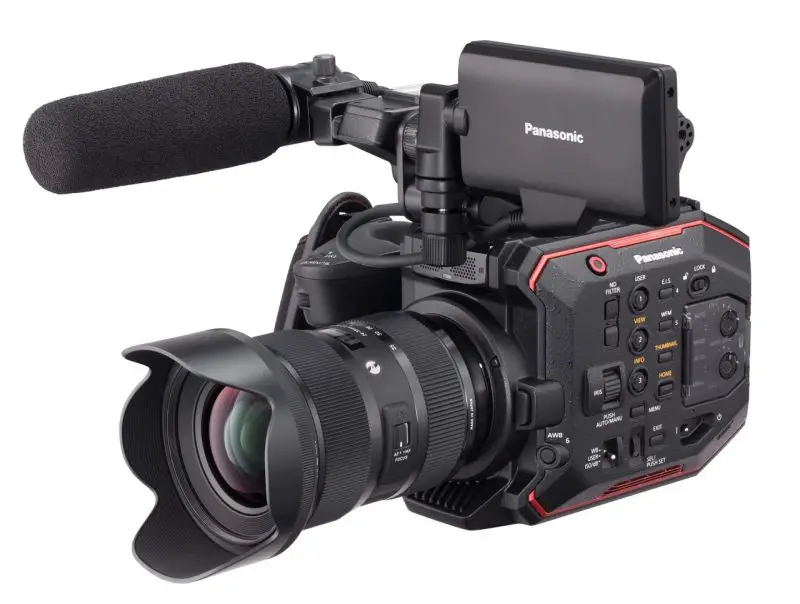 Panasonic EVA1 Features
5.7K Super 35 CMOS sensor
Dual Native ISO (800 and 2500)
Native EF Mount (non-interchangeable)
4K at up to 60p / 2K up to 240p
10bit 4:2:2 internal codec for 4K and Full HD
Up to 400 Mbps data rate for internal
V-log & V-gamut
SD Card Recording
5.7K Raw Output (planned future update)
Electronic Image Stabilization (EIS)
IR Cut In/Out
ND Filter Wheel (2/4/6 stops)
XLR Audio
Tool-less design for top handle and side grip
HDMI & SDI 4K Video Outputs
1.2 kg // 6.69″ x 5.31″ x 5.23″ (L x H x W)
Check out some footage also that Colin shot around London on his EVA1.
Italy-based Filippo Chiesa, whom most of you know from the first ever official Panasonic EVA1 footage – the Iceland dance/fashion promo, has also been putting in the hours in testing the Panasonic AU-EVA1 vs the Varicam LT, GH5, and direct competitor Canon C200.
In this test I used the Academy Color Encoding System (ACES), not for a real cinema color grading, but only to standardize the process with all the cameras involved (Rec.709 ACES output).

I tested and graded the best on-board recording options available for each camera and I also used the Odyssey7Q+ with the EVA1 (ProRes HQ) and the VariCam LT (12bit Raw) to verify the best performances of these two cameras, using an external recorder.
Click here dropbox.com/sh/2alj2oa77l5ate5/AACfLfjCv9a7e0pkeJA-npNNa?dl=0 and download the high quality DNxHR HQX graded and ungraded footage and judge for yourself (split in 20 parts).

I used very high quality LED lights (Extended CRI 97).
Measurements were taken with a Sekonic Spectromaster C-700.

No noise reduction applied.

A special thanks to

ADCOM
Eizo Italy
Blueshape Batteries
Lock Circle
Giada Zanetti
Matteo Mezzadri
So, what do you guys think? I quite like how the EVA1 renders the skin in both tests and also liked the fact the GH5 holds its own against bigger cameras especially the Varicam LT. Use the links above to download the footage and inspect for yourselves.
Claim your copy of DAVINCI RESOLVE 16 - SIMPLIFIED COURSE with 50% off! Get Instant Access!