EIZO have been known as makers of some of the more affordable grading monitors out there for both photography and video. Anyone, who's ever sifted through colour grading forums like Lift Gamma Gain will have noticed these monitors as a decent budget alternative to the usually higher priced Flanders Scientific or high end Sony OLED variants. EIZO recently announced a 31-inch 4K monitors – called the ColorEdge PROMINENCE CG3145. The new 31.1-inch reference 10bit monitor features a 4K-DCI compliant resolution of 4096 x 2160 and HDR support.
The new EIZO 31-inch ColorEDGE PROMINENCE monitor supports 4K/60p via both HDMI and DisplayPort and achieves the 1000 cd/m2 (typical) high brightness level needed for HDR content display. It is also the world's first LCD monitor to achieve a typical contrast ratio of 1,000,000:1 for displaying true blacks.
According to EIZO, the name "PROMINENCE" refers to the phenomenon known as a solar prominence – a flame-like eruption which extends from the Sun's surface.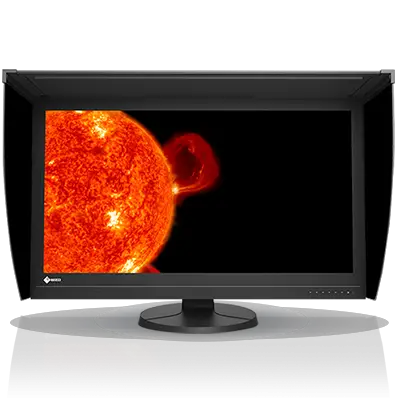 This image of the bright sun shining against the deep black of space lends to the monitor's ability to accurately display both bright and dark content.
The EIZO ColorEDGE CG3145 is the first to overcome the severe drawbacks of other HDR technologies that are available in the market today – ABL and local dimming. ABL (Auto Brightness Limiter) is equipped in other HDR OLED monitors and limits the monitor's ability to display lighter scenes with tones over a specific range in order to prolong the device's lifetime.
This causes those light areas to appear dimmer and the color duller as a result. Local dimming uses an area control backlight system which adjusts the brightness in sections of the screen depending on the content displayed.
However, when an object on the screen falls outside of the area of the backlight that is adjusted, a "halo" effect appears, making it impossible to achieve full color accuracy in smaller details. ColorEdge PROMINENCE CG3145 achieves a true HDR visual experience without ABL or the "halo" effect to ensure users always see accurate colors and brightness in every pixel.
The new EIZO CG3145 supports both HLG (hybrid log-gamma) and PQ (perceptual quantization) curves. HLG is suitable for live television broadcasting and the PQ curve approximates the human visual system in terms of color and light perception, making it ideal for films, streaming, and other video content.
ColorEdge PROMINENCE CG3145 supports various video formats including HDMI input compatible with 10-bit 4:2:2 at 50/60p. The DisplayPort input supports up to 10-bit 4:4:4 at 50/60p.
The new monitor features also EIZO's unique ColorNavigator NX quality control software. It offers quality control and asset management of client ColorEdge monitors. To suit the needs of a specific project, you can change the brightness, gamma, and white point settings of the monitor's preset color modes and calibrate to the new values. The calibration information is saved directly to the monitor.
EIZO ColorEDGE CG3145 Features/Specs
4K DCI (4096 x 2160) resolution
31-inch IPS Panel
WideGamut LED Backlight
98% DCI-P3 Color Space Coverage
99% Adobe RGB
80% Rec.2020
10-bit display from a 24-bit LUT (look-up-table)
178 degree viewing angle
149 ppi
DisplayPort x 2, HDMI x 2 (Deep Color), USB 3.0
Color Mode

REC2020
REC709
DCI
PQ REC2020,
PQ REC709
PQ DCI
HLG REC2020
PQ CAL
HLG CAL
Calibration

Light-shielding hood included
HLG and PQ HDR Support
In addition to the new ColorEdge PROMINENCE CG3145 HDR reference monitor, EIZO now offers optional HLG and PQ curves for many of its current CG Series monitors.
The optimized gamma curves render images to appear more true to how the human eye perceives the real world compared to SDR. This HDR gamma support is available as an option for ColorEdge CG318-4K, CG248-4K, CG277, and CG247X.
Both gamma curves were standardized by the International Telecommunication Union (ITU) as ITU-R BT.2100. In addition, the PQ curve was standardized by the Society of Motion Picture and Television Engineers (SMPTE) as ST-2084.
At the moment there is no word on official pricing yet, but this monitor was on display at NAB 2017 this year so if any of you guys have had a chance to chat with an EIZO rep you may know more about it than me.
Given the fact that the current top dog CG318-4K is around $5700 at B&H, I won't expect the CG3145 to be cheaper. Word is that EIZO are planning on shipping later this year.
Claim your copy of DAVINCI RESOLVE - SIMPLIFIED COURSE with 50% off! Get Instant Access!