Trigger-operated follow focus systems seem to be an incredibly effective solution and preferable choice for more and more single gimbal operators who want to pull focus flawlessly while keeping their hands on the rig to get perfectly smooth, steady shots.
The Silencer Air is a completely wireless follow focus system that provides full remote control through a dedicated app and literally puts focus control at your fingertip. In addition, it comes with a sleek innovative design housing high power motors along with a convenient set of advanced features that could fit even the most demanding run and gun shooting scenarios and situations in the field.
What's more, the new Silencer Air Follow Focus offers many advantages for both ground and aerial cinematography. Its next-generation Trigger Control is completely wireless and connects directly to the motor module that packs the full complement of wireless communications, electronic motor controls, and two batteries that power up the unit.
The entire motor module weighs only 3.5oz which is 1/3rd the weight of other competitive systems in this segment. This component dramatically reduces the overall weight of the entire system which is critical especially on gimbal rigs and drones. In addition, the device utilizes the 24shots Silencer Air App to facilitate various modes and system configurations including saving and sharing specifics for each of your lenses.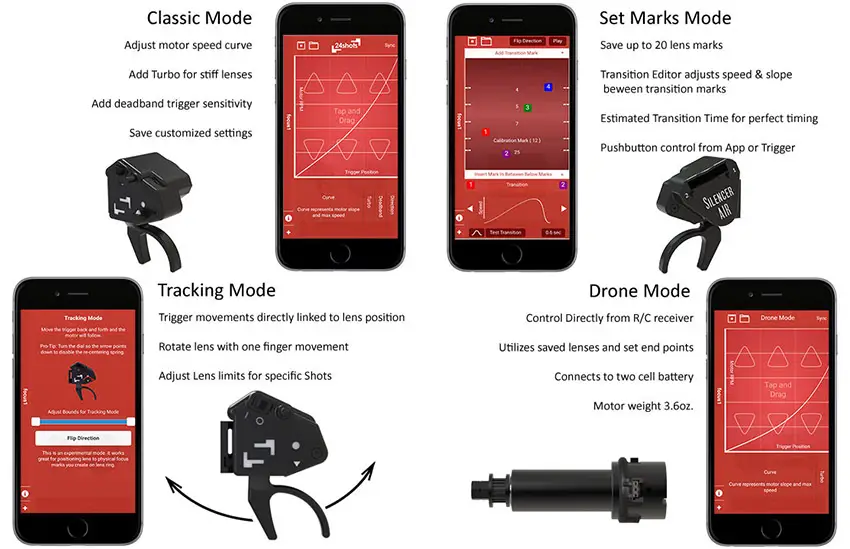 Other neat features include fully adjustable speed curves and trigger sensitivity, turbo function for stiff lenses, tracking mode, drone mode and much more. It's also worth noting that, the system allows users to save up to twenty-five focus/zoom points. Not only that, you can also use the Transition Editor in the app to quickly create specific transitions from point to point.
Once the points and transitions are set, you can easily switch between them with a single push of a button. With its unique lightweight design, Silencer Air easily fits on gimbals including DJI Ronin, DJI Ronin-M, Freefly MoVI M5, and any other similar gear. The custom rail clamp of the Silencer Air, on the other hand, adapts seemingly to existing 15 or 19mm rail systems which provides some extra flexibility and convenience when it comes to mounting options.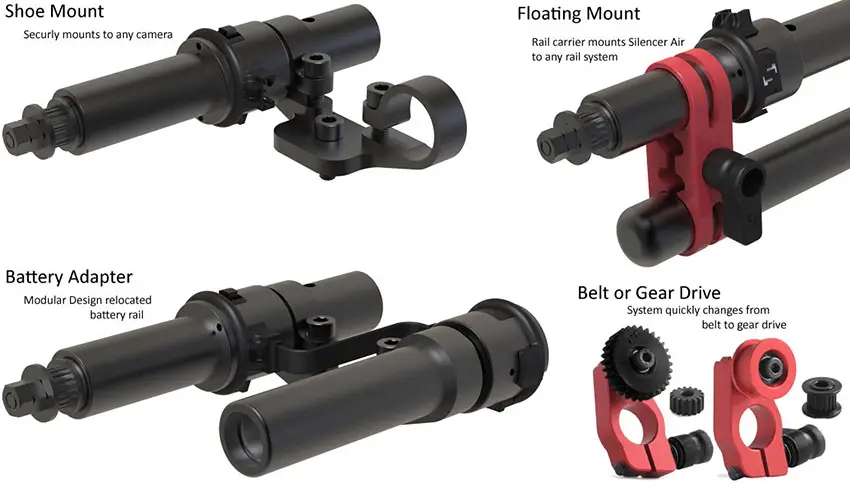 Ultimately, you can now pre-order the Silencer Air directly from 24shots website for $875.00. Optionally, you can get the new Pro Gear drive that re-orients the motor drive vertically to mate gears directly with the lens. The follow focus system is expected to hit the market on June 1st, 2017.
[source: 24shots]
Claim your copy of DAVINCI RESOLVE - SIMPLIFIED COURSE with 50% off! Get Instant Access!