Those of you who don't have access to a Mac computer and FCPX, in particular, should be well aware how daunting and tedious video editing of the GH5 422 10bit footage on a PC could be.
Fortunately, filmmaker Daniel Teller has an alternative video editing workflow in mind, that could help with this overwhelming task. Probably, it won't allow you to edit the transcoded GH5 10-bit files on your PC flawlessly in each and every situation, but it's still some sort of solution before Adobe officially releases the imminent, long-awaited update that should fix the issue once and for all.
All in all, whether you're using Premiere Pro CC or DaVinci Resolve on your PC, transcoding is still the way to go when dealing with the GH5 10-bit footage. You can do transcoding directly in the Media Encoder or use any other third-party application such as Cruncher or FootageStudio 4K. The codec that Daniel Teller highly recommends when working on a PC is GoPro CineForm.
To make this trick work, you have to enable the proxy on your viewer in Premiere Pro CC first to see the proxy file, instead of the original. To do so, you can right click on the viewer panel, then find the View Proxies option, and drag it next to your controls. Once you select this option, the viewer panel will use the proxies instead of the original file for playback. Keep in mind, though, even with that feature enabled, Premiere Pro CC will still render out using the original file.
Meanwhile, after you import your GH5 10-bit files in the Media Browser enable Ingest on the top left-hand side, access the Ingest Settings and choose Create Proxies. You also have to select a preset for the proxies. In this particular case, Teller suggests utilizing the 1024×540 GoPro Cineform preset.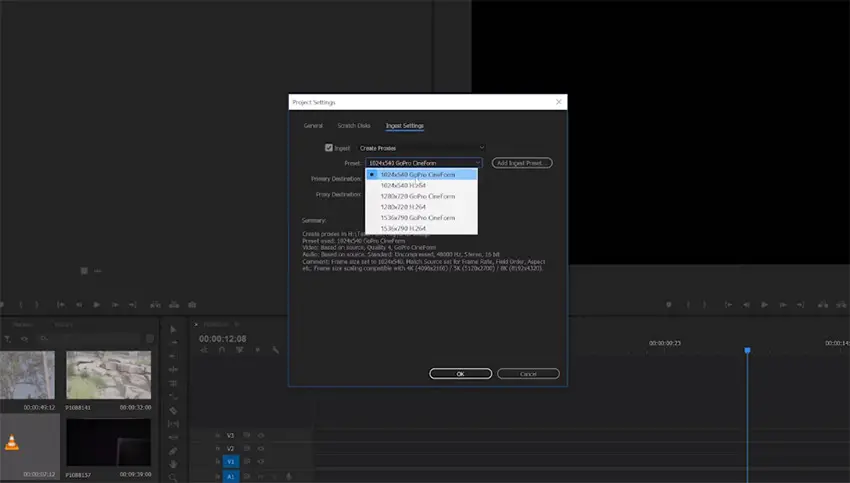 Now, when you import a clip from the Media Browser it will get automatically transcoded and dropped on your timeline. Another way to achieve the same result is by selecting Transcode in the Ingest settings and choosing the CineForm codec again.
Either way, whenever you import GH5 10-bit footage from the Media Browser, the files will automatically be transcoded and then imported on your timeline. The only trade-off of this workflow is that the proxy files themselves will be significantly larger than the original GH5 files, so make sure you have enough space on your drive before you commence transcoding.
[source: Daniel Teller]
Claim your copy of DAVINCI RESOLVE - SIMPLIFIED COURSE with 50% off! Get Instant Access!