Known for their rugged and high quality pro accessories, as well as industry leading camera and lighting systems, ARRI take a lot of pride in what they call ARRI PCA – or Pro Camera Accessories, which can range from cages for small cameras like the Sony A7s to big beasts such as the Canon EOS C700. ARRI matte boxes in particular have a long-established pedigree in the world of professional moving pictures. And now, ARRI have come up with a new lightweight matte box they call the LMB 4×5. Their latest matt box is positioned for a wide range of applications due to its robust, but lightweight design, making the LMB 4×5 more flexible than ever before.
This modular matte box expands on the feature set and creative possibilities of the popular ARRI LMB-25 while retaining an entry-level price tag for a Hollywood-style matte box. Suited for a wide range of applications in just one product, this robust but lightweight matte box allows for an unprecedented level of flexibility.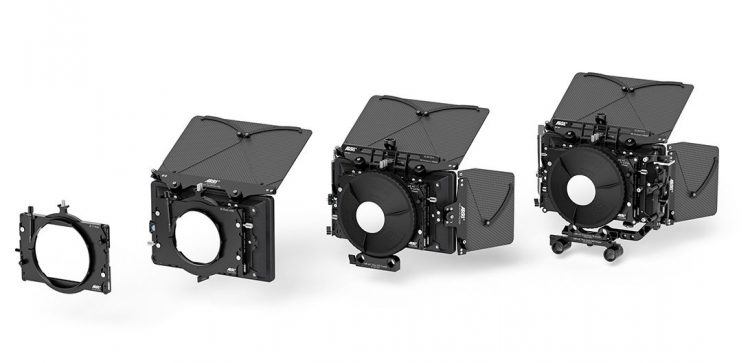 According to ARRI, "…from a single-filter configuration for gimbals, drones, or Steadicams to clamp-on versions up to rod-mounted solutions, the LMB 4×5 makes short work of challenging situations."
ARRI LMB 4×5 Highlights/Features
One product covering a wide range of applications
Offers quick and easy set up without tools
For 4" x 5.65" and 4" x 4" filter size
Attractive upgrade options for LMB-25 owners
The new LMB 4×5 appears to be well positioned for a single-filter configuration for gimbals, drones, or Steadicams setups as it will be available in both clamp-on versions as well as 15mm and 19mm rod-mounted solutions (using either 15mm lightweight, 15 or 19mm studio rods).
The new matte box is also a highly compatible to legacy accessories; all clamp adapters and filter frames from the former models LMB-5, LMB-15, and LMB-25 are compatible. The LMB 4×5 also maintains the streamlined design for which ARRI's LMB range is known.
The valuable features of ARRI´s matte box line, such as tray catchers, tilting capability, and swing-away modules have been retained in the LMB 4×5 while many other features have been added. Enhancements, such as an additional filter stage in two different versions, a tilt-and-flex adapter, as well as flags that fold flat for easier storage without the need to be removed make this matte box unique.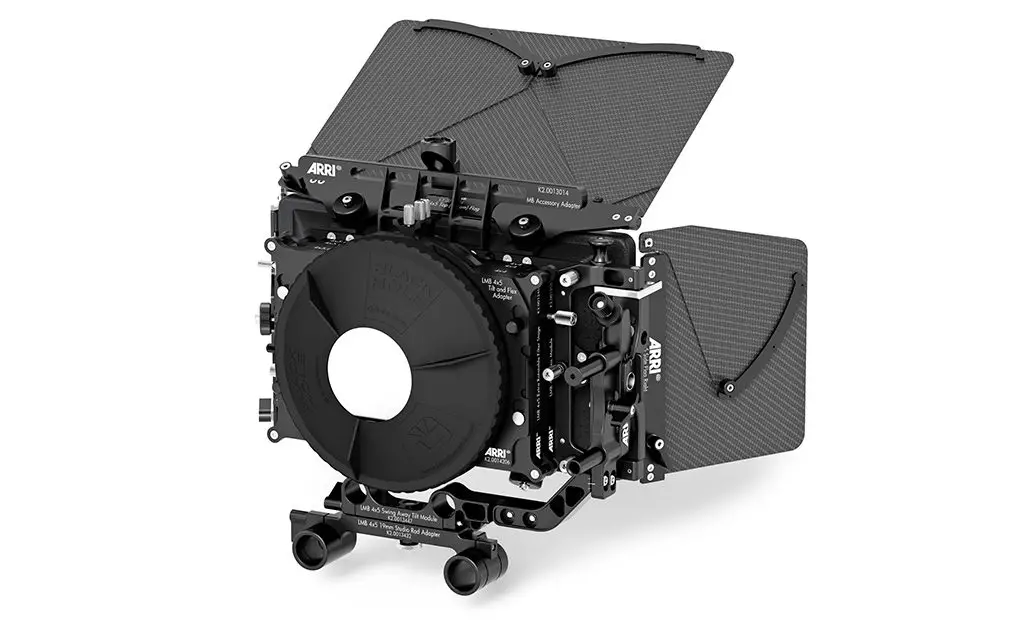 The weight of the LMB 4×5 has been optimized to meet the demands for lightweight accessories on today's film sets. To protect the investment of ARRI's current customers, attractive upgrade options from LMB-25 to the new LMB 4×5 platform are available. Best to get in touch with your local ARRI dealer for details on those.
The ARRI LMB 4×5 will be launched at Broadcast Asia in Singapore end of May and directly after it will be exhibited at Cine Gear in Los Angeles later this week. ARRI are saying they expect first shipments of the LMB 4×5 to commence sometime in July 2017. Pricing starts at $1,070 for the basic set all the way to $4,900 for LMB 4×5 Pro Set. See more pricing details over at B&H on the different attachments and accessories here.
The pricing may be out of reach for many single shooters, who don't own an Alexa Mini or an Amira, but nevertheless this can be an opportunity for rental houses to refresh their fleet as ARRI matte boxes are known for their durability and can take a beating.
[via Cinescopophilia]
Claim your copy of DAVINCI RESOLVE - SIMPLIFIED COURSE with 50% off! Get Instant Access!