At NAB 2016, ARRI announced some additional accessories part of their PCA – pro camera accessories range for popular cameras like the Sony A7sII, Sony A7rII, the Panasonic Varicam LT, and RED DSMC2 bodies such as the Weapon, Red Raven, and Red Scarlet-W.
The accessories for the Sony range of mirrorless full frame cameras, the Alpha 7 series, include an ARRI PCA Baseplate, side brackets and a side clamp to protect the HDMI connection, while the overall setup provides an ergonomic way of shooting in a studio or field environment.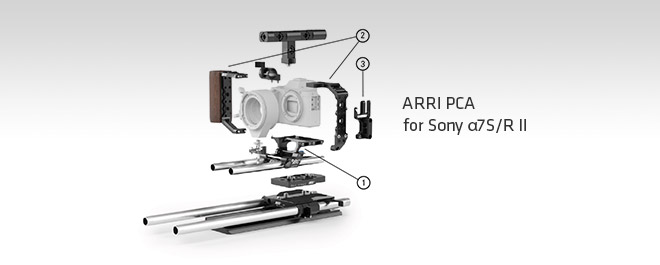 ARRI Pro Accessories for Sony A7sII/A7RII in Summary:
ARRI PCA Baseplate – this plate is purpose built around the 15 mm lightweight support rod system. The design is robust, while stills lightweight as users would expect from PCA accessories. The ARRI base plate allows users to go handheld, but is also ready for tripod setups and supports studio bridge plates such as the BP-8 or BP-9 for studio environments.
ARRI Side Brackets – which surround the camera and protect the camera body while providing industry-standard accessory threads and cold shoe mounts. The Side brackets can take handles and also support a sturdy third-party viewfinder bracket to be attached. The wooden grip is provided for a more ergonomic operation.
ARRI Cable Clamp – it protects the Micro HDMI connector and offers an offset, full-size HDMI female connector for a more reliable connection to external recorders, viewfinders or monitors.
RED DSMC 2 ARRI Pro Accessories include a couple of baseplates – a Cine baseplate and a broadcast optimised one. The ARRI Cine baseplate for DSMC2 fits over classic studio bridge plates such as the ARRI BP-8 and BP-9, and has 2 x rosettes, while the documentary-style ARRI Broadcast Plate allows shoulder adjustment without repositioning accessories mounted to the rod system.
The ARRI PCA Broadcast plate for RED DSMC2 is also compatible with VCT-style plates such as the ARRI QRP-1.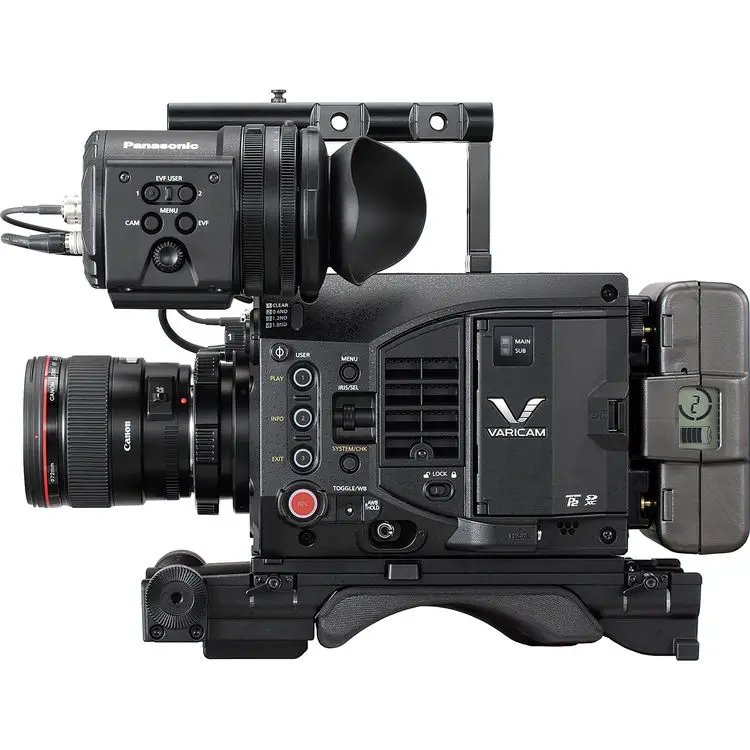 ARRI Pro Accessories for Panasonic Varicam LT
ARRI Plate for VariCam LT – this place is designed to be lightweight, and also offers hybrid support with popular studio/hire setups with the BP-8 or BP-9, as quick-release VCT-14 style base plates like the ARRI QRP-1. The Varicam LT baseplate from ARRI PCA can be adjusted backwards and forwards as to achieve optimal shoulder balance and also features a pair of built-in extended rosettes.
ARRI Top Plate for VariCam LT – features a good number of threaded holes for accessories, and offers a low-profile support. It also supports 15 mm LWS rods and can also be fitted with a range of ARRI PCA tools such as the CCH-2 handle, while still maintaining compatibility with the original Panasonic viewfinder mount and handle.
To learn more about these and other Pro accessories that ARRI makes for third party cameras head over to the ARRI PCA website here.
Disclaimer: As an Amazon Associate partner and participant in B&H and Adorama Affiliate programmes, we earn a small comission from each purchase made through the affiliate links listed above at no additional cost to you.
Claim your copy of DAVINCI RESOLVE - SIMPLIFIED COURSE with 50% off! Get Instant Access!