Hey guys, real quick I want to make sure you know that the biggest video industry education event of the year is happening right now! Me and Vlady are super excited and grateful to have joined forces with our friends at 5DayDeal to put on what I personally consider to be the biggest, most exciting education event of the year for every single video creator regardless of experience and skill level. They've got a killer 5-day event happening that is worth it's weight in gold!
The 5DayDeal Complete Video Creators Bundle 2016 is now LIVE and with it you get $2,400+ worth of video making, editing, and business resources for the extremely affordable price of $97.That's a savings of over 96%! Learn more. $97 is roughly equivalent to a couple of decent SDXC cards or a tank of gas!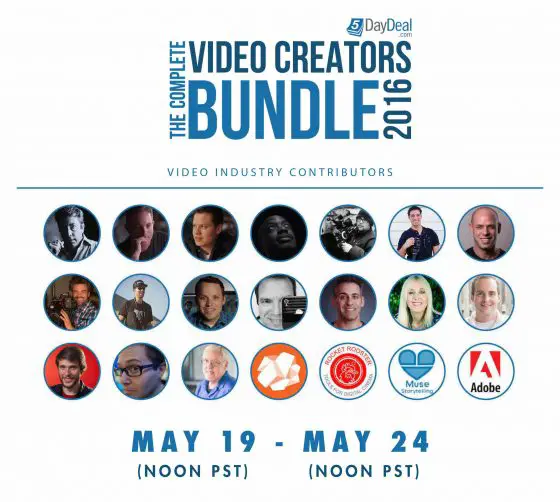 The Complete Video Creators Bundle by 5DayDeal is a collection of professional resources that will help you with things like: getting faster and more creative using Final Cut Pro X and Adobe Premier Pro; dropping in cinematic film emulations; rocking your colour grading; nailing your white balance; and making killer after effects.
PLUS it includes expert lighting and audio training, shooting interviews, on-camera coaching, and marketing & distribution resources that are totally indispensable when it comes to distributing your work.
There's something for everyone! This bundle is an all-new—and exclusive—collection that will only ever exist during these five (5) days, starting today Thursday 19th until Tuesday 24th – never to return!
Highlights in the bundle include "The Art of Visual Storytelling" by Hollywood DP Shane Hurlbut, ASC (Into the Badlands, We Are Marshall, The Rat Pack, Terminator Salvation, Need For Speed), "How to Conduct Remarkable Interviews" by Muse Storytelling, "Hollywood LUT Bundle" by Denver Riddle, "Gorilla Grain Super Pack" by Chris Newman, and so much more – including, editing training on FCP X, Adobe Premiere Pro and After Effects.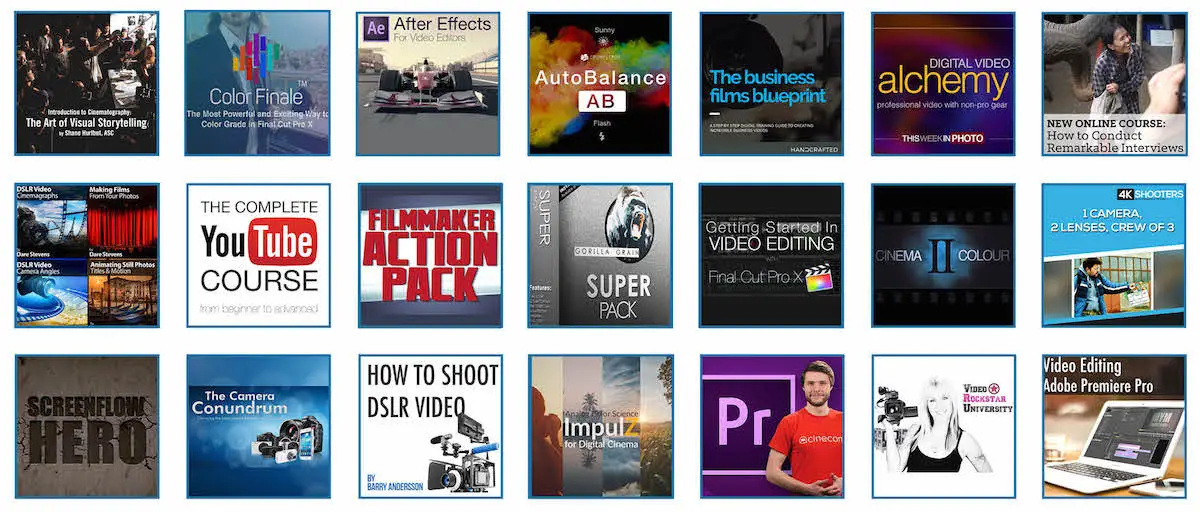 The sale ends May 24 at 12:00 PM (noon) PST. These products have never been offered through 5DayDeal, nor will they be ever again—this is your once-in-a-lifetime opportunity to get the tools you need to make and market your video work.
We're super proud to announce that they've included our No Budget Filmmaking Guide in the bundle (normally sold for $79)! So if you are considering shooting your first feature film with no money, you can save a ton of dough by getting the Complete Video Creators bundle for $97 and get not just our guide, but all the rest of the training materials included in the Complete Video Creators Bundle 2016.
Now you might be wondering: "What if I already own the 4K Shooters No Budget Filmmaking Guide?" The Complete Video Creators Bundle is still a total bargain even if you already have one or a few of the products. No matter what your level, there's something in there for you. 5DayDeal wants to help you hone your craft and save money, and I guarantee you'll find a ton of excellent resources in this bundle to help you do that.
The best part of this whole event is that 10% of the bundle revenue ($9.70 per sale) goes directly to four (4) awesome, carefully selected charities: The BOMA Project, Tough As Her, The Exodus Road, and Mercy Ships. The entire photography community is rallying together to raise $50,000 in these five (5) days (May 19-24)!
Head over to 5DayDeal and check out the sale.
Even if you choose not to purchase the bundle yourself, please share the sale with your network to help raise awareness.
Not only is this such a great deal, but it champions some great causes that I'm extremely proud to support, and I hope you will too. Thanks!
Disclaimer: As an Amazon Associate partner and participant in B&H and Adorama Affiliate programmes, we earn a small comission from each purchase made through the affiliate links listed above at no additional cost to you.
Claim your copy of DAVINCI RESOLVE - SIMPLIFIED COURSE with 50% off! Get Instant Access!