Legendary Hollywood grip and accessories manufacturer Matthews has some really cool new kit that will make your life on set a lot easier. Last week we told you about the Matthews Wedge which allows you to mount a DSLR-sized camera literally anywhere and this week the Infinity Arm takes versatility to a whole new level. Magic arms and similar accessories are often not reliable especially if they are cheaply made. From experience I've had plenty of non-branded "noga" or magic arms for attaching monitors to rigs for example that often slip and sag after just a few minutes of use or a just poorly made.
The Matthews Infinity Arm however is a heavy-duty all-purpose articulating arm with virtually endless applications. The Infinity Arm started initially as a Kickstarter project back in October 2014, and later the team behind the original Infinity Arm teamed up with Matthews Studio Equipment, who brought their decades long experience in grip manufacturing to produce the ultimate articulating arm.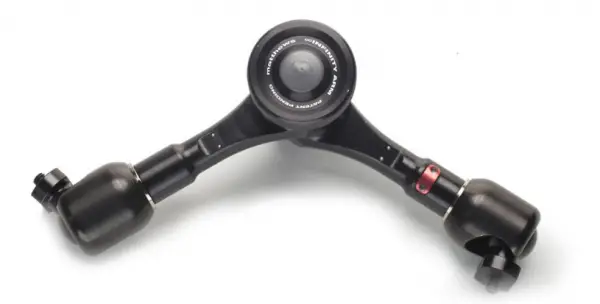 Infinity Arm Highlights
Strongest articulating cine arm on the market: weight capacity of 15-32lbs
Rig cameras, lights, monitors or almost anything else on set
Optional quick release tips (GoPro, Matthellini, Cold Shoe and more)
Manufactured from 6061-T-6 Aircraft Aluminum in the USA
60 section 'No-Slip' centre rosette
The Matthews Infinity Arm is a fully articulated arm equipped with 360 degrees rotate-able and interchangeable, ball-in-socket, quick release tips for adding and removing accessories quickly and efficiently. The Infinity Arm is the strongest articulating cine arm on the market, with a weight capacity of 15-32 lbs (7-15 kg) depending on the configuration.
The Infinity Arm is manufactured in two identical sections. Both sections are equipped with removable ball-in-socket assemblies at their outer end, and joined at their common centre point by a radial rosette, designed to assemble and lock the two independent arms simultaneously into their desired positions for optimal functionality and accessory placement.
The system is highly modular with various interchangeable attachment tips available for the Infinity Arm including just about any size – from 1/4″ 20, 3/8″ 16 to a GoPro and Matthellini clamp.
MSE Infinity Arm Specifications
100% manufactured in California, USA
Capacity: 15lbs+ (7kg+)
Length including tips: 10″ (w/o tips 9″)
Arm Weight: 1.5lbs (0.6kg)
Materials: CNC'd Tool Steel and 6061-T6 Aircraft Aluminium
Material Finishes: Type 3 military grade black anodize and a proprietary electroless nickel phosphorus
Infinity Arm Kit includes:
Infinity Arm,
2 x 1/4″-20 Male Thread Ball Tips
Hard Carrying Case
The Matthews Infinity Arm is currently priced at $299 at B&H and currently shipping within two weeks.
The CAM Tank is another really interesting new piece of kit from Matthews, which is designed to accept all large format camera plates or direct mount to any large or medium format camera equipped with 3/8″-16 mounting holes. You can use cameras from a Sony FS7 all the way to Sony F65 and Arri ALEXA for example. The Matthews CAM Tank supports impressive payloads up to 82kgs (180 lbs) so camera weight is definitely not an issue here.
The CAM Tank was designed for extremely low shots, without taking away your ability to pan and tilt the camera. This unit comes in handy when you want to do dutch angles and you are already mounted to a tripod, allowing you to not have to hire specialty dutch-tilt fluid heads.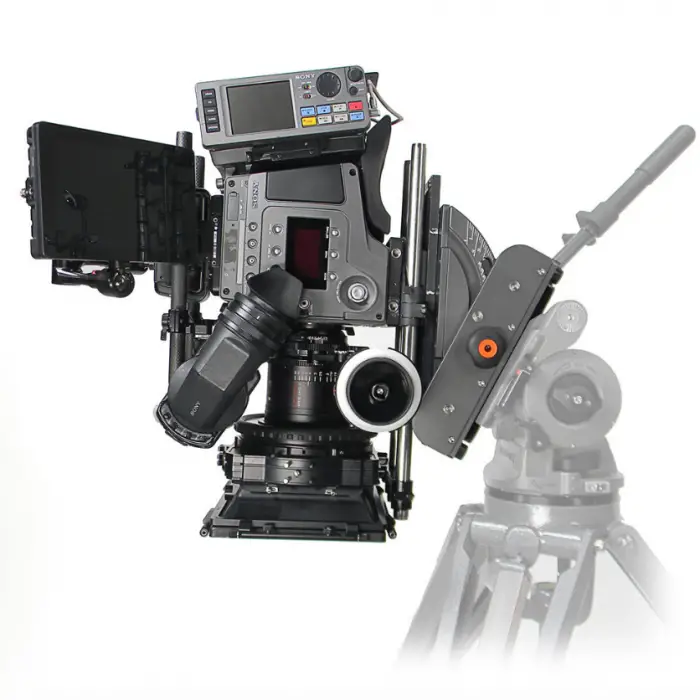 You can also do 90 degree vertical shots designed to be pointed straight down off of a fluid head on a tripod or jib, which is something you can't do with most fluid heads. The bottom of the plate has 17 strategically placed 3/8″-16 tapped holes spaced 1″ apart, complying with Motion Picture Industry Standards.
Matthews CAM Tank Features
Dutch Capabilities
2 Camera/Fluid Head tie down knobs & pan brake
30 degree tilt range from side to side & tilt brake
3/8″-16 tapped holes for easy mounting
combine w/fluid head to achieve straight down 90 degree vertical shot
Matthews CAM Tank Specs
Pan Range: 360 Degrees
Tilt Range: 30 degrees in each direction
Weight Capacity: 180 lbs (82kg)
Minimum Camera Height: 4″ (101mm)
Length and Width: 10″x 7″ (264mm x 177mm)
Total Weight in Case: 15 lbs (7 kg) CAM Tank only is 10 lbs (4.5 kg)
The Matthews CAM Tank is priced at $1,450 at B&H and ships with a hard case included.
Claim your copy of DAVINCI RESOLVE - SIMPLIFIED COURSE with 50% off! Get Instant Access!