LiveGrade Pro from Pomfort i sort of the standard software for on-set look management these days due to its extensive scalability and superior integration with various camera workflows and setups have made it an integral part of TV, commercial and major Hollywood  productions. DITs and DOPs from all over the world rely on LiveGrade Pro to simplify their creative workflow and enhance on-set collaboration. You may recall Pomfort as the brains behind the PocketControl – a really neat app that enables users to remotely monitor and control of ARRI Alexa Mini and ARRI AMIRA cameras via iPad and iPhone.
Pomfort recently announced new version 4 of LiveGrade Pro. With version 4 the software introduces an innovative and automated way of logging and organizing camera metadata, which is imperative on large scale productions. Now available as a Beta download, version 4 of LiveGrade Pro allows DITs to automatically capture and edit all camera metadata live during the shoot either for one, or for multiple cameras simultaneously for each shot.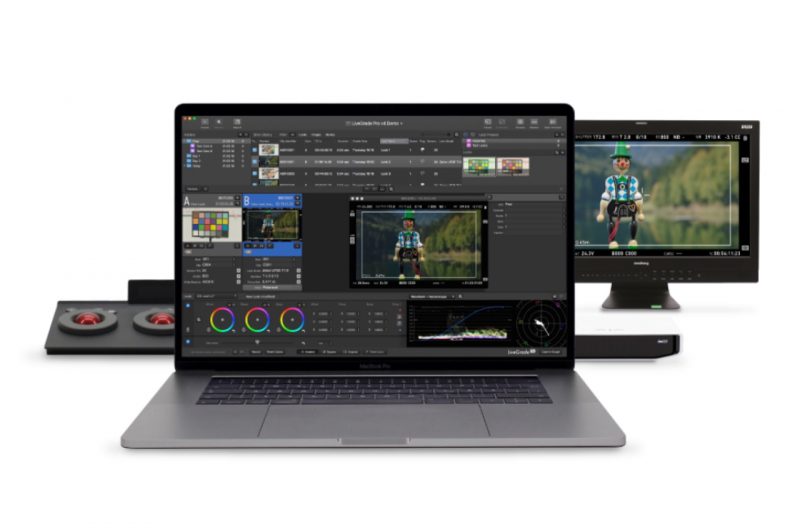 New for version 4 is the Extended Shot Library, which contains all essential look and metadata details per shot. DITs can export all the data from the library into a handy Shot Report, which allows cinematographers, assistants, DITs and 2nd Units to easily keep track of all shot-related information throughout the shooting day. For those planning on using the new ALEXA LF, rest assured that grading control with the latest ARRI camera is also supported for Wi-Fi-based CAP protocol.
Here's what's New in LiveGrade Pro Version 4:
New Shot Library
Extended Shot Library: Logging entire shooting days
Metadata: Lots of new fields and columns for scene and camera related metadata
Look Presets: Separate library for storing look presets
Folder Hierarchy: Hierarchical folder structure for advanced project management
Metadata preparation: Metadata entry before a shot is recorded
Live Camera Metadata
New Slot Bar: New overview of all attached cameras with live image and metadata
Cameras: Display of live metadata from camera's HD-SDI signals for ARRI Alexa, Sony F55, and Panasonic Varicam models
New Video Scopes
Native Video Scopes: Waveform, histogram, vectorscope with settings
Versatile: Video scopes can be used on live image, framegrabs and captured clips
Keyboard Shortcut Manager
Custom Keyboard Shortcuts: Define your individual shortcuts for any action in the main menu
New Defaults: New, refined default shortcuts for streamlined interactive work on set
User Intarface
Modernized: Refined and cleaned-up user interface
Support for Video Devices
AJA: Full support for multi-channel capture, playout, and metadata with devices such as Io 4K.
Ranges: Handling of legal and extended ranges in capture and recordings
ARRI ALEXA LF Support
CAP Support: Grade control of ARRI Alexa LF cameras via Wifi-based CAP protocol.
Of course, LiveGrade Pro isn't just for big Hollywood productions, although they do benefit greatly from the scalability and extensive feature set of the software, it can be used and is well suited to those shooting commercials and/or narrative projects where on-set look management is important either for the present agencies or clients, or DP's/Directors.
Per-project licenses for LiveGrade Pro start at the reasonable price at $129, and go up to $599 USD for a year-long subscription. To download the latest version 4 Beta of LiveGrade Pro head over to Pomfort's website here.
Claim your copy of DAVINCI RESOLVE - SIMPLIFIED COURSE with 50% off! Get Instant Access!