Not that long ago Pomfort, a leading provider of professional software solutions for digital media assets and colour management on the film set, launched their new iOS app: PocketControl for ARRI Cameras. And since modern digital cinema cameras are basically computers with sensors (well, maybe there's a bit more complexity beyond that, but in essence that's what they are) remote control operation from smart devices becomes inevitable.
In a similar fashion such as RED DSMC2 camera users, who have the incredible FoolControl app to control their cameras from smart phones, now those using cameras made by their arch-nemesis ARRI can benefit from a similar functionality thanks to the new PocketControl app from Pomfort. The app enables users to remotely monitor and control their ARRI Alexa Mini and ARRI AMIRA cameras via iPad and iPhone.
This way users of the app can always be sure to have the right settings in place, even if they don't operate the camera themselves. The app comes as a free download with an in-app purchase option for those who want to get the maximum functionality and flexibility.
PocketControl is the first iOS app that enables users to remotely monitor and control their ARRI Alexa Mini and ARRI AMIRA camera from their iPad or iPhone. The app connects to the camera via Wifi, and uses ARRI's Camera Access Protocol (CAP) to give users remote access to the camera functions.
By remotely monitoring and adjusting the camera settings, the implementation of camera decisions becomes faster and more responsive.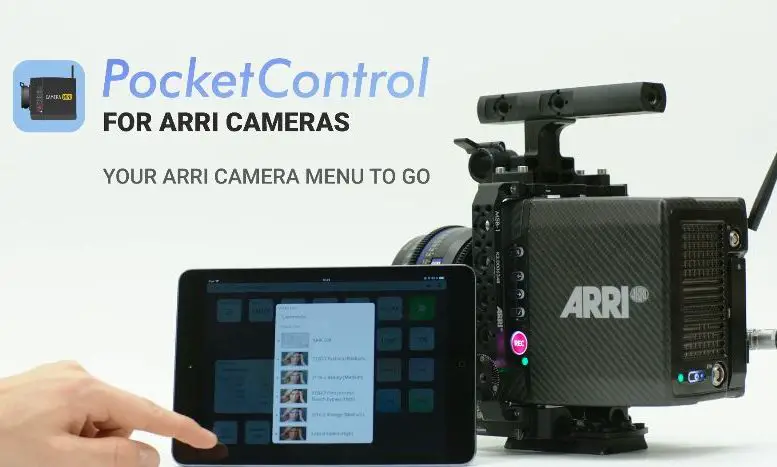 What You Can Do with PocketControl
Check Current Settings

Checking key settings such as ASA, sensor FPS, and White Balance in seconds thanks to the neatly laid out app interface
Remotely Adjust Camera Settings

Change the shutter angle or EI (for example) plus many other functions from your iOS device without ever touching the ARRI menu on the camera. Other settings that you can adjust are the ND filter, EI/ASA, White Balance, and Sensor FPS. To avoid any unintended changes to the camera settings, you can choose to lock the camera controls inside the app.
Monitor Changes

Any changes that are made to the settings from within the camera are visible in the app instantly. This way you can be sure to always have the right settings in place, even if you aren't operating the camera yourself.
Start/Stop Recording

Start/Stop recording from your iPad/iPhone for those shots when your AMIRA/Alexa MINI is on a crane or gimbal stabilizer. With the "REC" button also displaying the current camera status, you can see immediately if the camera is ready for recording, currently recording, or if there is a problem with the camera (e.g. card is full).
Manage Looks

PocketControl allows you to remote control looks in the camera. Conveniently display a list of looks stored in the camera, with specific support for looks from the ARRI Look Library. Choose a look on your iPad or iPhone and apply it to the camera from a distance. With the grading controls that are available in the app you can also refine the look and change contrast and pivot, or make the image warmer/cooler. You can then store the modified look in the camera.
All camera settings are clearly arranged into one overview within the app, so it only takes users seconds to find all the information they are looking for. Changes that are made directly in the camera menu are instantly visible inside the app to ensure users can monitor any updates from a distance.
"We always strive to provide our customers with new tools that help them with their tasks on set in an easy and reliable way – and that's what we also had in mind when we developed PocketControl", says Patrick Renner, Product Manager at Pomfort. "Being able to access camera settings from your iPhone and adjust parameters and looks remotely from within the app provides users with more control and flexibility. It also directly connects the operators with the information they need, so that at the end of the day the team can be sure to achieve the best shooting results."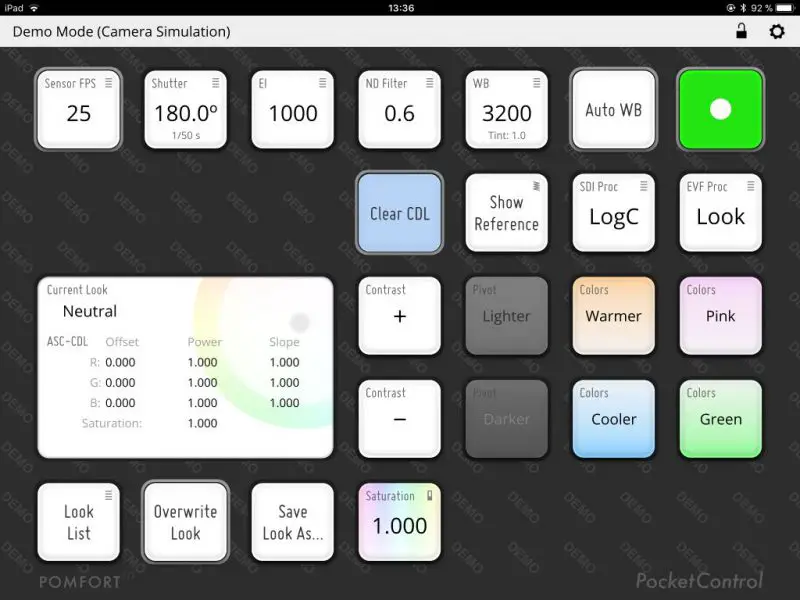 PocketControl for ARRI Cameras comes as a free download that includes the monitoring features of the app. The control functionalities can be added via an in-app purchase.
PocketControl Highlights
New in PocketControl v1.1
Auto discovery of available cameras in local Wi-Fi
Easy connection to camera
Fast switching between multiple cameras
The Free Download gives you:
Monitoring of camera settings:

EI / ASA,
Sensor FPS,
White Balance, Exposure,
ND Filter and look processing config for EVF and SDI

Automatic update of settings when changes are made within the camera
In-App Purchase:
Change of camera settings: 

EI / ASA, Sensor FPS, White Balance, exposure, ND Filter and look processing config for EVF and SDI

Start and stop of recording from within the app
Display of list of looks stored in the camera
Refinement of looks:

Change of contrast and pivot, altering of colour temperature and tint

Saving of altered looks inside the camera
PocketControl for ARRI Cameras is available as a free download for iOS devices (iPhone or iPad) in the app store. The free download includes all monitoring capabilities of the app.
The control features of PocketControl can be added via an in-app purchase after download. The in-app purchase is available for $170 USD.
Technical Requirements
PocketControl currently works with the ARRI Alexa Mini and ARRI Amira cameras with SUP 5.1 or newer. For iPhone and iPad, iOS version 9 or newer is required.
Check out this blog post by Pomfort to learn how to get started with PocketControl. For more info head over to Pomfort.
Disclaimer: As an Amazon Associate partner and participant in B&H and Adorama Affiliate programmes, we earn a small comission from each purchase made through the affiliate links listed above at no additional cost to you.
Claim your copy of DAVINCI RESOLVE - SIMPLIFIED COURSE with 50% off! Get Instant Access!