The next time you stumble upon a situation when you need to shoot an event with multiple cameras and monitor the live video feeds simultaneously, instead of getting a dedicated monitor that offers a multiview support, you can try out the Decimator DMON-4s Converter with Quad Multi-Viewer Function.
In essence, this small, yet extremely practical device turns every HDMI monitor into a multiview display allowing you to input up to four SDI inputs regardless of its screen size and dimensions. What's more, you can toggle between different multiview modes depending on the number of cameras you need to work with, plus the Decimator DMON-4s outputs via HDMI, which means it will work with any monitor that can accept an HD input signal.
All in all, you can always get a dedicated multiview monitor, but if you want to have more flexibility on set, the multiview adapter might be the better fit for your multicamera projects. This way, you'll be able to feed not only multiple displays but also larger monitors that might be a more convenient solution in certain shooting situations.
Either way, the Decimator DMON-4s could be a viable option for your workflow in the studio or on the go. The adapter allows users to easily access all available features without using complicated LED/button control, dip switches or having to carry around additional gear to change a simple setting.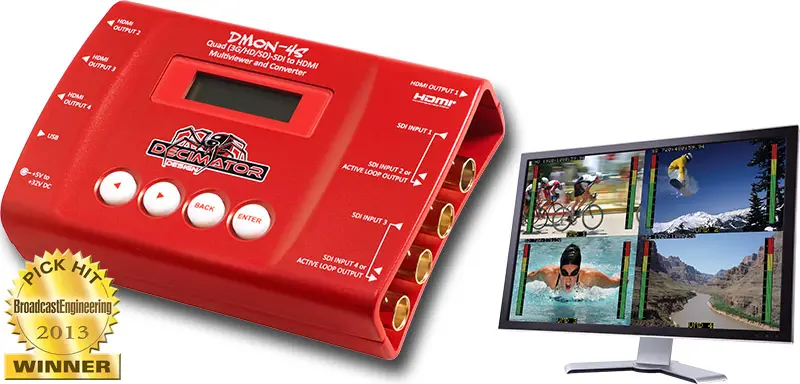 Beyond that, the Decimator DMON-4s includes four independent mini HDMI ports that can output any of the four (3G/HD/SD)-SDI inputs or a Quad-Split of all them. The Quad-Split mode allows selection of audio from any input, whereas the available USB port on board can be used for control as well as firmware updates.
Ultimately, this adapter could come in pretty handy for a wide variety of interview setups or when you want to monitor multiple video feeds at virtually any monitor that can accept an HD input signal via HDMI. To learn more about the Decimator DMON-4s, head over to Decimator Design official website, or use the links below.
[source: MrCheesyCam]
Order Links:
DECIMATOR DMON-4S 4 x SD/HD/3G-SDI to HDMI Converter (B&H, Amazon US)
Claim your copy of DAVINCI RESOLVE - SIMPLIFIED COURSE with 50% off! Get Instant Access!