It has been a crazy week for new camera announcements! Looks like the major camera announcements from big players such as Canon, Sony and Panasonic were shifted to CineGear Expo form the usual NAB grounds this year and that is a good thing. CineGear Expo is more "cinema gear oriented" show, despite being much, much smaller in size. Nevertheless, for those of you (like me), who feel a bit burnt out, deflated, confused and slightly hungover after the Panasonic EVA and Canon C200 announcements, trade shows often present a chance for "silent reflection" (to steal one of my favourite lines from "True Detective")
While, I was "reflecting" on the current (mess) state of the large sensor camera segment, I noticed that Sony are quietly "ribbing" the competition (namely the Canon EOS C200 and the Panasonic EVA 1) by offering a $1,000 rebate (that is a Mail-in rebate – full details here) on the purchase of a new Sony FS5 camera before the end of July 2017.
Not only that, but you can also get a FREE Metabones Smart Adapter Mark IV (EF to E) if you order an FS5 before the end of June. Currently, the FS5 is priced at $5,749 at B&H, which you'd have to pay upfront, but then of course after mailing in your required documentation the good people at Sony will send you the rebate worth $1,000 which you can cash/put in your bank/spend on some extra accessories, do whatever.
You can get the Sony FS5 deal here.
The Rebate deal also applies to the FS5K model with the 18-105mm f4 lens, which comes down to $5,249 after the $1,000 MIR rebate.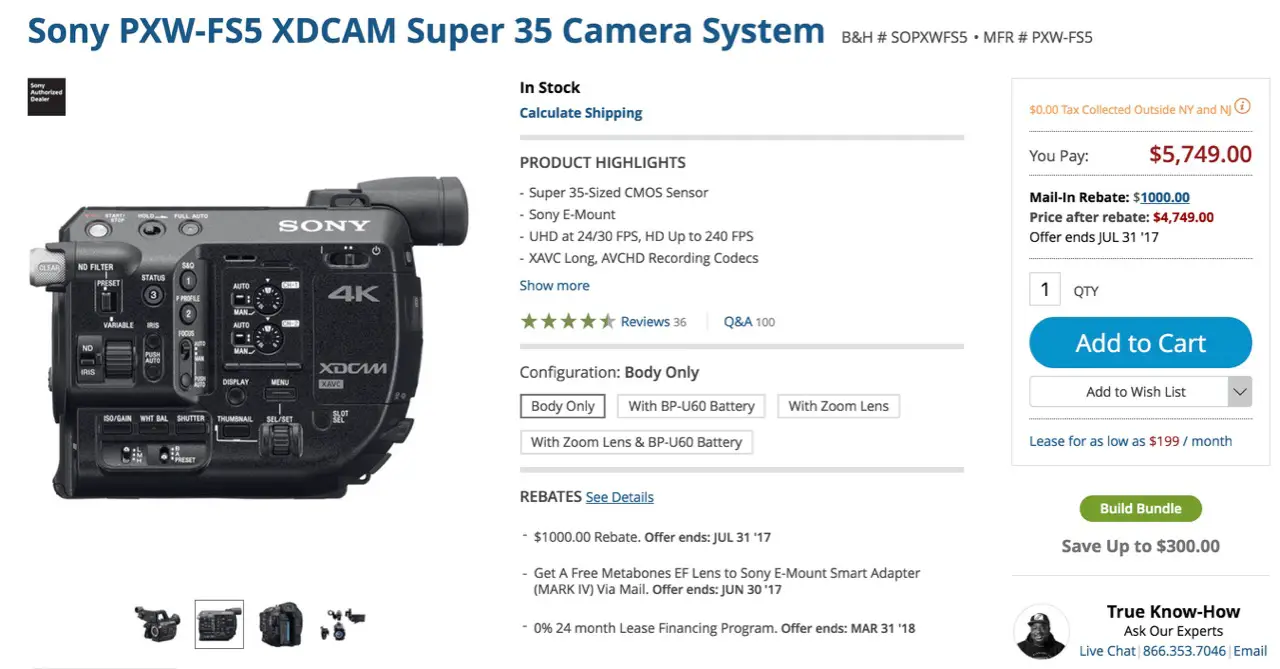 This brings the price of the FS5 down to $4,749 +you get a free Metabones Smart Adapter EF to E (Mark IV), which is worth like $400. Keep in mind, that the Mark IV adapter has been now replaced with the Fifth Gen Smart Adapter by Metabones, but still functions perfectly with the FS5. I used to own one and loved it.
Keep in mind the FREE Metabones Smart Adapter deal ends June 30th, and the $1000 rebate deal ends July 31st, so to get both you have to buy your FS5 before the end of June.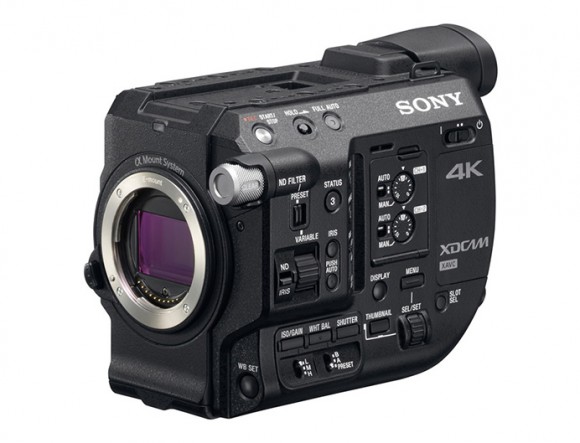 Sony FS5 Highlights
4K Super 35 CMOS Sensor
Sony E-Mount
UHD at 24/30 fps in XAVC-L (8bit 4:2:0)
Full HD up to 60p in XAVC-L (10bit 4:2:2)
4K DCI up to 60fps Raw output via 3G-SDI (with optional license)
2K/240fps continuous slow-motion (with optional license)
Electronic Variable ND
Dual SD Card Slots
3G-SDI & HDMI Output
Ethernet Port
Supports Wi-Fi and NFC
Super-lightweight – 890 grams *body only, no lens
Tool-less design, easy to mount on 3-axis gimbal stabilisers
The "fine print" (This is a US only Promotion)
Receive a mail-in cash rebate following the purchase of a Sony PXW-FS5 or PXW-FS5K. Eligible product must be ordered by and shipped to the end user within the promotion period in order to qualify for this rebate. Offer valid on purchases of eligible product from June 1, 2017 through July 31, 2017.
Eligible models must be ordered from a Sony Authorized Reseller, Reseller of a Sony Authorized Distributor or Direct from Sony and shipped to end user customer within the promotion period to be eligible for rebate. For check delivery, please allow 8-10 weeks following postmark of properly completed submission. All claims must be submitted online and all supporting paperwork for claims must be postmarked no later than August 31, 2017.
Submission must include serial number and copies of dated purchase receipt/invoice and ORIGINAL UPC/serial number bar code label from the box(es) of the eligible product (photocopies of the UPC/serial number barcode label will not be accepted) and must be mailed to provided address. Limit one rebate per each eligible product purchased by end-users. Rebate check will not be delivered to P.O. Boxes. If the rebate check is not cashed within 90 days of issuance, it will be void, and the end user will not be entitled to receive a replacement rebate check. Rebate checks will be issued in the name of the business or person purchasing the eligible product which, if applicable, must match the accompanying invoice/evidence.
Offer is not transferable. Offer can be combined with other offers from Sony. Sony reserves the right to request additional information to validate a claim, making it subject to U.S. postal regulations. Offer void where prohibited, taxed or restricted by law.
Sony is not responsible for claims or checks lost, damaged, or delayed in transit unless Sony has been negligent. Submitted materials become Sony property and will not be returned. Products for which rebate is claimed may not be returned (limited warranty claims excluded).
Offer valid only in the continental United States, Alaska and Hawaii and excluding territories. Offer not valid on B stock, refurbished, open-box, returned, or demonstration products. Sony reserves the right to modify or cancel this offer at any time.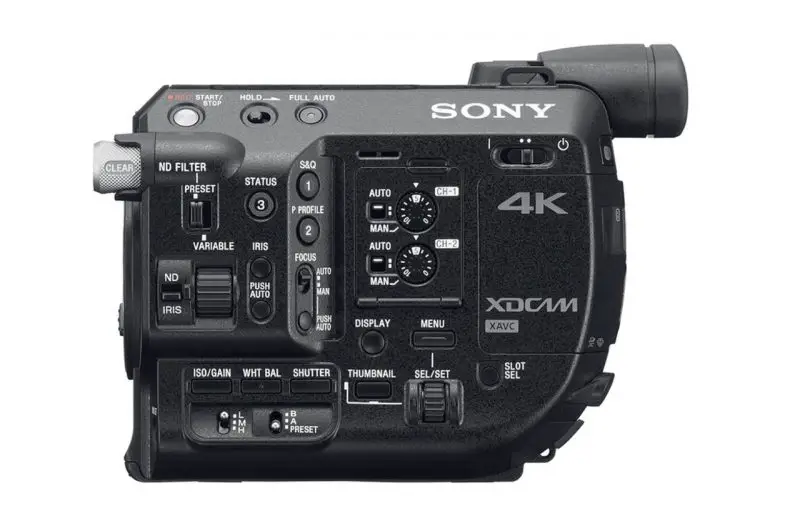 Now, some of you have already asked – is there an FS5 II coming soon? I have no idea, but I find that hard to believe. The FS5 is a not even two years old (was announced at IBC 2015 and shipped a few months later), so I doubt that Sony are going to replace it that soon. Maybe in a year or so, but not now.
To me this is clearly an opportunity for Sony to "steal" some potential Canon/Panasonic customers, who's closest (to the FS5) new offerings are not even shipping until August (C200) or Oct/Nov (Panasonic EVA). Whatever the reason for the massive rebate isn't really important, what is important that the FS5 is now even more enticing, and this is a hell of a deal!
As an FS5 owner, I can honestly say the FS5 offers tremendous value for money and when paired with an external recorder like the Atomos Shogun Inferno or the Convergent Design Odyssey7Q+ can let you record 4K/60p Raw and also get 240fps slow motion in 2K. The in-camera slow-motion is also very usable for fast turnaround projects and you get 10bit 422 in Full HD internally. The battery life is really good with a BP-U30 getting about 1.5 hours.
The FS5 is super compact and can easily fit in a backpack as it is not much bigger than a chunky DSLR. The side grip and top handle are removable without additional tools, and the native E-mount lets you use all sorts of lenses – I currently use the Canon EF 24-105mm f4 mainly with a Metabones Speed Booster ULTRA.
The Sony FS5 is also getting HLG HDR support this summer and a Full HD 120fps continuous upgrade, which you can read more about in my previous post here.
Claim your copy of DAVINCI RESOLVE - SIMPLIFIED COURSE with 50% off! Get Instant Access!