Simplicity and efficiency could be the keys to success for every creative workflow, especially when it comes to multi-camera productions and live streaming out in the field. The recently announced SlingStudio is an innovative product that combines both by bringing a completely wireless portable solution to creative professionals working on the go.
Whether you want to monitor, record, switch or broadcast live HD-quality video wirelessly in real-time, SlingStudio has got you covered. It's a compact, battery-operated, multi-camera video production system that connects wirelessly to professional cameras and smartphones thus being the easiest way to live stream video to Facebook, YouTube or any other platform in real- time.
What's more, you can connect wirelessly up to ten devices all at the same time to the SlingStudio Hub as any combination of four live 1080p30 or 720p60 input sources can be switched, recorded, and streamed. Additionally, the system supports 1080p up to 60fps if you use only two sources for your live stream.
You can also record all input media as industry-standard, high-quality H.264 video files to either an SDXC card or an external hard drive connected directly via USB-C or via USB 3.0 through the separately available USB-C Expander.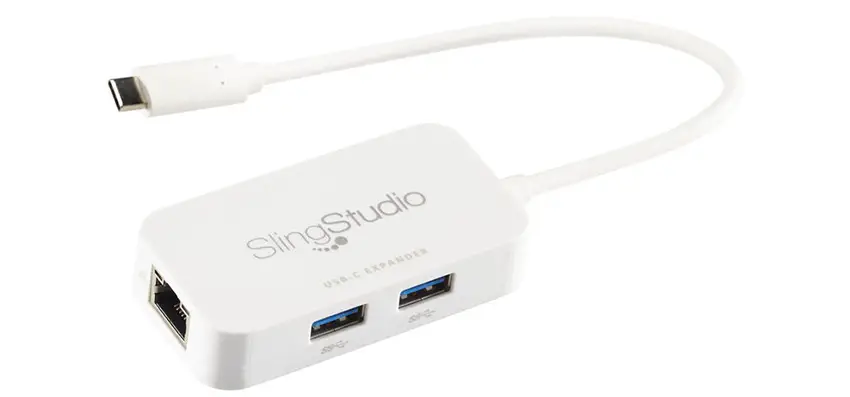 Another available option is to send the video output to a standard display, projector, or a secondary streaming hardware as well as connect one of your cameras directly to the Hub itself by using the included HDMI to Mini HDMI adapter. There is also a dedicated 3.5-inch audio jack if you're working with a mixer or want to use a single audio feed for your multi-camera production.
Regarding functionality, compatible mobile devices can connect directly over the Studio Hub's Wi-Fi connection, while standard video cameras can connect to separately available CameraLink Wi-Fi transmitters.
You can use an iPad and the free Console app to set up and control the system, switch between different video feeds in real-time as well as add multiple titles, lower thirds, transitions, and captions on the fly. Once you wrap up shooting, you can use the free Apple FCPX or Adobe Premiere plugin to bring the captured footage inside your NLE.
The supplementary battery that mounts to the bottom of the SlingStudio Hub allow it to operate without using any other external power source which makes it even more flexible and versatile solution for shooting at remote locations. All in all, SlingStudio gives you the ultimate freedom to live stream high-quality video from virtually any location while using a wide range of professional cameras and smart devices capable of outputting clean high-definition video feed.
[source: SlingStudio]
B&H Order Links:
Claim your copy of DAVINCI RESOLVE - SIMPLIFIED COURSE with 50% off! Get Instant Access!