It turns out that even if you get some of the most expensive laptops currently available on the market, you could still come across some performance limitations and other minor incompatibility issues, depending on the software that you tend to use. So, instead of getting just the most expensive machine with the highest specs, it would be wiser to decide in advance which platform you'll be predominantly using for video editing on a day-to-day basis.
If you've already opted for either Adobe Premiere Pro CC or Final Cut X as your primary NLE, here are three of the best laptops with 14″/15″-inch displays and quad-core processors that will allow you to take the most out of these two video editing platforms in terms of overall performance and best render times.
The 15.6″ XPS 15 9550 Multi-Touch Notebook from Dell is powered by a 2.6 GHz Intel Core i7-6700HQ Quad-Core processor and 32GB of 2133 MHz DDR4 RAM as well as it's only one of the three on the list that boasts 15.6″ display with a 3840 x 2160 resolution driven by the NVIDIA GeForce GTX 960 with 2GB of GDDR5 RAM.
As a result, content creators get an exceptional performance and pretty accurate colors for seamless viewing experience. The battery life of the Dell XPS 15 is also impressive. It can easily last around seven or even eight hours on a single battery charge.
The things that Dave Lee, the creators of this video, doesn't like about the laptop seem to be the poor quality of the audio speakers, the availability of only three USB ports as well as the fact that only one of them provides Thunderbolt 3 support. Here are some of the other specifications of the Dell XPS 15 9550 Multi-Touch Notebook.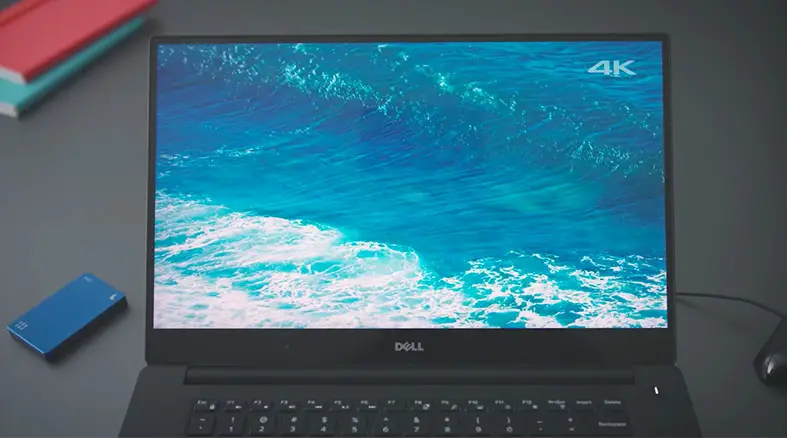 Dell 15.6″ XPS 15 9550 Highlights
2.6 GHz Intel Core i7-6700HQ Quad-Core
32GB DDR4 RAM | 1TB PCIe SSD
15.6″ 3840 x 2160 Infinity Edge Display
NVIDIA GeForce GTX 960M (2GB GDDR5)
SD Media Card Reader
802.11ac Dual-Band Wi-Fi | Bluetooth 4.1
USB 3.0 | HDMI | Thunderbolt 3
Windows 10 Home (64-Bit)
Best optimized for Adobe Premiere Pro CC
The other rival on the list, the Razer Blade 14" Gaming Laptop comes equipped with the 7th Gen Intel Core i7, 16GB RAM and the GeForce GTX 1060 graphics card with 6GB GDDR5 VRAM. It's a unique machine not only for the availability of the powerful GTX 1060 GPU on board but also because it allows you to customize its back-illuminated keyboard by changing the color of each key individually when assigning shortcuts.
Obviously, this can help you tremendously to create a quick and easy access to your favorite shortcuts without using any additional keyboard covers or a dedicated video editing keyboard at all. It's a shame, though, that the model is limited to only 16GB of RAM, plus it can get a bit louder than expected when gets extensively overloaded.
Razer Blade 14 Gaming Laptop Highlights
Latest Intel Core i7-7700HQ Quad-Core Processor

Desktop-Grade NVIDIA GeForce GTX 1060 (6GB GDDR5 VRAM) Graphics

14.0″ IPS Full HD (1920×1080) Matte Display

Anti-Ghosting Keyboard Powered by Razer Chroma

256GB/512GB PCIe SSD storage (Up to 1TB supported)

16GB DDR4 2400MHz Memory 

Thunderbolt 3 interface

Wireless-AC 1535 support

Best optimized for Adobe Premiere Pro CC
Last but not least, comes the 2016 Macbook Pro with Touch Bar boasting 2.7 GHz Intel Core i7 Quad-Core processor, 15.4″ 2880 x 1800 Retina Display, 16GB of 2133 MHz RAM alongside the AMD Radeon Pro 455 GPU with 2GB GDDR5. According to Dave Lee, it's a fantastic all-around performer, especially if you use Final Cut X as your main NLE.
2016 Macbook Pro with Touch Bar Highlights
2.7 GHz Intel Core i7 Quad-Core
16GB of 2133 MHz RAM | 512GB PCIe SSD
15.4″ 2880 x 1800 Retina Display
AMD Radeon Pro 455 GPU (2GB GDDR5)
802.11ac Wi-Fi | Bluetooth 4.2
Touch Bar | Touch ID Sensor
4 x Thunderbolt 3 (USB Type-C) Ports
3.5mm Headphone Jack | Stereo Speakers
Larger Force Touch Trackpad
macOS Sierra
Best optimized for Final Cut X
Unfortunately, when it comes to Premiere Pro CC and render times, in particular, the 2016 Macbook Pro yields slower results, as it can be clearly seen in the chart below.
While being positioned in the $1,500-$2,500 price segment, these laptops aren't cheap by any means, but considering the fantastic features and horsepower they all bring to the table, it's safe to say that each of them could be a viable option when it comes to serious 4K video editing work and performing multiple system-intensive tasks while working on the go.
Choosing the right piece of software, however, could help you to optimize the performance of each system and take it a step further thus getting even better results for your video editing workflow, especially when working with high-resolution media and tied deadlines when every second counts.
[source: Dave Lee]
B&H and Amazon US Order Links:
Dell 15.6″ XPS 15 9550 Multi-Touch Notebook (B&H, Amazon US)
Razer Blade (GeForce GTX 1060) 14″ HD Gaming Laptop (Amazon US)
Apple 15.4″ MacBook Pro with Touch Bar (Late 2016, Space Gray) (B&H)
Claim your copy of DAVINCI RESOLVE - SIMPLIFIED COURSE with 50% off! Get Instant Access!