If you are just like me looking for an inexpensive on-camera LCD monitor in the lower price spectrum, that's also 4K compatible, you might want to have a look at the FeelWorld FW760 monitor. Unfortunately, I can't tell much about the manufacturer of this device but the price tag of just $189 is so tempting that it could hardly be overlooked so I decided to find out more about the unit and see what it has to offer for the price.
It turns out that it packs loads of neat features that typically you will be able to find on much more expensive models coming from some of the established manufacturers in the field offering a similar display size and functionality but in return for a much higher price tag.
The FeelWorld FW 760, on the other hand, boasts slim form factor alongside bright 7-inch IPS LED-backlit display with a native resolution of 1920 x 1200 and 450 nits of brightness. This means the monitor can not only display 1080p signals up to 60fps without any scaling whatsoever but also supports a wide variety of higher resolutions up to 3840 x 2160 at 30fps.
Regarding connectivity options, the 7-inch field monitor comes equipped with HDMI and analog composite video inputs, a 3,5-inch headphone jack, an OSD control input, a mini USB port for firmware upgrades along with a DC7-24V port on the side. In the box of the FeelWorld FW 760, you'll also find an HDMI cable lock, a Mini HDMI to HDMI cable, sunshade, shoe mount, and L-Series battery plate.
Furthermore, the FeelWorld FW760 field monitor sports essential assist features such as histogram, false color, zebras, focus peaking, zoom, 1:1 pixel mapping assist in getting sharp images and more. Framing functions include anamorphic de-squeeze, frame lines, markers, and image flip. This monitor is also excellent for checking focus as it allows you to zoom in 16x which could be pretty handy when you want to nail your focus on the fly.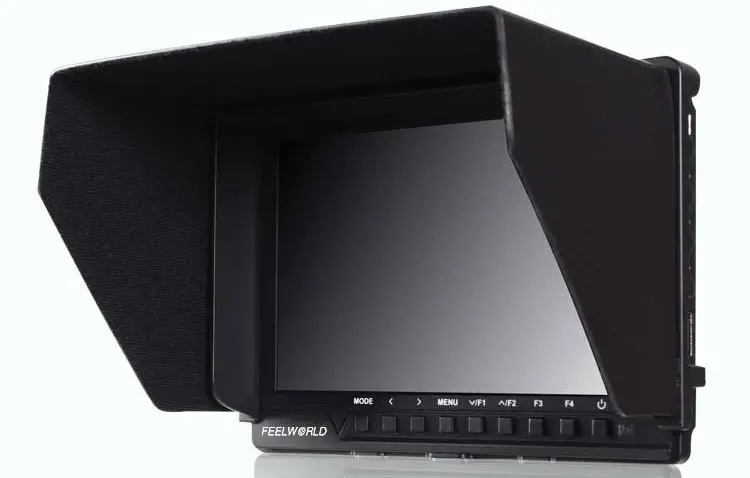 FeelWorld FW760 Field Monitor Specifications
7″ 1920 x 1200 IPS LCD Monitor
HDMI and Composite Inputs
Accepts SD, HD, and UHD 4K Video Signals
450 cd/m² Brightness
1200:1 Contrast Ratio
Includes Battery Plate and HDMI Cable
160° Viewing Angle
Focus Peaking
False Color
1:1 Pixel Mapping
Audio Metering
1/4″-20 thread on the bottom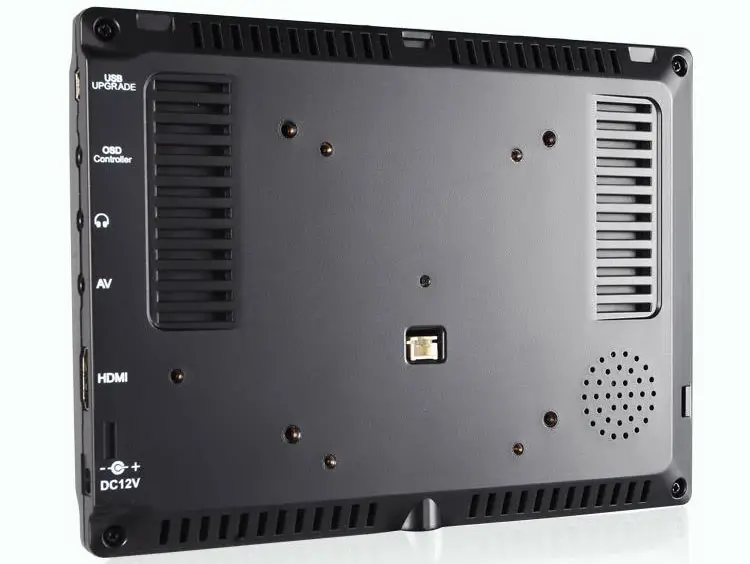 Of course, there are certain things that most of you might not like about the FW760. For instance, the built-in speaker of the monitor located on the back is too loud. Of course, you can control its volume and turn it off completely from the menu but keep in mind that this will also disable the headphone jack as well.
A simple workaround is plugging an adapter into the headphone jack to be able to mute the speaker and continue to monitor your audio only through your headphones instead. It's also worth noting that there is a noticeable lag while displaying the live video feed from your camera, which could be a real deal-breaker for some of you, so if you need a field monitor without any latency whatsoever, you probably should look elsewhere.
Ultimately, the FeelWorld FW760 is one of the best low-cost 4K compatible on-camera monitors you can currently get on the market. With its striking resolution, very true color right out of the box and loads of professional features packed on board, it will definitely give you the best bang for your buck. It's far from perfect, though, that's for sure. But if we take the incredible price/performance ratio into consideration, the FeelWorld FW760 is hard to be beaten especially when it comes to the value it provides for the money.
[source: The Upper Left USA]
Order Links:
FeelWorld FW760 7″ On-Camera LCD Monitor [B&H, Amazon US]
Disclaimer: As an Amazon Associate partner and participant in B&H and Adorama Affiliate programmes, we earn a small comission from each purchase made through the affiliate links listed above at no additional cost to you.
Claim your copy of DAVINCI RESOLVE - SIMPLIFIED COURSE with 50% off! Get Instant Access!