Sigma have been disrupting the cine lens market ever since they announced their Cine Primes and High Speed Cine zoom lenses at IBC last year. Many are familiar with the Sigma Art series stills lenses, which are extremely popular with video users as well. I have the Sigma 18-35mm f1.8 Art and can honestly say it is probably my favourite lens at the moment. Sigma is sharing the optics between their Art series and Cine primes and zooms, however the Cine lenses offer a bit more benefits than just a simple cinevized rehousing.
Sigma's new FF Zoom Line currently features the Sigma 24-35mm T2.2, which covers a full frame image circle and is suitable for high resolution capture in 6K and 8K on RED cameras for example. It provides a rare option for cinematographers since very few lens can cater for the requirements of the latest digital cinema cameras' image sensor, which is larger than Super 35, and expand the range of shooting devices.
Sigma have announced the price of their Full-Frame 24-35mm T2.2, which is priced at $4,999 and is expected to ship end of June/early July. The new 24-35mm T2.2 will be available in either Sony E mount or Canon EF mount.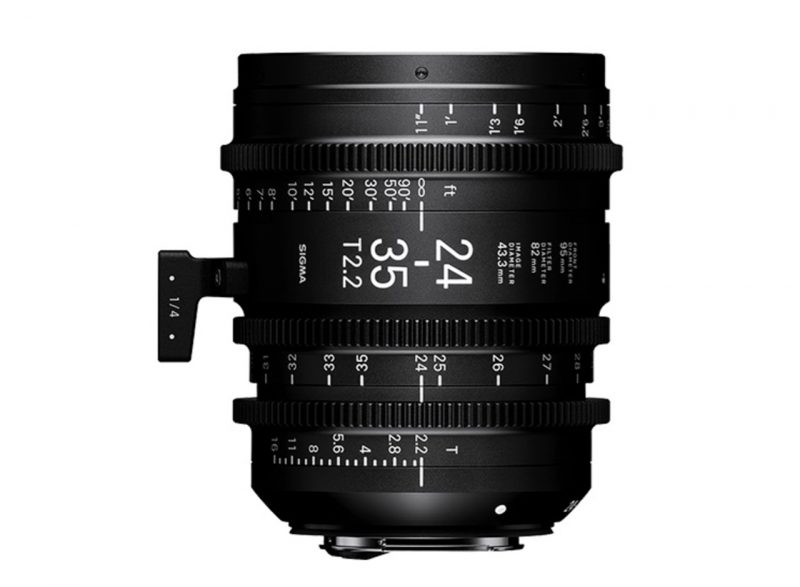 Sigma's High Speed Cine zoom line includes the Sigma 18-35mm T2 and Sigma 50-100mm T2 cine zooms are designed to cover Super 35 sized sensors and are based on their renowned Art series optics. Both the 18-35mm T2 and the 50-100mm T2 High Speed Cine Zooms are available in EF, Sony E, or PL mount and are priced at $3999 each and already shipping.
Sigma 24-35mm T2.2 Highlights
Bright Maximum Aperture of T2.2
Covers 35mm full-frame sensors
Designed for high-resolution capture in 4K, 6K and 8K
FLD & Special Low Dispersion Elements
Two Aspherical Elements
Super Multi-Layer Coating
Internal Focus
Rounded 9-Blade Diaphragm
Shares optical formula and optics with 24-35mm f2 Art
Thermally Stable Composite Material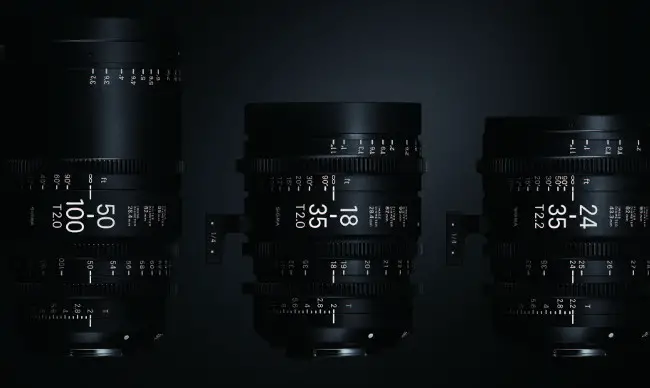 Sigma 24-35mm T2.2 Specifications
Focal Length
24-35mm
Aperture
T2.2 to T 16
Number of
Diaphragm Blades
9 (Rounded diaphragm)
Close Focus
0.28 m / 11″
Image Coverage
FF Φ43.3
Front diameter
95mm
Filter Size
82mm
Length
EF mount
122.7mm
E-mount
148.7mm
Weight
EF mount
1450g
E-mount
1510g
FF
73.7° – 54.4°
S35
54.3° – 38.7°
APS-C
52.6° – 37.4°
Even at $5K the price tag of the 24-35mm T2.2 seems to be in line with the affordable price tag of the Sigma Cine Prime range, which are $3,500 and quite cheap for what they are – excellent sharp and properly build lenses. It is puzzling that the Sigma cine primes and the Super 35 cine zooms (the 18-35mm T2 and the 50-100mm T2) all have an option for PL mount, but the 24-35mm T2.2 doesn't.
Check out this short film, which was shot on the two Sigma High Speed Super 35 zoom lenses:
Behind the scenes:
If the optical quality of the Art series is to be applied to the Cine Range (and it really should as the optics are the same), owning a full-frame zoom saves you having to buy two primes – the 24mm and 35mm; and yes, the primes are faster and are primes, but apparently the 24-35mm is just like the 18-35mm – it's like having multiple prime lenses into one.
Having less lens changes to do and paying $5K as opposed to $7K (the cost of two Sigma cine primes) can go a long way for some people; but then on the other hand if you own a RED Weapon or you are DP, who is patiently waiting for the new Sony Full-Frame Cine Alta camera next year, then the $2K savings probably don't matter that much.
Claim your copy of DAVINCI RESOLVE - SIMPLIFIED COURSE with 50% off! Get Instant Access!