Whether you're a seasoned professional or you've just dipped your toes into video editing, these five effects might help you to enhance your edits and breeze through your daily tasks in the editing bay down the line. Best of all, these are all free as you can find them instantly in the Effects panel of Adobe Premiere Pro CC just with a few clicks.
Jordy Vandeput of Cinecom.net will share a few advanced tips and tricks and show off how you can easily take your video editing workflow to the next creative level by utilizing each and every one of these five filters in the video tutorial below.
Even though it would give you almost the same basic properties and functionality that you could find in the Motion tab of the Effect Controls panel of each clip, the Transform effect brings another essential option to the table by allowing you to alter the Shutter Angle of the applied motion. That way, you can add motion blur to your graphics which can make them look more natural to the eye by increasing the overall visual interest to your video.
Track Matte Key Effect, on the other hand, can help you to add more production value to your shots by creating different shapes on the top of your main clip. By applying the effect, you can use the custom shapes as your matte. Of course, you can animate them further and use the trick as a cool custom transition for any of your projects.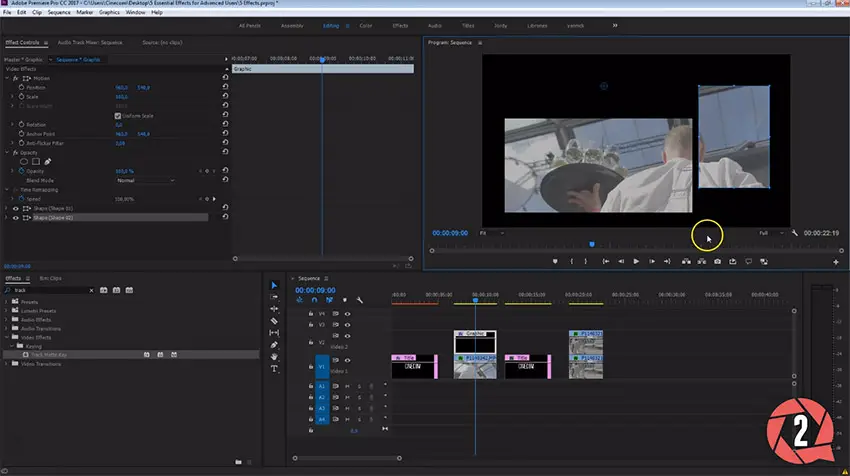 If you want to take your edits a step further, you could also use the Basic 3D Effect. In essence, it transforms shapes created in the Adobe NLE into 3D objects. Of course, it's not as advanced as the tools and assets that After Effects provides in that regard but still, you can use it for some simple lower third animations or any other type of graphics or titles that you might want to manipulate on the fly.
One of the common uses of masking is to blur a person's face to protect their identity. For example, you can mask a person's face by applying a Blur effect or a Mosaic effect. Just track the object that you want to mask and then drag and drop the Mosaic or Gaussian Blur on top of your mask. It's also worth noting that you can add multiple shape masks with different effects to different areas of a clip as well as you can apply effects either inside or outside the masked area.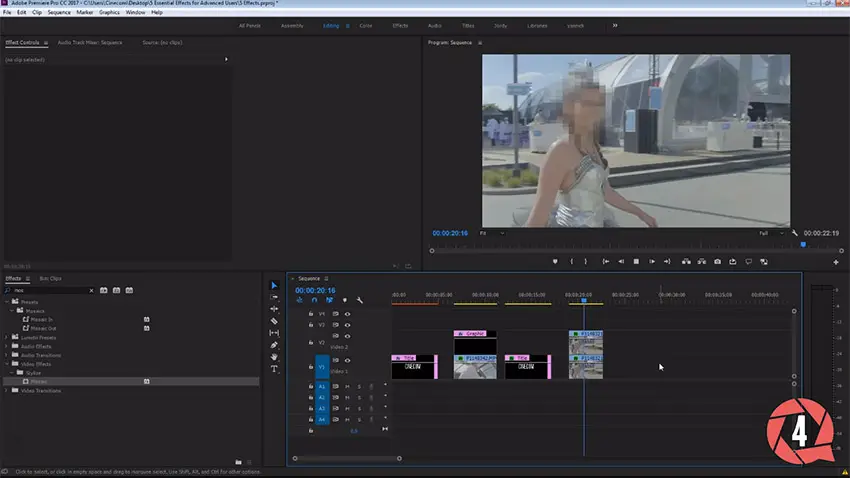 Last but not least, comes the Flip Effect. Most of you are well aware how useful this effect could be when you need to flip your image on occasions when you have shot your video upside down. One thing that you probably don't know, though, is that you can apply both the Vertical and Horizontal Flip effects simultaneously by holding the Ctrl key and dragging and dropping them directly onto your Source Monitor, even before you add the clip to your timeline. That way it will be much easier for you to set in and out points to the clip and decide which portion you are going to use eventually for your edit.
A quick tip if you want to save time while editing is to pick a filter that's actually labeled as an accelerated effect which means it's already been optimized for your GPU so once you applied it, it will play smoothly on your timeline thus eliminating the necessity to render this particular portion of your edit.
Kudos to Jordy Vandeput for putting together this insightful tutorial and sharing these tips with us! If you have more suggestions on the topic, feel free to add those in the comments below.
[souce: Cinecom.net]
Claim your copy of DAVINCI RESOLVE 16 - SIMPLIFIED COURSE with 50% off! Get Instant Access!