If you need more processing power for your creative workflow that eventually will allow you to take full advantage of the striking capabilities of a top-spec GPU such as the Nvidia GTX 1080 Ti or AMD Radeon RX 480 through the simple Thunderbolt 3 connection of your 2016 MacBook Pro, then the Mantiz Venus eGPU Box might be just the right solution you've been looking for lately.
The unit does not only supports some of the latest high-end GPUs on the market but also provides plenty of connectivity options thus turning into a full-fledged docking station for your Thunderbolt 3-enabled PC or Mac. Here's what else you can expect from the Mantiz Venus eGPU/docking station in terms of functionality and available features.
Besides the full-sized 16x PCIe slot available inside, the Mantiz Venus eGPU/docking station comes equipped with a 550W power supply built right inside. According to Mantiz, the power supply can provide up to 375W of power to eligible GPUs. In addition to the available Thunderbolt 3 interface on the back, there are five USB 3.0 ports (two on the front, and three on the backside of the unit) along with an Ethernet port and SATA connection.
Another handy feature of the eGPU is that you can quickly remove the cheese grater side of the case without using any extra tools. What's more impressive about the Mantiz Venus eGPU box, though, is the fact it can deliver 87W of power via the included Thunderbolt 3 USB-C interface to a connected laptop. This means you can easily power up and charge your 13- and 15-inch MacBook Pro once tethered to the Mantiz Venus eGPU while using just a single Thunderbolt 3 cable.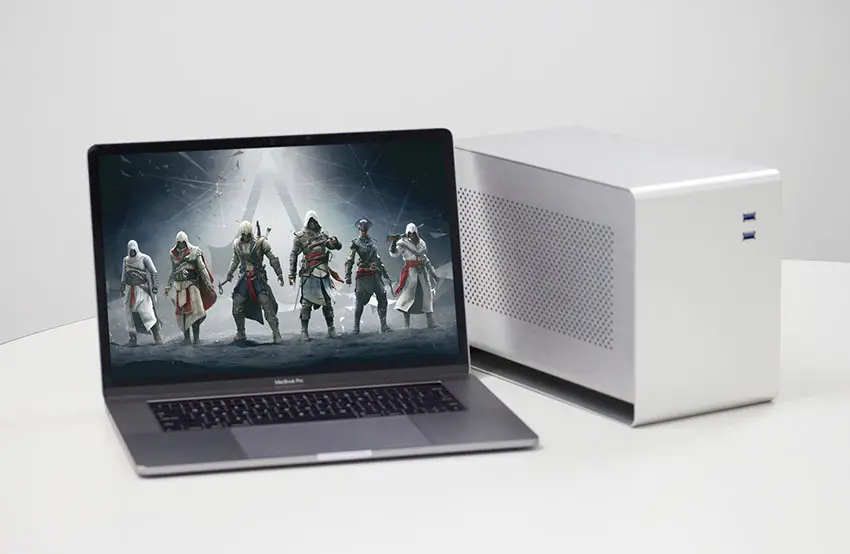 Installing a dual-sized GPU on board shouldn't take you more than a couple of minutes. First, remove the screw on the back, detach both expansion slot covers, and plug the GPU into the 16x PCIe slot located at the bottom of the eGPU case. Don't forget to secure the graphics card with the two screws at the backside of the case and plug the power connectors afterward.
It's also worth noting that the Mantiz Venus is compatible out of the box with macOS Sierra which means that you'll be able to save the hustle of dealing with complex scripts to enable unsupported Thunderbolt 3 chipsets as with some other competitive products.
The Mantiz Venus eGPU can be ordered directly from Mantiz Innovation for a retail price of $389.00. If you want to learn more about the product, head over to Mantiz official website or check out the full 9to5Mac hands-on review regarding the product here.
[source: 9to5Mac]
Claim your copy of DAVINCI RESOLVE - SIMPLIFIED COURSE with 50% off! Get Instant Access!