Budget gear maker Aputure have been making a name for themselves lately with their excellent LED lights, be it the ultra-portable, versatile and cheap AL-M9 LED, or the very punchy and well made Light Storm LS series including their COB 120D/T LED fresnels, however they are also well known for making some excellent budget monitors for DSLRs and compact cameras. And now, they are back in the world of affordable, but very well spec-ed monitors with the Aputure VS-5x.
The new Aputure VS-5x adds HD-SDI and HDMI input and output with cross conversion, a beautiful 1920 x 1200 LCD display with 450 nits of brightness and some serious monitoring tools including, but not limited to false colour, RGB parade, histogram, waveform and vectorscope. The HD-SDI and HDMI output/cross conversion is an upgrade feature, not present on the previous VS-5 model.
RGB waveform is another new edition to the V-Screen's list of visual optimization functions, including two methods of displaying the data of your image: RGB parade and RGB overlay. Whatever method you choose, waveforms can help you accurately find the pixel-to-pixel colour values of your image. This makes it easier to calibrate your image's white balance, ensuring the highest quality control possible.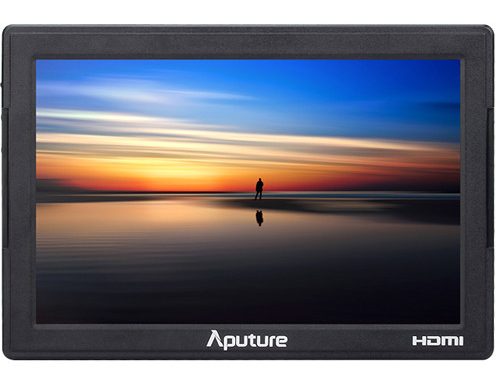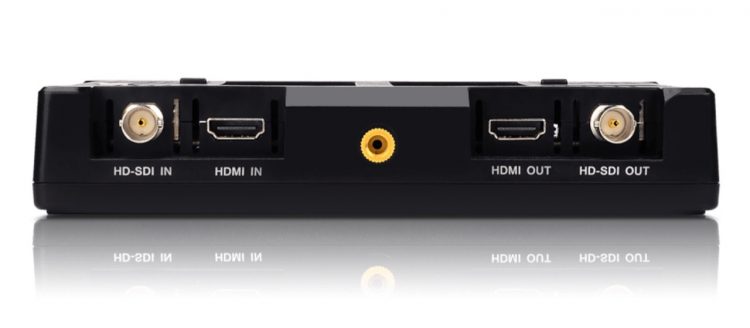 Aputure VS-5x Highlight Features
7-inch 1920 x 1200 LCD Display
SDI and HDMI I/O with Cross-Conversion
450 nits brightness
Full set of Pro Monitoring Tools:

RGB Waveform,
RGB Parade,
Histogram
False Color
Peaking
Zebras
Vectorscope

Dual NP-F Battery Slots
160 degree Viewing Angle
Power via 2.5mm DC Input
Includes D-Tap Power Cable
Includes Ball Mount and Sun hood
Price: $599 at B&H
Aputure VS-5x Tech Specifications
LCD Size
7.02";
Resolution
1920 x1200
Brightness
450 cd/m2
Contrast Ratio
1200:1
Viewing Angle
160 / 160(H/V)
Pixel Pitch
0.07875 x 0.07875 mm
Input and Output Connectors
Input: HD-SDI and HDMI
Output: 3.5 mm headphone audio jack
Batteries
Sony NP-F
Power Requirements
12 V, 700 mA
Power Voltage
DC 7 to 18v
Power Consumption
≤9 W
Operation Temperature
0℃~55℃
Storage Temperature
0℃~70℃
Humidity
30%~70%
Dimensions (WxHxD)
7.1 x 4.8 x 1.4″ (180 x 122 x 35 mm)
What you get in the box:
VS-5x Monitor
HDMI cable (A type to C type) x 1
HDMI cable (A type to D type) x 1
D-tap cable x 1
universal cold-shoe mount x 1
sun hood adapter x 1
sun hood x 1
warranty card x 1
manual x 1
cleaning cloth x 1
flexible bag x 1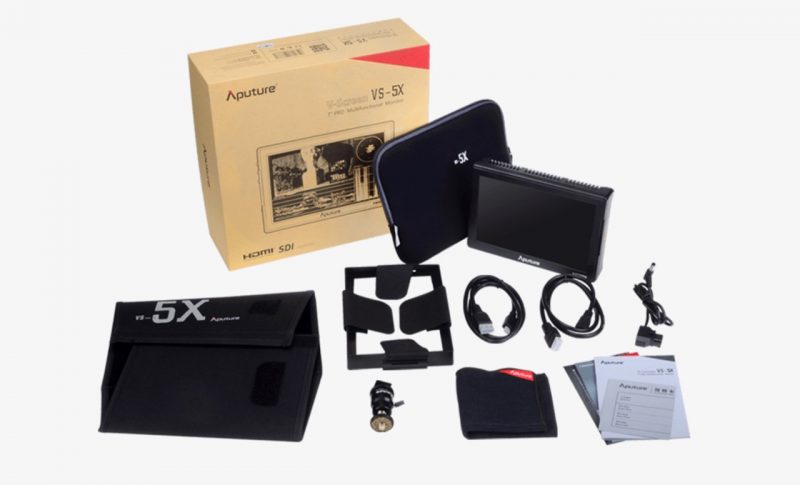 The new Aputure top model monitor VS-5x looks like an excellent option for anyone, who is shooting primarily with more compact cameras like the Panasonic GH5, or even Canon 5D Mark IV (you'd be surprised on how many are out there, and there's lots), which lacks pretty much all pro monitoring features.
The VS-5x should do well even as a small handheld directors monitor (provided you put it some sort of a cage with handles like the ones that Shape do) as you can power it with V-mount or AB (thanks to the included D-tap to 2.5mm adapter) or alternatively use it an AC monitor with cameras that have SDI connectivity like the FS5 and FS7. Aputure are also throwing in the package a giant sun hood for those pesky, harsh daytime exteriors.
On the downside, from the spec sheet, there is no mention of 3D LUT support (the VS-5 didn't have it either) so I doubt we'll see it on the newer model. Nevertheless, this is a 7-inch monitor with some serious pro monitor tools and at $599, given all the accessories it comes with, it sounds like a pretty good deal.
In my experience, the older VS-1 an 2 monitors were quite limited, but since then, Aputure have really put a lot of effort in upgrading the monitoring experience, which makes me really itch to get my hands on the new VS-5x and test it with my GH5, and soon – swanky 5D Mark IV.
You can order the Aputure VS-5x from B&H for $599 or directly from Aputure's website, which at the moment ships this unit to North America only, so keep that in mind.
Claim your copy of DAVINCI RESOLVE - SIMPLIFIED COURSE with 50% off! Get Instant Access!