Here's another compelling solution that could be useful not only for those predominantly using their iPhone 7 Plus for taking stills while being on a family vacation but also for all content creators out there who take their smartphone a bit more seriously when it comes to shooting professional video.
In fact, the Switch 6 from Ztylus is more than just a typical case for the iPhone 7 Plus. As opposed to other similar products, it comes equipped with a set of six lenses along with a dedicated housing making the shooting process with the smartphone a lot more flexible and versatile.
In essence, the Switch 6 case greatly extends the optical zoom range of your iPhone 7 Plus, allowing you to capture a variety of shots that you couldn't achieve with the device otherwise. The Switch 6 lens kit includes a 120° Wide-Angle, 2X Telephoto, 10X Macro, 20X Super Macro and 180° Fisheye lens that in combination with the already available built-in lenses on the iPhone 7 Plus gives you a plenty of focal lengths ranging from a super macro to extremely wide angle.
The lens unit fits snugly into the available rail system on the back of the case and locks into place with each lens set. All you have to do is to slide up or down the unit to toggle between different lens sets. It's just as simple and straightforward as that. Yet, the creative options this workflow brings to the table are virtually limitless.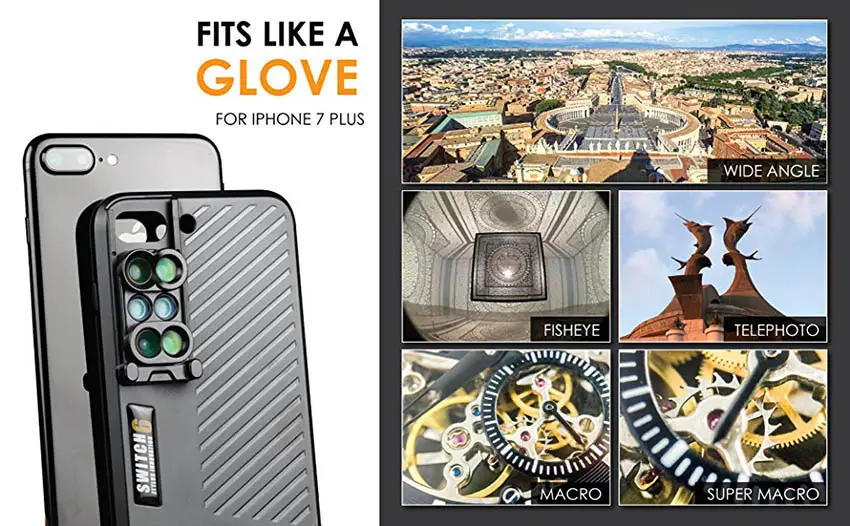 On top, the Switch 6 Kit offers all around protection against bumps and scratches for the iPhone 7 Plus whereas the raised lip protects your screen when setting the phone face down. Furthermore, the cutouts of the case give you full access to all the ports and buttons while the built-in grip makes holding your phone more comfortable and gives you a firm grip while shooting. There's even a strap mount on the bottom that allows you to attach a wrist strap or a camera strap to your phone.
Of course, you can remove the lens unit completely and still get the protection of the case. By overlaying a new piece of glass on the existing lenses of your iPhone 7 Plus, this 6-in-1 lens kit gives you more creative freedom while shooting with your phone while providing a robust and reliable protection for the device itself in the meantime.
Best of all, the Ztylus Switch 6 will set you back less than $50 which is still a reasonable price considering it turns your iPhone 7 Plus into a full-fledged camera system not to mention the extra functionality and countless creative possibilities you get as a result. If you want to learn more about the product, head over to Ztylus Innovation official website or use the link below.
[source: Unbox Therapy]
Amazon US Order Link:
Ztylus Switch 6 Kit 6-in-1 Dual Optics Lens System for iPhone 7 Plus
Claim your copy of DAVINCI RESOLVE - SIMPLIFIED COURSE with 50% off! Get Instant Access!