Earlier this week at the annual SIGGRAPH 2018 conference in Vancouver, NVIDIA announced its first Turing architecture-based GPUs called the Nvidia Quadro RTX family, which NVIDIA calls "greatest leap since 2006 CUDA GPU".
The new generation workstation GPUs are set to revolutionize the work of millions of VFX designers and graphics artists around the world by enabling them to render photorealistic scenes in real time, add new AI-based capabilities to their workflows, and enjoy fluid interactivity with complex models and scenes.
Unveiled by NVIDIA founder and CEO Jensen Huang, the NVIDIA Quadro RTX high-end professional workstation GPU family bring "…hardware-accelerated ray tracing, AI, advanced shading and simulation to creative professionals" and will include (for now at least) the following three models:
The top-end NVIDIA Quadro RTX 8000 with 48GB memory
Mid-tier NVIDIA Quadro RTX 6000 with 24GB and
NVIDIA Quadro RTX 5000 with 16GB
"Quadro RTX marks the launch of a new era for the global computer graphics industry," said Bob Pette, vice president of Professional Visualization at NVIDIA.

"Users can now enjoy powerful capabilities that weren't expected to be available for at least five more years. Designers and artists can interact in real time with their complex designs and visual effects in ray-traced photo-realistic detail. And film studios and production houses can now realize increased throughput with their rendering workloads, leading to significant time and cost savings."
New Quadro RTX "Ray-Tracing" Pro/Workstation GPUs 
The new Turing GPUs have been designed to meet the modern requirements of the Hollywood VFX industry for the most demanding visual computing workloads, such as those used in film and video content creation, automotive, architectural design, as well as scientific visualization, while far surpassing the previous Pascal architecture with groundbreaking technologies, including:
New RT Cores to enable real-time ray tracing of objects and environments with physically accurate shadows, reflections, refractions and global illumination.
Turing Tensor Cores to accelerate deep neural network training and inference
New Turing Streaming Multiprocessor architecture:

Featuring up to 4,608 CUDA cores, delivers up to 16 trillion floating point operations
in parallel with 16 trillion integer operations per second to accelerate complex simulation of real-world physics.

Advanced programmable shading technologies to improve the performance of complex visual effects and graphics-intensive experiences.
First implementation of ultra-fast Samsung 16GB GDDR6 memory to support

more complex designs,
massive architectural datasets,
8K video content

NVIDIA NVLink to combine 2 x GPUs with

a high-speed link to scale memory capacity up to 96GB
and drive higher performance with up to 100GB/s of data transfer.

Hardware support for USB Type-C and VirtualLink, a new open industry standard being developed to meet the power, display and bandwidth demands of next-generation VR headsets through a single USB-C™ connector.
New and enhanced technologies to improve performance of VR applications,

including Variable Rate Shading, Multi-View Rendering and VRWorks Audio.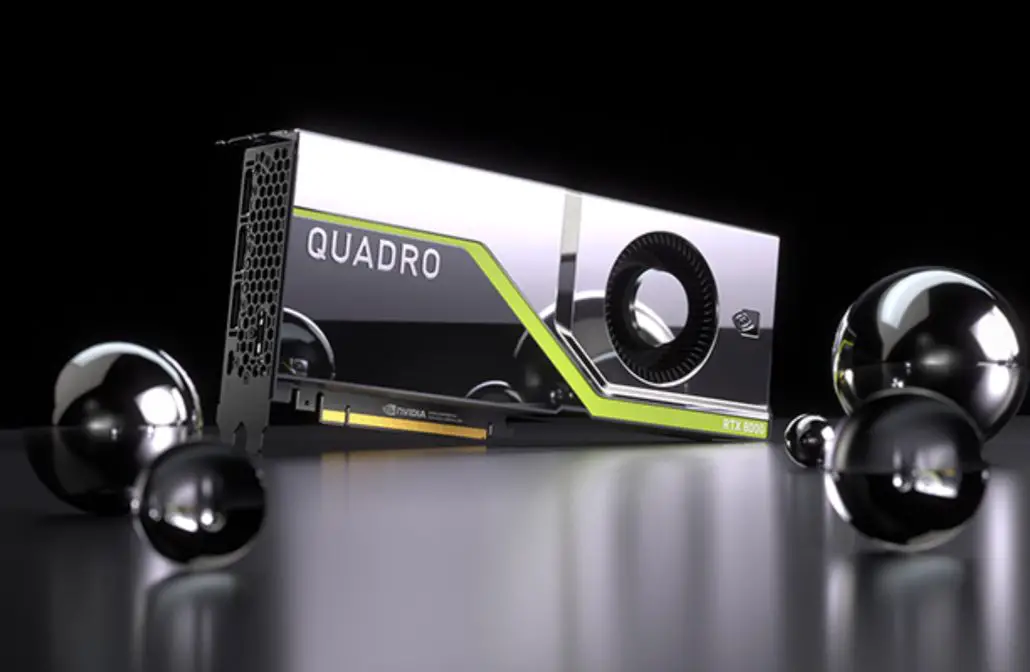 NVIDIA Quadro RTX Features/Specs:
| | | | | | |
| --- | --- | --- | --- | --- | --- |
| GPU Model | Memory | with NVLink | Ray Tracing | CUDA Cores | Tensor Cores |
| Quadro RTX 8000 | 48GB | 96GB | 10 GigaRays/sec | 4,608 | 576 |
| Quadro RTX 6000 | 24GB | 48GB | 10 GigaRays/sec | 4,608 | 576 |
| Quadro RTX 5000 | 16GB | 32GB | 6 GigaRays/sec | 3,072 | 384 |
8K video adoption as an acquisition format has been gathering momentum thanks to innovative cameras from rebel camera makers such as RED, however working in real time with the massive 8K Raw files from a RED Monstro 8K is no joke at all. It requires a lot of processing power and beastly workstations to harness and process often requiring editors, colourists and post-production professionals to slave to proxy-workflows, which although widely adopted, can be time-consuming and inefficient for certain projects.
For most normal people – indie filmmakers, small production companies and one-man band operations lacking the resources of Hollywood-style post-houses with render server farms and custom-built, multi-GPU workstations, even 4K raw workflows can be extremely taxing, not to mention higher resolutions such as 6K and 8K.
This is why, NVIDIA and RED Digital Cinema have teamed up to resolve that 8K (and higher resolution raw workflow bottleneck) and unleash the power of the brand new Turing GPU architecture to deal with the mountains of pixels and terabytes of data involved in the moving picture creation process regardless if one is shooting a low-budget music video, a commercial or a large scale, big budget feature film.
According to NVIDIA, working with leading camera maker RED Digital Cinema, the new Turing architecture in their new Quadro RTX GPUs enable video editors and colourists to work with "8K footage in full resolution — in real time — reaching greater than 24 frames per second using just a single-processor PC with one Quadro RTX GPU."
And at less than half the price of CPU-laden workstations, this solution puts 8K within reach for a broad universe of post-production professionals using RED cameras whose content is viewed by millions.
"RED is passionate about getting high-performance tools in the hands of as many content creators as possible," said Jarred Land, president of RED Digital Cinema. "Our work with NVIDIA to massively accelerate decode times has made working with 8K files in real time a reality for all."
Though the markets for 8K displays and TVs are still in its infancy and it will take years to get 8K widely adopted, there are many professionals out there acquiring and producing in 8K, while distributing in 4K and other resolutions. The new Turing architecture has a huge potential to enable GPUs to do more of the heavy lifting for 8K, thus freeing CPUs to do other work.
Pro video applications like Adobe Premiere Pro, Blackmagic's DaVinci Resolve and Autodesk Flame are already capable of working with 8K footage captured from cameras like RED's.
By offloading all of the computationally intensive parts of the REDCODE RAW processing to a Turing GPU, NVIDIA and RED are giving post-production professionals access to 8K footage at full resolution in real time. And it's not just for Turing — this acceleration will also substantially increase REDCODE processing performance on other NVIDIA GPUs.
Blackmagic Design are also pledging support for the new Turing GPUs in DaVinci Resolve: they are using Turing Tensor Cores in Resolve 15 to accelerate AI inferencing for graphics enhancement.
Our customers are always looking for large performance gains and we are seeing a significant leap with NVIDIA RTX." — Dan May, president of Americas Operations, Blackmagic 
You can see the NVIDIA SIGGRAPH 2018 press conference and Quadro RTX unveiling by CEO Jensen Huang below:
QUADRO RTX Pricing: 
Quadro RTX 8000 with 48GB: $10,000 estimated street price
Quadro RTX 6000 with 24GB: $6,300 ESP
Quadro RTX 5000 with 16GB: $2,300 ESP
Availability
Quadro RTX GPUs are expected to ship in Q4 2018. For further tech details and information head over to NVIDIA.
What about RTX GeForce Gaming GPUs?
Of course, these new beastly Quadro RTX graphics cards are not for everyone. So, if you are like me and have been following the developments in the gaming/computer-building industry lately, as I have been researching various builds for a PC 4K+ editing machine for DaVinci Resolve, you are probably aware that it has been wildly rumored that NVIDIA may announce the next generation gaming GPUs in the GeForce range at GamesCon next Monday, August 20th in Cologne, Germany.
Of course, Nvidia GTX GeForce GPUs have been extremely popular not only with the gaming community, but also with filmmakers, editors and colourists alike, who don't necessarily have the funds or need for a massive workstation that costs tens of thousands of dollars/euros/pounds etc.
Nvidia recently released their Gamescon teaser, which is clear indication that there will be new gaming-oriented GPUs coming out very soon.
We shall wait and see wether Nvidia bring that sweet ray-tracing magic and Turing speed to all of their new GeForce gaming GPUs or just the top-end models as rumors seem to indicate… In either case, watch this space.
Claim your copy of DAVINCI RESOLVE - SIMPLIFIED COURSE with 50% off! Get Instant Access!