Smaller than the DJI Mavic, the new DJI Spark is a mini drone for the selfie obsessed youth of today. An impressive design and form factor indeed, however sadly, when it comes to video, the DJI Spark's video camera is stuck in 1080p land. Just for the record, I am not trying to downplay the incredible display of drone technology that DJI are pushing; not at all. What they have done with the Spark is more than impressive when it comes to the amount of technology their engineers managed to pack in a soda can sized form factor.
Like many of you, I was watching the live event online and was eagerly awaiting the camera specs; even though I was expecting at least a UHD/30p resolution, I must say that for the crowd they are marketing this drone to – the lack of a 4K video resolution is probably not such a big deal. After all, this product is marketed at those, who have yet to dip their toes into the world of consumer drones, i.e. your average Joe consumer, who may have at one point thought about buying a Phantom 3 or a 4, then drooled over the DJI Mavic, but though that flying it would be too much of a hassle.
And that folks, is a very big market. It comes in five different colours too, because much like the smart phone nowadays, the pocket drone is becoming an accessory that is never supposed to leave your bag/handbag/purse/pocket etc.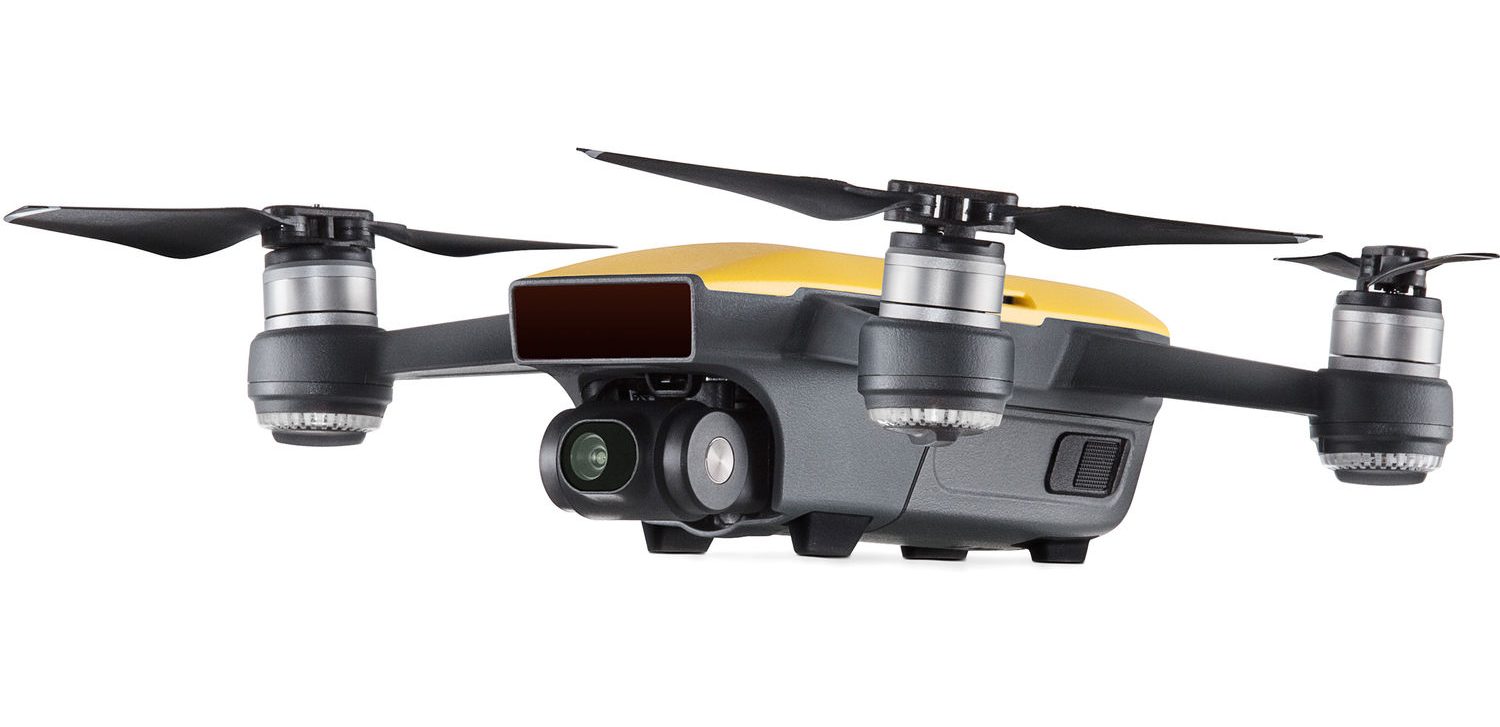 Nothing wrong with that, after all, DJI are the largest consumer drone maker in the world and so far have a drone for pretty much every level of user out there – from the enthusiast (Mavic, Phantom 4) to the low/mid-tier pros (Phantom 4 Pro, Inspire 1 and Inspire 2) and high-end pro users (Inspire 2, Matrice 600 Pro, S1000+ etc).
The new DJI Spark captures 12 megapixel stills and can shoot 1080/30 video, and uses a 2-axis gimbal instead of a 3-axis stabiliser camera, but what is more important here is the gesture control and how easy it appears DJI have made flying a consumer mini drone.
DJI Spark Features
2-Axis Stabilized Gimbal Camera
12MP Still Photos
Video Camera: 1920 x 1080p/30 only
Gesture and TapFly Control
FlightAutonomy with Obstacle Detection
Subject Tracking from Various Angles
GPS- & Vision Position-Based Navigation
Top Speed of 31 mph in Sport Mode
Up to 16 Minutes Flying Time
Up to 1.2 Mile Control Range
Control, Edit, Share with DJI GO App
Weight: 300 g
Records onto MicroSD cards (recommended list):

Sandisk 16/32 GB UHS-1 Micro SDHC
Kingston 16/32 GB UHS-1 Micro SDHC
Samsung 16/32 GB UHS-I Micro SDHC
Sandisk 64 GB UHS-1 Micro SDXC
Kingston 64 GB UHS-1 Micro SDXC
Samsung 64 GB UHS-I Micro SDXC

Ships Mid-June 2017
Available in the following colours:

Sunrise Yellow
Meadow Green
Lava Red
Alpine White
Sky Blue
DJI Spark Camera Specs
Sensor
1/2.3″ CMOS
Effective pixels: 12 MP
Lens
FOV 81.9° 25 mm (35 mm format equivalent) f/2.6
(shooting range: 2 m to ∞)
ISO Range
Video: 100-3200
Photo: 100-1600
Electronic Shutter Speed
2-1/8000 s
Image Size
3968×2976
Still Photography Modes
Single Shot
Burst Shooting: 3 frames
Auto Exposure Bracketing (AEB): 3 bracketed frames at 0.7 EV bias
Interval: 2/3/5/7/10/15/20/30/60 s
Video Resolution
FHD: 1920×1080 30p
Max Video Bitrate
24 Mbps
Supported File Systems
FAT32 (≤ 32 GB)
Photo Format
JPEG
Video Format
MP4 (MPEG-4 AVC/H.264)
As I said earlier, the DJI Spark is packing some serious tech underneath the hood – from landing and lift-off from the palm of your hand using gestures alone, to using new intelligent flight modes such as QuickShot.
There are four QuickShots available on the DJI Spark: Rocket – when selected, it sends the Spark straight up into the air with the camera pointed down; Dronie – flys up and away from your subject; Circle – the Spark rotates around the subject; and Helix – spirals away from a subject as it flies upward. For each QuickShot, Spark will automatically create a 10-second video from your flight that is ready to share on social media, where everyone can see your special moments.
Previously introduced Intelligent Flight Modes such as TapFly and ActiveTrack can also be found on Spark. Developed based on DJI's vision technology, a new TapFly sub mode called Coordinate allows Spark to fly to a location you tap on your mobile device screen.
TapFly's Direction Mode lets you keep flying in the direction you tap on the screen. Using ActiveTrack, Spark will automatically recognize and track an object you choose, keeping it at the centre of the frame for perfect shots of objects in motion. Whether you are using TapFly or tracking a subject, Spark's 3D Sensing System will actively sense obstacles in front of the aircraft.
With the remote controller accessory, operators can switch to Sport Mode and unleash Spark's speed potential of up to 31 mph (50 kph). Sport Mode sets the gimbal to first-person view (FPV) by default, so the camera moves with you as you fly. Spark will also be compatible with DJI Goggles for an immersive FPV flight experience.
DJI unveiled the Spark at their "Seize the Moment" Live Event in New York earlier today. In case you missed the livestream, you can check it out below:
Spark's FlightAutonomy system consists of the main camera, a downward-facing vision system, a forward-facing 3D Sensing System, dual-band GPS and GLONASS, a high-precision inertial measurement unit, and 24 powerful computing cores. These features allow Spark to hover accurately with vision system assistance at up to 98 feet (30 meters) and sense obstacles from up to 16 ft (5 m) away.
Like all recent DJI drones, Spark can return to its home point automatically with a sufficient GPS signal. While using the remote controller, if the battery gets too low, connection is lost, or the operator presses the Return to Home (RTH) button, Spark flies back to the preset home point while sensing obstacles in its path. Spark also integrates DJI's GEO System or NFZ geofencing to provide you with up-to-date guidance on areas where flight may be limited by regulations or raise safety or security concerns – helping you fly safely and responsibly.
For optimal performance, Spark is powered by a high-energy density LiPo battery and has a maximum flight time of up to 16 minutes. When flying with the remote controller accessory, Spark allows for 720p real-time video transmission from up to 1.2 miles (2 km) away.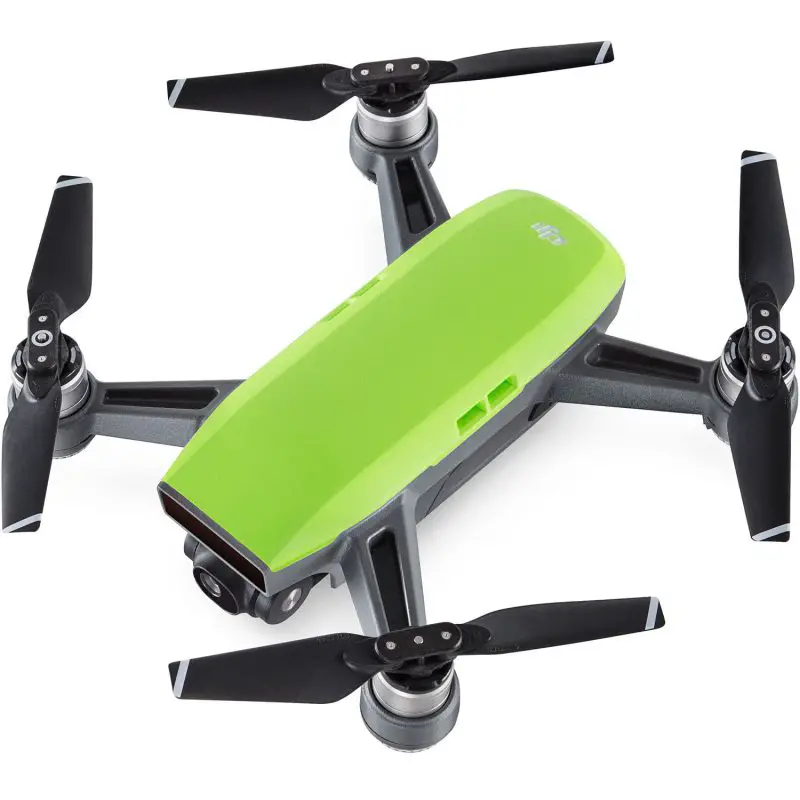 The DJI Spark is priced at $499 and is scheduled to start shipping in mid-June. The Spark Fly More Combo includes an aircraft, two batteries, four pairs of propellers, a remote controller, propeller guards, a charging hub, a shoulder bag and all necessary cables and is priced at $699 USD. Pricing and availability of the other Spark accessories have not yet been announced.
To learn more about the Spark, visit DJI here. You can pre-order via the links below:
Disclaimer: As an Amazon Associate partner and participant in B&H and Adorama Affiliate programmes, we earn a small comission from each purchase made through the affiliate links listed above at no additional cost to you.
Claim your copy of DAVINCI RESOLVE - SIMPLIFIED COURSE with 50% off! Get Instant Access!