Many of you would probably agree that one of the most annoying parts of the entire post-production workflow is consistently falling short of storage. With the ever-increasing camera picture quality comes larger file sizes, so choosing a reliably fast storage solution for your workflow is paramount. Finding a viable option, however, is a whole different story, so if you are currently in the market for a solid and speedy external storage solution that also provides Thunderbolt 3 compatibility, Akito may have the perfect fit for your needs.
A recent newcomer to the external storage space, Akitio released their Thunderbolt 3 Quad Mini, a portable 4-bay SSD storage enclosure for the Mac. Mechanical 2.5" hard disk drives are compatible, although this enclosure was truly meant for the much faster solid-state drives.
Just as a reference, with software RAID four striped SSDs can reach data transfer speeds of up to 1375 MB per second while the Thunderbolt 3 interface provides sufficient bandwidth for additional 4K video signal streams and data transfers at the same time.
Meanwhile, the storage enclosure has an attractive build quality that uses metal materials coated with a space-grey finish. The available ports on this device include a power port used for the included power adapter, two Thunderbolt 3 USB-C ports, and a DisplayPort out which supports up to a 4K monitor at 60Hz.
For easy and quick access to the storage bays, there is a latch at the bottom of the device that releases the front panel. To install the drives, you must first mount your own drives onto the included drive sleds, then install the sleds into the drive bays. In terms of driver installation, simplicity is the name of the game.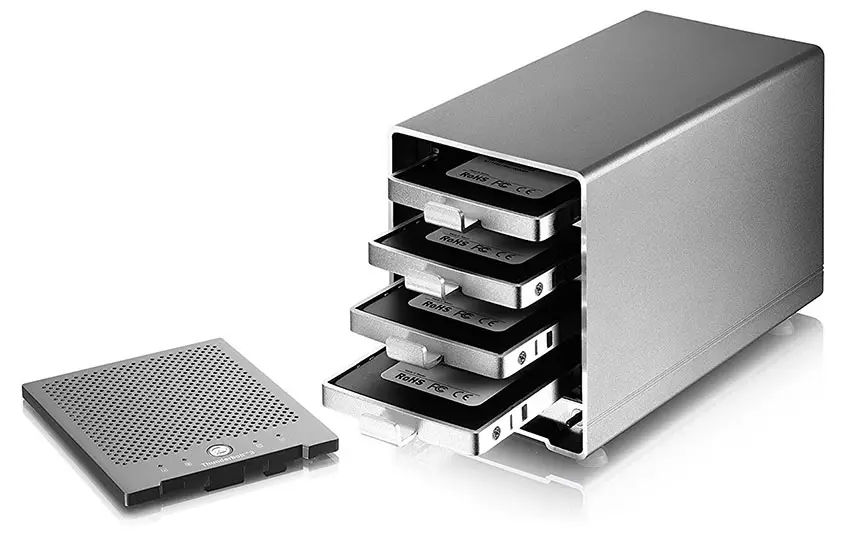 Furthermore, if you are using all SSDs in the Quad Mini, you could actually use the drives within the enclosure as a boot drive, which is especially helpful for those whose computer internal drives are utilizing the much slower mechanical hard disk drives (such as the Fusion Drive on the Mac). That way users will be able to get not only much faster boot up times, but also significant increases in subsequent read and write speeds, thus improving the overall efficiency of their post-production workflow.
Creative professionals predominantly working with audio who tend to use the Akitio Quad Mini, should keep in mind that the storage enclosure comes equipped with a fan that besides keeping the drives cool might also introduce some unwanted noise into their recordings. Luckily, Akitio engineers thought of a solution to this issue. By including a fan on/off switch at the back of their enclosure, they have saved creators the agony of having to sacrifice compute efficiency for sound quality.
In terms of flexibility, the inclusion of a second Thunderbolt 3 port on the back of the enclosure allows the user to daisy chain other Thunderbolt 3 compatible devices (such as another hard drive or monitor). In addition, the DisplayPort out gives users the ability to add even more monitors for better multitasking in post.
Ultimately, with its ample drive bay and the set of convenience-oriented features and ports, the Akitio Thunder3 Quad Mini is clearly a solid, efficient choice for those looking for a companion for their computers, especially Macs, in post-production.
[source: 9to5Mac]
Amazon US Order Link:
Akitio Thunder3 Quad Mini (Thunderbolt3 4-Bay Enclosure Only)
Claim your copy of DAVINCI RESOLVE 16 - SIMPLIFIED COURSE with 50% off! Get Instant Access!