Earlier today, Canon announced a few new lens additions to their already extensive lineup such as the new Canon EF 85mm f/1.4L IS USM lens to sit in the middle of the existing 85mm focal-range lens line-up, which currently includes the massive 85mm f1.2L II, and the the budget 85mm f1.8, and three new Tilt-Shift macro lenses: the TS-E 50mm f/2.8L Macro lens, TS-E 90mm f/2.8L Macro lens and TS-E 135mm f/4L Macro lens.
Canon EF 85mm focal-length lenses are traditionally very popular options for portrait photographers and video professionals shooting sit-down interviews for example. The new Canon EF 85mm f/1.4L IS USM is also the first Canon EF 85mm lens to feature image stabilization, providing up to four stops of shake correction for smooth and crisp imagery.
The EF 85mm utilizes one large diameter, high-precision molded glass aspherical lens and features an ASC coating. The large f/1.4 aperture produces shallow depth-of-field, fast shutter speeds and a bright image inside the viewfinder, allowing photographers to focus and compose their image reliably. In addition, a circular aperture with 9-blade iris allows for beautiful bokeh.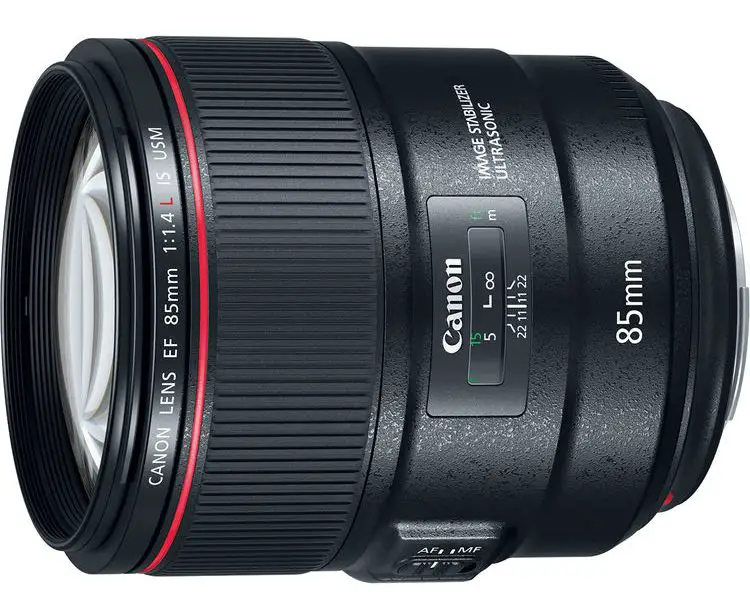 Canon 85mm f1.4L IS USM Highlights
EF-Mount Lens/Full-Frame Format
Maximum Aperture: f/1.4
One GMo Aspherical Element
Air Sphere Coating
Ring-Type Ultrasonic Motor AF System
Optical Image Stabilization
Dust- and Water-Resistant Construction
Rounded 9-Blade Diaphragm
The new 85mm f1.4L IS is expected to ship around November later this year at a retail price of around $1,600 USD. The addition of image stabilisation is a significant improvement for video users over the current and more expensive f1.2L II, which is also very heavy.
Tilt-Shift lenses have several applications in both specific video and photography segments because of their ability to provide enhanced creative control over perspective through the tilt function and depth-of-field through the shift function in their images. This ability can be optimal when photographing landscapes, portraits, and architecture.
The new additions to the Canon tilt-shift arsenal are the Canon TS-E 50mm f/2.8L Macro lens, TS-E 90mm f/2.8L Macro lens and TS-E 135mm f/4L Macro lens, featuring enhanced optical elements like molded aspherical glass and UD lenses.
These features provide users with edge-to-edge resolution, improved image quality over previous Canon TS-E lenses and minimum distortion. Canon also included two anti-reflective coatings, SubWaveLength Structure Coating (SWC) in the TS-E 50mm f/2.8L and TS-E 135mm f/4L Macro lenses and Air-Sphere Coating (ASC), into the TS-E 50mm f/2.8L and TS-E 90mm f/2.8L Macro lenses. SWC helps to reduce flare and ghosting, while ASC is a new technology that provides amazingly high, anti-reflective performance, particularly when alleviating incidental light that can enter a lens.
The new Canon Tilt-Shift lenses also offer improved operability over previous models, including larger tilt, shift-and-lock knobs, lock-release button and a new tilt-locking mechanism that firmly locks the lens in the zero-tilt position to help prevent unintended tilting to increase more precise shooting capabilities. The rotation of the tilt-shift lenses also allows users to freely change the axis of tilt movement and shift from right angles to parallel to better adapt to various shooting conditions and situations.
The new Canon TS-E 50mm f/2.8L Macro lens, TS-E 90mm f/2.8L Macro lens and TS-E 135mm f/4L Macro lenses are scheduled to be available November 2017 for an estimated retail price of $2,199 each.
Claim your copy of DAVINCI RESOLVE - SIMPLIFIED COURSE with 50% off! Get Instant Access!