China-based consumer electronics manufacturer Xiaomi has been showing up in media as an emerging brand developing not only smartphones but even action cameras. The Xiaomi Yi was specifically introduced to compete with market-leader GoPro providing similar features and decent video quality at a fraction of the cost of a GoPro Hero.
Over time, the Xiaomi action camera has started to receive praise, progressively growing its fan base. In an attempt to attract new members to the Xiaomi fan club, the company has recently released its newest model in their action camera lineup, the Xiaomi Mijia 4K.
Obviously, the biggest feature that this action camera is going to bring to the table is its ability to record 4K video (as described in the name of the product). In addition to shooting at a higher resolution than the Xiaomi Yi, the newcomer also boasts an impressive 6-axis image stabilization. This is comprised of a 3-axis gyroscope working alongside a 3-axis accelerometer which together promises a very stable image.
Regarding recording settings, the Mijia 4K offers up to 30fps in 4K (3840 x 2160) and 60fps in 2.5K (2560 x 1440). Beyond that, the camera includes some slow-motion recording capabilities with frame rates of up to 100fps in 1080p and 200fps in 720p, although the video quality tends to degrade significantly when moving down to a lower resolution and higher frame rate.
Furthermore, the camera uses H.264 compression when recording video on an SD card (maximum 64GB) and comes with software that allows users to apply lens distortion correction and something the company calls a 3D motion noise reduction.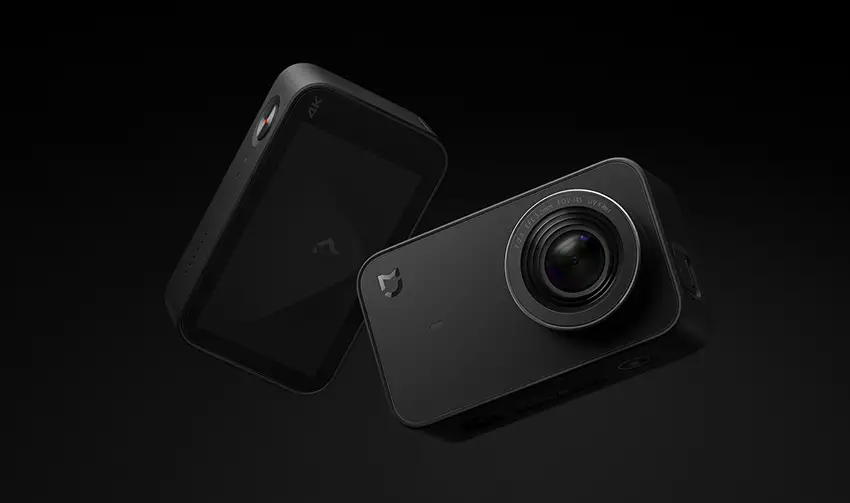 Besides video recording, the unit also can take stills and even includes a Photo and Video Interval Timer for those looking to use the camera for time-lapse sequences. The settings for the interval recording include 5, 10, 30, and 60 seconds. Also available is a loop recording feature with durations of 1, 2 and 5 minutes. As for photos, the camera has a continuous shooting mode with intervals of 3, 5, and 10 photos per second.
The Mijia 4K sports an 8MP Sony IMX317 1/2.5 inch sensor, with a fixed lens at a focal length of 3.2mm (145-degree field of view) with a maximum aperture of f/2.8 when fully open. At the back of the camera, you'll find a 2.4-inch touchscreen monitor for operating and previewing your shots as you record, although Xiaomi does have a dedicated smartphone app that takes advantage of the internal WiFi and Bluetooth capabilities of the Mijia 4K.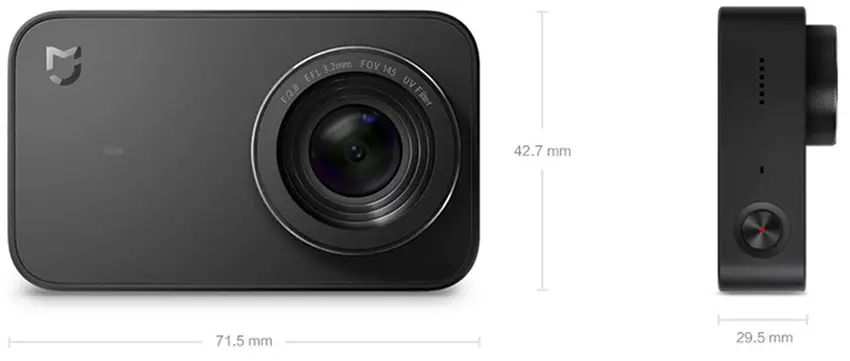 Ultimately, the camera has extremely compact and lightweight form factor (71.5 x 42.7 x 29.5mm / 2.8 x 1.7 x 11.6") and weighs roughly 99 g / 3 oz including the 3.8V 1450mAh rechargeable Li-ion Polymer Battery. The battery itself is stated to last approximately two hours when shooting at 4K.
Currently, there is no waterproof housing reported to be available for the device. Seeing as this is meant to be a competitor in the action camera market, however, it's expected such an accessory to be developed in the future. Best of all, the Xiaomi Mijia 4K is estimated to cost around $100, which is many times less expensive compared to the GoPro Hero line of cameras. For further information and more technical details, head over to Xiaomi's official website.
[source: Xiaomi]
Claim your copy of DAVINCI RESOLVE - SIMPLIFIED COURSE with 50% off! Get Instant Access!