Holy sh*t! Canon just announced a 4K/60p capable camcorder that actually may be worth buying. Yes, you read that right, Canon just announced the Canon XF405 and XF400 compact camcorders aimed at event shooters, wedding videographers and according to Canon – news crews, who prefer to travel light. That next bit is important, but I'll get to it later on. As a Canon fanboy and C300 mark II owner, I was looking for the next fixed lens 4K camcorder from Canon. Sure, there was the Canon XC10 followed by the XF15, but the weird form factor of these models never kind of caught on with the masses, so maybe the new XF405 and XF400 will?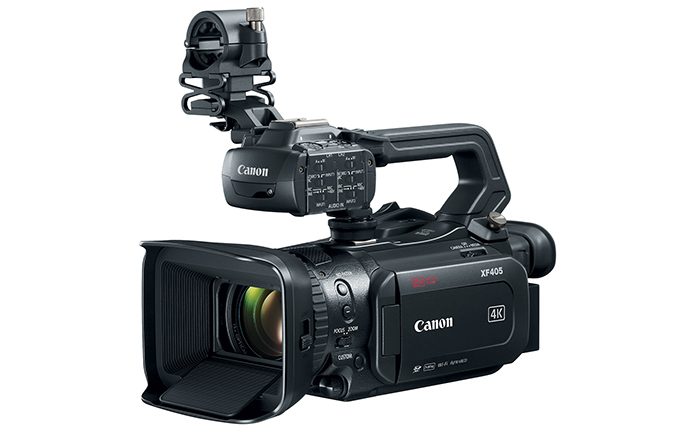 Time will tell, but nevertheless the new XF400/405 does feature a brand new 1-inch CMOS chip capable of cranking out UHD at up to 50/60p at 150 Mbps LongGOP, but at the lousy 8bit 4:2:0 chroma subsampling (same on-board compressed codec as in the Canon C200). Many were expecting a XF305 replacement, but this ain't one.
The Canon XF305/300 is a much older and bigger camera with a smaller chip, but most importantly, it features a 50Mbps 8bit 4:2:2 on board codec – making it broadcast compliant – the very reason why it is still beloved by the broadcast industry in the UK and other parts of the world.
For the uninitiated, the difference between the 305/300 and XF405 and XF400 is the 3G-SDI output on the "5" models, otherwise – you get the same thing.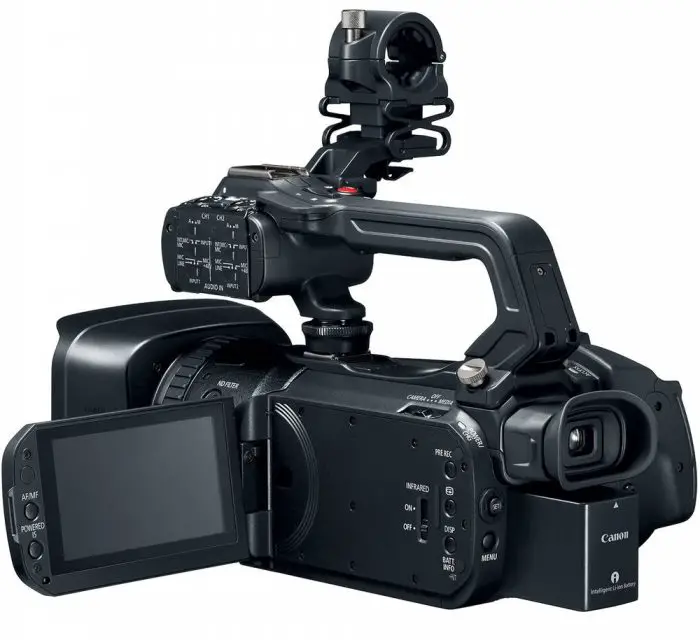 According to Canon, the XF405/400 carry the "4" in the nomenclature because of the 4K capabilities, not because they are replacing the XF305 – the good ol' XF300 and XF305 will be around for at least six more months before they go end of life…. Anyways, moving on – other big features include Dual-Pixel AF with face detection, a touchscreen – similar to that of the C200, 5-axis optical image stabilization and a 15x optical zoom.
Canon XF405/XF400 Features
8.29MP, 1-inch CMOS sensor
15x Optical Zoom Lens (fixed)
30x Advanced zoom in Full HD (visually lossless)
5-Axis Image Stabilization
Dual-Pixel CMOS Autofocus
UHD 4K/60p LongGOP 150Mbps (8bit 4:2:0)
Full HD/120fps slow motion
Dual-XLR Inputs
4 Channels of Audio
2 x DIGIC DV 6 Processors
2 x SD Memory Card Slots
Built-in ND filters
XF-AVC future firmware (8bit 4:2:0)
Infrared mode
Removable top handle
Price:
Availability: November 2017
Dual DIGIC DV 6 processors, 1080p/120 slow-mo, and WideDR profile are nice features to have, no doubt, but the codecs are gimped for sure – 1080p at 35Mbps – come on, it's 2017, not 2009! I am sure that the pictures would look pretty decent, even at 8bit 420, but it's just strange to pitch a camera to news crews, that isn't even MPEG2 50Mbps 8bit 422 compliant…
A few notes on the outputs: 3G-SDI can spit 10bit 422 to external recorders, but only in Full HD, however the Mini-HDMI is 2.0 compliant – giving you 3840 x 2160 up to 60p out (8bit…) according to the Canon spec sheet.
XF-AVC is coming in the Spring next year, but that will be 8bit 4:2:0, which I don't really see the point of, but hey, what do I know…
On the bright side – the XF400 and 405 will probably find a home among event shooters and docu filmmakers shooting for broadcasters not too concerned about chroma sub-sampling and codecs. The move to a 1-inch chip is a big deal, you'd get better low light, and the compact form factor combined with dual XLR inputs and recording on cheap media tick important boxes for a lot of folks. I just wish the XF405 had three lens rings and an in-camera broadcast codec…. Too bad, we'll have to wait for the real XF305 replacement sometime in the future.
What do you guys think of the new XF cameras? Let me know in the comments below.
Claim your copy of DAVINCI RESOLVE - SIMPLIFIED COURSE with 50% off! Get Instant Access!