Panasonic have released three behind the scenes featurettes from the three promo films shot on their new 5.7K Panasonic EVA1 camera, with the actual short films shot on the EVA1 due to be published online by the end of this week according to Mitch Gross, Cinema Product Manager at Panasonic. Panasonic have already shown the three promo films during events held in New York last Monday, and one in LA that happens today at some point.
Those of you heading over to Amsterdam today for IBC 2017, can stop by Panasonic's massive stand and check out the EVA1 footage there, where it will be projected in Panasonic's cinema setup on the stand. Last year, they were showing some excellent images from the Varicam LT and 35 cameras. I highly recommend to those of you going to make it a priority and stop by Panasonic's booth (Hall 11, Stand C45), which is one of the best at the show IMHO.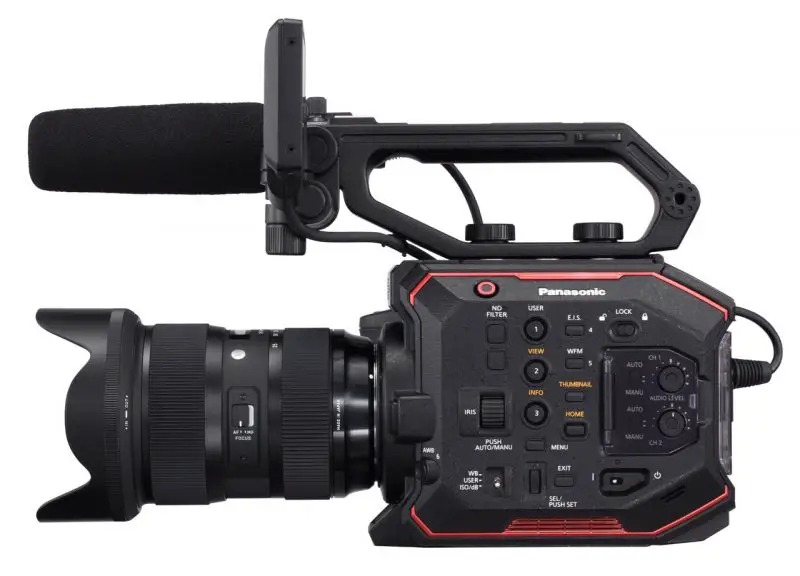 According to Panasonic, the first of the shorts was shot in Iceland by director of photography Matteo Mezzadri and his crew, the making of the image production shows EVA1 applied in several real life situations. We've seen BTS images from this shoot in this post here.
Panasonic AU-EVA1 Features
5.7K Super 35 CMOS sensor
Dual Native ISO (800 and 2500)
Native EF Mount (non-interchangeable)
4K at up to 60p / 2K up to 240p
10bit 4:2:2 internal codec for 4K and Full HD
Up to 400 Mbps data rate for internal
V-log & V-gamut
SD Card Recording
5.7K Raw Output (planned future update)
Electronic Image Stabilization (EIS)
IR Cut In/Out
ND Filter Wheel (2/4/6 stops)
XLR Audio
Tool-less design for top handle and side grip
HDMI & SDI 4K Video Outputs
1.2 kg // 6.69″ x 5.31″ x 5.23″ (L x H x W)
The other short is called "Radio 88, and was shot by produced by Johnny Derango, whom you can see and hear talking about his experience with the EVA1 in the "making of" featurette below. The Dual Native ISO was utilized in this short and noted as an important feature for indie films and low budget productions.
Shooting a film with a new camera is always exciting. For the first time, cinematographer Elle Schneider used Panasonic's EVA1, which utilizes Dual Native ISO and 5.7K Super 35mm, to produce the short movie "Near to Superstition".
By putting the digital cinema camera into different lighting situations, weather conditions and terrains, she tested how the camera operates. Have a look behind the scenes and find out what intrigued her the most when working with the professional camera.
So, it looks like we won't have to wait too long to see the actual footage from the Panasonic EVA1. These BTS promos look interesting and from the looks of it, Panasonic did go out and gave the camera to some very capable folks. Footage should be sweet. Can't wait.
Disclaimer: As an Amazon Associate partner and participant in B&H and Adorama Affiliate programmes, we earn a small comission from each purchase made through the affiliate links listed above at no additional cost to you.
Claim your copy of DAVINCI RESOLVE - SIMPLIFIED COURSE with 50% off! Get Instant Access!