To say that the ARRI Alexa Mini has taken the world of feature films, commercials, narrative drama and all other aspects of high-end filmmaking by storm ever since its debut at BVE 2015 in London, is a bit of an understatement. Here in the UK it has been the go-to camera for everything from TVCs and branded content to high-end docs and features.
Despite it's £40K+ price tag, there are quite a few owner-operators running around creating amazing moving images with it. However, as with most boxy designs, the MINI requires quite a lot of rigging to get up to production spec. ARRI's initial idea for the camera was that it would be used as a B-cam or Drone camera for the bigger ALEXA SXT camera and other ALEXA cameras of similar ilk (Plus, Classic etc), but the Alexa MINI quickly overtook even the AMIRA when it came to a desirable camera for owner-ops with deep pockets.
I remember seeing it for the first time at BVE 2015 with a velcro-ed Swit battery on the side as there weren't any accessories for it yet (apart from an ARRI PCA cage bits they were showing at the show). Well, the Alexa MINI's popularity spawned a whole range of third party accessories shortly after its release from various established manufacturers.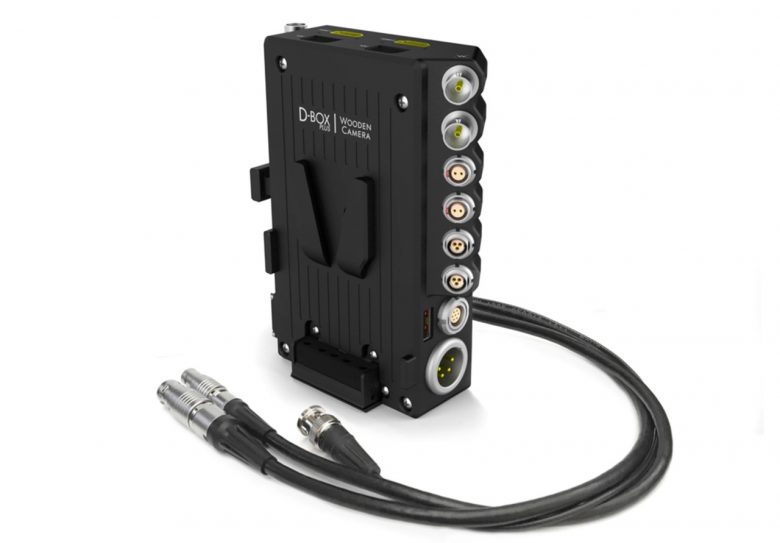 And now, Wooden Camera have a new updated D-Box Plus accessory for the ARRI Alexa Mini, which is going to be available in both Gold mount, and V-Mount. The new D-Box Plus is an updated version of the very popular original D-Box for the Alexa Mini that WC had released prior. The new D-Box Plus interfaces with the camera's Power, EXT, and SDI ports; with the DC input being now a full size 4-pin XLR connector, that is prioritized to be used first, leaving the on-board battery fully charged.
Other new improvements in the D-Box Plus include – a processor controlled amp limit which is settable to 3.8, 5.8, or 9 amps using the slide switch on the operator's side replacing physical fuses. In the case of a user exceeding the set current for accessories, only the accessory outputs are disabled leaving the camera running normally. Once the current load has been reduced by either removing accessories or reconfiguring, the reset button can be pressed to enable accessory power again.
According to Wooden Camera, they've used the highest quality Anton Bauer components in the V-Mount/Gold mount assembly and the unibody power plate design is both extremely durable and lightweight.
Wooden Camera D-Box Plus Interfaces:
1 x V-Mount Power Plate
3 x HD-SDI outputs
2 x HDMI outputs
2 x 3-pin Fischer at 24V with Run Stop

Regulator built in to convert battery voltage to 24V
Maximum 3A surge, 2.5A sustained shared between connectors

2 x 2pin LEMO at 12V unregulated (ARRI standard wiring)
2x D-Tap at 12V unregulated
1 x 5V USB
1 x EXT port

Replica of connector on rear of camera
Maintains functionality of external communication for Starlite monitor, R/S, and power

1 x 4pin XLR DC Input

Hot swappable with on board battery
Capable of providing power to accessories and camera without brick battery attached

Cables to Camera:

1 x 8pin LEMO compatible cable (16 inches)
1 x 7pin LEMO compatible cable (16 inches)
1 x HD-SDI cable (16 inches)
Currently, the Wooden Camera D-Box Plus is available to pre-order for $1,995 USD and it is estimated to start shipping in October. For more details head over to Wooden Camera.
Claim your copy of DAVINCI RESOLVE - SIMPLIFIED COURSE with 50% off! Get Instant Access!