With over 2 million users worldwide Final Cut Pro X (FCPX) is quickly becoming the software of choice for many Indie Editors and Vloggers. This is especially true for YouTubers and Twitch users.
However, there are some drawbacks to FCPX, one of which is the inability to create original effects and assets within FCPX. Most users have to switch between different software to achieve this.
This is where products like "VFXnut 10-in-1 Mega Bundle" come in handy; these types of plugins integrate seamlessly with your FCPX software. If you have not used a third party Generator, Effect, Transition or Title for your Final Cut Pro X, you are yet to fully harness the power of Final Cut Pro X.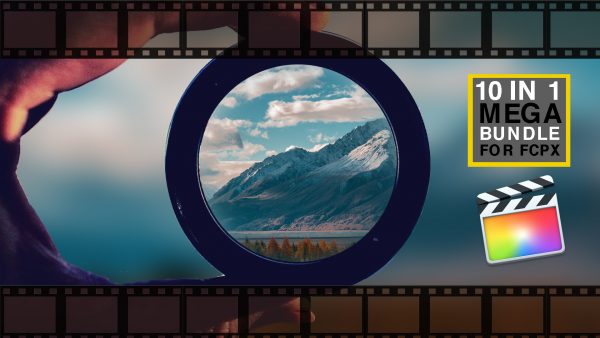 Unlike traditional plugins, these plug-ins work with your editing software and require no add-ons or extra UI (user interface) to learn. They work with the in-built FCPX menus for example "Generators", "Effects", "Transitions", "Titles" etc.
Using the menus you can easily drag and drop the elements you need right into your timeline and shave hours off your turnaround time. All the elements are fully editable in your FCPX and have real time play back.

Breaking Down the 10 in 1 Mega Bundle
This Bundle from VFXnut covers a wide range of needs for your edits in FCPX and is a good starting point for building your library of FCPX effects.
All packs are fully editable in Final Cut pro X and have controls for most of the features. The packs are optimized to ensure little or no lag when using them. Each of the packs has a separate user manual and appears separately in the FCPX menu.
Features of the pack
90+ Fully editable Titles (Split into themes)
60+ Fully editable Lower thirds (Split into themes)
30+ Alternative instant colour sets
Glitch and Twitch plug-in 11 Composite effects all fully editable
Custom transitions (All fully editable)
Split screen transitions (Modular fully editable)
Kinetic Kit (Custom word animations and kinetic scenes)
Bonus Pack Logo reveal pack
You can now get the pack at 50% OFF!
You can also download a trial pack available here.
For more info head over to VFXnut.
[Ethics disclaimer: This is a sponsored post brought to you by VFXnut.com]
Claim your copy of DAVINCI RESOLVE - SIMPLIFIED COURSE with 50% off! Get Instant Access!