Well, here it is! The biggest video industry education event of the year is now LIVE! For those of you who still might not be aware, the 2019 Complete Video Creators Bundle is an exclusive collection of top video tools and resources put together by some of the best creative professionals in the world that will only ever exist for the next five days, never to return. The sale ends June 11th at 12:00 PM (noon) PDT.
That means, if you miss out, you'll never have the chance to grab up nearly $2,000 in video tutorials, eBooks, presets, business and marketing resources, subscriptions, and more for just $89. Yeap, that's a whopping savings of over 95%!
It goes without saying, some of the biggest names in the video industry are partners in this bundle, including Mitch Aunger of Planet Mitch, Shane Hurlbut of Hurlbut Visuals, Denver Riddle of ColorGrading Central, Ron Dawson of Dare Dreamer, and many more!
You'll find everything from business contract templates to stock footage, from signature presets to subscriptions, and from background music to editing workflows.
Just like prior years' editions, the new 2019 Video Creators Bundle has been curated exclusively to help video makers save time and money, hone their technical and creative skill, and advance their career. As always, the Complete Video Creators Bundle is packed with resources which are 100% brand new to 5DayDeal. No repeated products!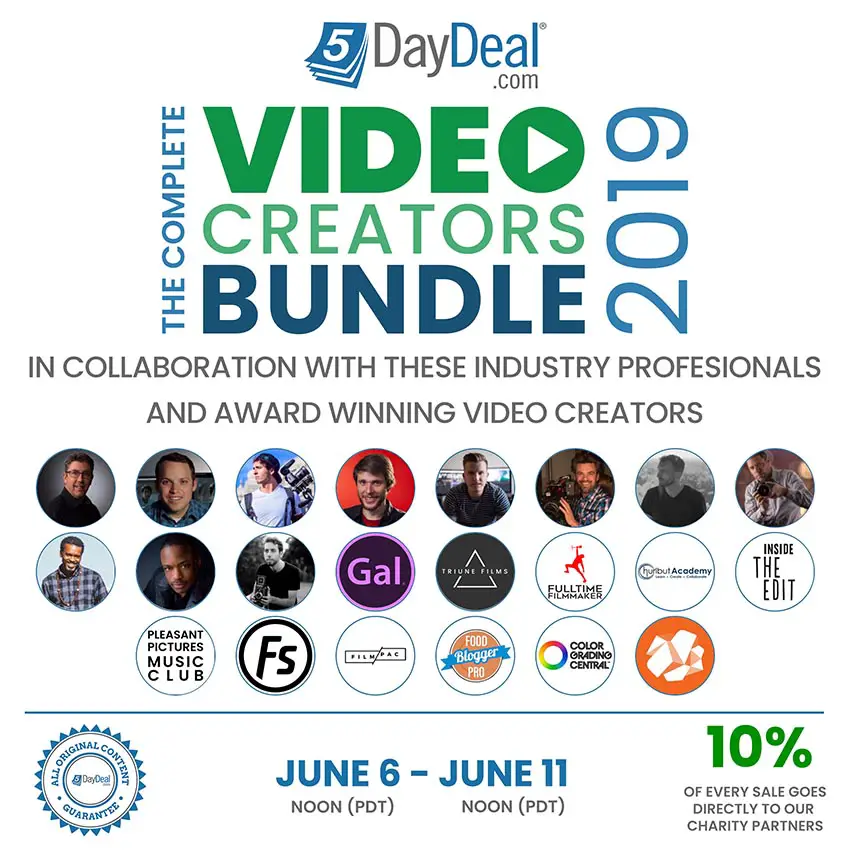 The 2019 Complete Video Creators Bundle includes:
Credit Pack from Hurlbut Academy by Shane Hurlbut, ASC – $175.00
Final Cut Pro X Editing Workflow by Parker Walbeck – $129.00
Cinema Grade Pro for Mac by Denver Riddle – $149.00
EXTINCTION: Sci-Fi Weapons FX by Tim Connoly & Ryan Connoly– $95.00
Action Elements Pack [5K Studio Quality Effects] by Jordy Vandeput

 – 

$97.00
ColorClarity for Mac by CrumplePop.com – $99.00
Learn Adobe After Effects CC 2019 for Beginners by Jordy Vandeput – $100.00
Lighting Secrets Workshop + 76 Cinematic Lighting Setups by Eric Thayne – $214.00
Practical Filmmaking with Barry Andersson – $249.00
Living Pictures Masterclass by Elyan Parker – $97.00
How To Interview Like A Boss by Frederick Van Johnson – $99.00
The Complete Background Music Pack by Pleasant Pictures Music Club – $99.00
Serge Ramelli Signature Portrait & Light LUTs Collection – $97.00
Serge Ramelli Signature Urban & Landscape LUTs Collection – $97.00
You get all these awesome products ($1,796 retail value) with a whopping 95% discount by paying just $89!
FREE BONUS – Exclusive Discounts From top brands from around the world!
After purchasing your bundle you will be given access to the 5DayDeal Discount Portal to help you save even more!
CHARITY BONUS – WANT MORE? GET MORE. AND GIVE MORE!
This year 5DayDeal Team has also partnered up with a select group of video educators to bring you a charity bonus resource packages. By selecting these bonus options at checkout you'll give even more to charity and in return, you'll receive more additional shooting and editing resources!
10% of the bundle revenue ($8.90per sale) goes directly to four charities doing incredible things including Make-A-Wish Foundation, Orbis, The 5DayDeal Foundation, and Mercy Ships. Join this creative community in helping to reach the goal of raising $20,000 in the next five days.

Unlock the mysteries of how to get your videos seen and bring your creative vision to reality with the exclusive 2019 Video Creators Bundle by 5DayDeal.
Even if you choose not to purchase the bundle yourself, do your network a favor and let them know about the sale. We'd also appreciate it if you share this to help raise awareness for the chosen charities. Not only is this an amazing deal, it truly champions some great causes that we are extremely proud to support, and we hope you will too.
Thanks!
Claim your copy of DAVINCI RESOLVE - SIMPLIFIED COURSE with 50% off! Get Instant Access!